News, Vision & Voice for the Advisory Community
Bears, lightning, not to mention the 'Frigid Air Pass' and the 'Soul Crusher,' challenged the RIA adventurers on their fourth, and most grueling, trek
August 12, 2015 — 6:55 PM UTC by Guest columnist Eric Clarke
Brooke's Note: How does an article about 31 weekend warriors sit beside ones in RIABiz that delve into the deeper strategic matters of the RIA business, like Envestnet swallowing Yodlee or Schwab's big tweaks of its advice automation and 401(k) strategies? The answer: Somewhat self-consciously. That can be seen in Skip Schweiss' list of takeaways at the bottom. It is useful but perhaps redundant. Skip's leadership, legendary with this group, and the article's lessons thundered so loudly in the story itself. When I talked to Eric yesterday about the trip and why he was so motivated to do it well, he said: "I wanted to be prepared and not let everybody down." Who wouldn't harbor a fear of being the weak link that undermined months of planning, years of acquired momentum toward bigger mountaineering feats and a lifetime destiny tied to a group of people with big overlapping visions? And that sense of shared destiny is The Force that is with the RIA business. Sure, we're all in it for ourselves but those petty ambitions are dwarfed by a fear of letting down a much wider circle of people, in and out of our offices and homes. I'm not sure that exists on Wall Street and it's a major reason why that group of legacy advice providers is in trouble.
On July 31, a group of 31 hikers gathered 9,500 ft. up a mountain in Aspen, Colo. in the pitch-black, crisp night air to attempt the Four Pass loop around the Maroon Bells Mountains.
There were physical specimens here. Scott Hanson (of Hanson McClain Advisors, accompanied by his father, Tom) and the Alfred brothers (Mike and Ryan of BrightScope Inc.) are ultra-marathoners; Kevin Severs (FTJ FundChoice) is an Ironman Triathlete; Skip Schweiss (of TD Ameritrade) has actually reached all 14,000 Summits — that's not a typo — in Colorado; Schweiss and Danny Tobias (Tobias Financial Advisors) have hiked Mount Kilimanjaro; Steve Sanduski (Belay Advisor) has summited Mount Rainier three times; Chip Roame (Tiburon Strategic Advisors) was set for his second go at this hike in a week; and Boston Marathon runner David Canter (Fidelity Institutional Wealth Services.
Also on the team were Frank Trotter (EverBank Global Markets) and his daughter Jess Trotter; Alex Potts of Loring Ward Scott MacKillop (late of Frontier Asset Management); Joe Krier (Krier Wealth Management); Brad Burgess (NorthStar Financial Services Group); Jonathan Olver (TD); Tif Joyce (Joyce Financial Mgmt.); Clark Barber (CEB); Lee McColgan (Franklin Templeton); Laura Tarbox (Tarbox Group); Phil Markgraf (FTJ FundChoice); and Ron Carson (Carson Wealth) — who set an incredibly quick pace hiking up Half Dome last summer. See: How a band of advisor-execs scaled 5,000 sunless feet to the summit of the Half Dome — and the lessons the exploit yields for growing RIAs.
As for me, I've run my share of marathons including three in the last three months — which probably put me somewhere in the middle of the pack in terms of my physical readiness for this endeavor. See: How RIA industry execs took on the ultimate teamwork challenge: Conquering the highest summit in the lower 48.
Bear sightings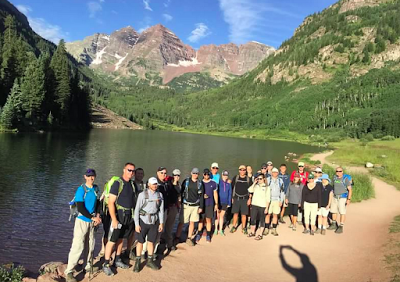 Thirty-one RIAs and friends: Let the
warm-up hike begin!
But aside from all of the athletic ability present, what stood out most was the concentration of RIA industry leadership assembled to tackle 28 miles, four peaks and 7,500 vertical feet of trail.
There was a nervous excitement as we milled about, checking gear. Going in, there were two primary concerns outside of the hike itself, as conveyed to us by Skip — bears, and lightning. Just prior to arrival, Sanduski discovered that his Airbnb cabin had been ransacked by a bear to the point of being uninhabitable. The group quickly offered him alternate lodging.
Others would have close calls with bears as well — Ron Carson and Lee McColgan, who had chosen to camp on the trail rather than take shelter in a cabin or condo had an encounter, as did others on the trail — fortunately there was no contact. Just days after we left, the park service closed the campgrounds due to the abundance of bear sightings.
Upon arrival on Friday, the first thing everyone needed to do was acclimate to the altitude as quickly as possible. Different strategies were deployed such as drinking lots of fluids and taking Advil, combined with a three-mile acclimation hike at 7 a.m. Saturday. Others opted for some additional shut-eye and took a ride up Aspen's gondola to hang out at the mid-mountain ski lodge to try and adjust to the lack of oxygen.
On Friday night at 7 p.m. group leaders Chip and Skip assembled the team and we huddled to review the challenge at hand. They prepared us in detail about the terrain we were about to hike. Details were reviewed, warnings of cold temps and high winds were dispensed and the difficulty of this hike was outlined once more.
Key takeaways? Do not underestimate this mountain. This will not be easy. Hydrate. Stick together as a team.
But above all else we agreed to be safe. An outside observer might have presumed we were preparing for an all out assault on the mountain instead of hiking it. (See below for Skip's prep notes.)
Storm warning
Plans were adjusted. Due to a forecast for a 2 p.m. thunderstorm on Saturday, the group decided to push off at either 10 p.m. or midnight instead of the original start time of midnight to 2:30. This hike would begin in the black of night. It would not be recreational.
Two ad hoc groups formed. Because the trail to the top was circular, and because the group would not allow for even a remote chance that a team member would be left on the mountain, half of the group would hike clockwise, half counter-clockwise. Chip and Skip had clearly spent days planning. Their leadership and preparation was appreciated, and would be needed. See: Column: Advisors should be 'heroically available' during a crisis.
Nerves began to set in as the commencement of the hike loomed closer. The teammates repaired to their hotels for last-minute packing and to grab their gear. It was possible to snatch an hour or two of shuteye prior to hike departure, but I highly doubt anyone slept. Some carbo-loaded to gather additional fuel for the journey. It was time. See: RIA leaders venture to Grand Canyon to get beneath Earth's surface — and their own.
Boots full of water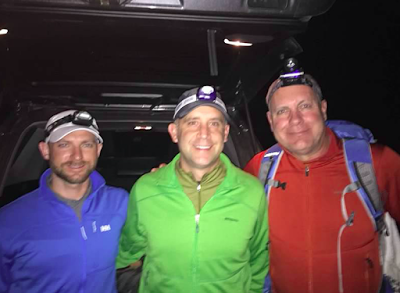 Kevin Severs Eric Clarke and Phil
Markgraf
I went with the 10 p.m. group, hopping in the car with Frank Trotter and heading up to the trailhead. The group wasted no time — as soon as we were all onsite, the time for chitchat was over, we were ready to get after it.
We caught up to Ron, Chip and Lee who set a brisk pace and the team began to spread out along the trail, everyone moving at their own pace.
As we ascended the first summit, we quickly realized that this hike was indeed more difficult than many of us had imagined. The effects of the altitude set in and our breathing became labored as our heart rates elevated. We crossed the first of several dozen streams and rivers and had a hard time seeing where the trail continued on.
A few of us, myself included, had our boots fill with ice-cold mountain water within the first hour of the hike. This would not be comfortable. As we crossed the trail to the summit of West Maroon Pass, it became apparent that we needed to pay close attention as the grade of the trail became more intense.
Approaching the 'Soul Crusher'
After the first summit at West Maroon Pass, five hikers decided that it was in their best interest declare victory and return to base. There was no shame in this; many of us quietly envied their decision.
But we pressed on.
After his 77-year-old father decided to turn back, Western States 100 finisher Scott Hanson made the only logical decision — he decided to run — literally run — the remainder of the trail. Scott quickly caught up with Ron, Chip and Lee between the third and fourth summits.
As the cool night breeze set in under a clouded sky, a group of five of us decided to press on, and we set out for the second summit together. We were able to touch base with the other hikers strewn out on the trail via walkie-talkies, learning who had decided to press on. Again, the intense preparation on the part of our leaders came into play and was vitally important if we were to succeed.
As we descended the second summit, Frigid Air Pass, we could hear the distant sounds of a river rushing through the mountain valley. Our hearts were beating rapidly. It was exhilarating. We were all nervous about the next segment of the hike — Skip had affectionately referred to it during our warm-up meeting as "Segment Soul Crusher" — which was famous for its length (about seven miles) and a false summit as you work towards the third summit. It was in this valley that Scott passed us, casually running by while eating a bagel sandwich. Seeing Scott breeze by was inspirational and certainly impressive, yet humbling, all at the same time. See: What they do teach at Harvard Business School that's worth learning even after banking monetary success.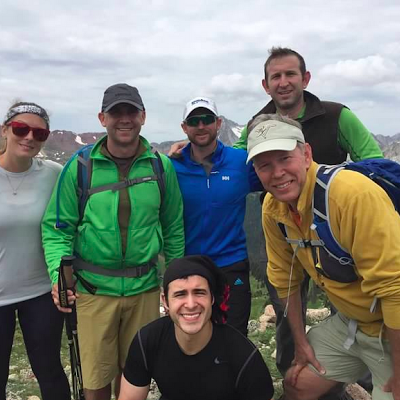 Jessica Trotter, Eric Clarke, Kevin Severs,
Danny Tobias, Steve Sanduski and in
front Jonathan Olver
Deer stalkers
When the sun rose at 6 a.m., we were greeted by the sight of a waterfall next to the trail cascading down the mountainside into the base of the valley. The floor of the mountain was covered with wildflowers, and while we tried to capture pictures of our surroundings, we quickly realized that it was futile to capture the full magnitude of the beauty on film.
As we crossed the valley floor, we reached a point where we had to remove our boots and socks to cross a knee-deep river. As we got to the other side of the trail, GPS showed that we had reached the halfway point of our hike. While the beauty of the trail and the hike was unlike anything we'd previously seen, exhaustion began to set in.
We treated ourselves to a 10 minute break — and then we continued.
With the sun in the sky, we could see that we were being watched by a couple of large deer across the valley. As we hiked our way across the valley, they moved with us across the mountainside, no doubt amused at the tremendous effort we were exerting to put one foot in front of the other.
Fourth summit in sight
After a lengthy hike through the valley, and as we approached what initially appeared to be the third summit, Skip's group passed us going the opposite direction on the trail. After exchanging information about what we knew about the other team members and swapping a couple of trail experiences, we were again on our way.
Approaching the third summit, we refilled our water supplies in a stream and took a few minutes to catch our breath. Ryan Alfred, who had started at 4 a.m., ran by as he went counterclockwise on the trail.
As we descended into the valley, we could see Snow Mass lake — absolutely the bluest lake that I have ever seen. We could then see the fourth summit off in the distance.
At this point, I hit a bit of a mental wall. I began thinking that I didn't have it in me. Also, we began to be concerned about reaching the fourth summit and then getting below the tree line prior to the afternoon storm rolling in. The pressure of the impending storm took precedence over our fatigued mental state and we picked up our pace.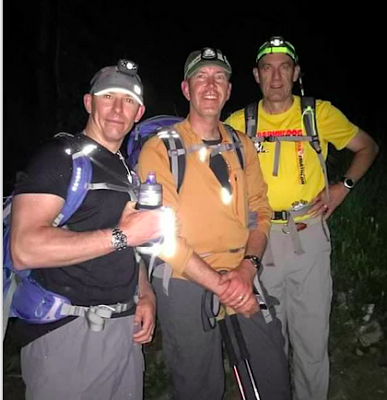 Chris Riggio Alex Potts and Skip
Schweiss navigate the pitch-dark trail.
We passed Alex Potts, who had helped an injured hiker back to the trailhead. After ensuring the well being of his fellow hiker, he turned back to make what progress he could on his own.
Hi, Governor!
At the top of the fourth summit, Ron and Lee waited for the other hikers to make sure everyone was doing OK. As we set out for the valley floor and trailhead, a sense of accomplishment set in. Before too long, our excitement was tempered by the storm, which indeed did roll in at 2 p.m. as forecast.
We hiked the last hour in the rain, thunder and lightning. We were all concerned about the hikers going the other direction, wondering if they had been caught in this storm above tree line. As the counter-clockwise team continued their trek, they crossed paths with Colorado's Governor John Hickenlooper who was in Aspen for a Democratic Governors Association convention.
The storm did set in on them as they summited their fourth peak, and they raced to get below tree line. Fortunately, as the hike ended, we were all able to make it back to the trailhead — exhausted, drenched and excited but feeling pretty satisfied with ourselves.
Twenty-four of the 31 hikers who had started out completed the full hike. Everyone else got in at least 13 to 17 miles — nothing to sneeze at. Times ranged from 10.5 hours to 18.5 hours for those completing the full loop.
The next mountain
That evening we got together at a local Aspen restaurant and, over an excellent meal, shared stories from the trail. We're all in the RIA business, yet no one felt inclined to talk shop — this was about relationship-building, bonding over a shared experience and accomplishment.
There would be plenty of time for business, another day.
After hiking Mount Whitney, rim-to-rim through Grand Canyon, the Half Dome and now Colorado's Four Pass, what is the next adventure? Even as physical exhaustion set in, Skip and Chip announced next year's hike, California's iconic Mount Shasta.
As Alex Potts proposed a toast and thanked Chip and Skip, we all agreed that we were in!
We are now exchanging notes on mountaineering schools, routes and planning for our next adventure. Who in this industry doesn't love a challenge?

As the sun rose at nearly
6 a.m., we were greeted with
a waterfall next to the trail
cascading down the mountainside into the
base of the valley.
Skip's Notes
In preparing this piece I asked one of our leaders, Skip Schweiss, for his view, some of his key takeaways. As I read them I found them not only true as related to our adventure, but as a general set of tips for anyone running a business in this industry:
• Fortune favors the prepared
• Have the right people on the team
• The best-laid plans will go out the window when 31 people get deep into the wilderness
• As in a business, we are continuously raising the bar and presenting new challenges for the team. Thorough communication, planning and preparation are keys to overcoming any obstacle. The team and its members have risen to successively-higher challenges. And along the way each has learned and grown, supporting the growth of the event/team/organization.
• Teamwork is critical and we preach it relentlessly. We support each other along the way, toward organizational success.
• Things will happen that are out of your control, like weather, wildlife, etc. Two of our biggest out-of-our-control concerns going into the event were bears and lightning. We experienced both, but fortunately not as a contact sport.
• In the back country, as in life, the only thing you control is yourself. Control that. Focus on controlling what you can and you'll be in better shape to adapt to things that happen that are out of your control.
• Celebration is important. Celebrate your accomplishments, then quickly set your sights on the next goal.
Here's more information on the Maroon Bells Four Pass loop.
Eric Clarke is president at Orion Advisor Services LLC.
---
Mentioned in this article:
Hanson McClain Advisors
Mergers and Acquisition Firm, RIA Serving Other RIAs, Advisory Firm
Top Executive: Scott Hanson and Pat McClain
---
---
Share your thoughts and opinions with the author or other readers.
Marie Swift said:
August 13, 2015 — 4:10 PM UTC
Excellent piece. Thanks for sharing the experience with us in such a vivid and intelligent way, Eric. Lots of good business lessons here. And hats off to all those who made the trip. I am proud to call many of you friends and business allies.
---
---