News, Vision & Voice for the Advisory Community
The trigger was a demand by Morgan Stanley to sign a bank contract but there was much more that led the practice to LPL OSJ, Private Advisor Group
April 7, 2015 — 5:17 PM UTC by Sanders Wommack
Brooke's Note: New York and Wall Street have an undeniable magnetism. The beating heart — plaque build-up aside — of the world's biggest economy lures you in and lets you leave grudgingly. Sara Botkin left twice. Her recent departure from Morgan Stanley is a good story, with a new Morgan Stanley twist. Her personal tale related to 9/11 will make you sit still before exhaling.
Sara Botkin is a Wall Street survivor, both literally and figuratively.
The president of McMurry, Pa.-based Botkin Family Wealth Management was in the lobby of the World Trade Center on her way to work on the 105th floor of the South Tower on Sept. 11, 2001 when the first plane struck.
Since then, Botkin has worked with her father in the financial advisory business, until late last month at the Morgan Stanley branch office in Upper St. Clair, Penn.
The $200 million family team's move away from its brokerage home of seven years and to Private Advisor Group, an LPL Financial super-OSJ, began in December when Morgan Stanley inserted itself into their efforts to help clients refinance their homes. Morgan Stanley presented them with a dual-employment contract with the firm's bank, in addition to their existing employment contract with the broker-dealer. See: Schwab tells the SEC its robo-advisor has a 30 basis-point fee and big-time cash allocations held by Schwab Bank.
The contract is likely a solicitor's agreement and not an employment contract, according to Ryan Shanks, chief executive gf Finetooth Consulting, a recruiter.
Accustomed to life as a employee of a big corporation where you sign papers because the alternative is to find a new career, the Botkins dutifully put ink to paper.
"We thought, 'no big deal' at the time," Sara Botkin says.
But they discovered afterwards that dealings with other banking institutions had consequences.
"We learned that it became a fireable offense to refer clients to other banks," she says.
Kansas connection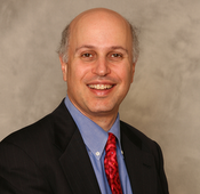 Danny Sarch: The concept of cross
selling should not be seen as
illegal or unethical.
Morgan Stanley has not responded to questions about the genesis and history of this policy, or the scope of its enactment. Danny Sarch, president of Leitner Sarch Consultants and a recruiter for wirehouses, says he hasn't heard of dual-employment contracts with the Morgan Stanley bank, and hasn't spoken to anyone since who had to sign something similar.
While this contract might not have been much of an issue to some Morgan Stanley advisors, it was immediately problematic for the Botkins. Several years ago, the family had discovered the Bank of Kansas City and the friendly, effective and cheap services that the $30-billion institution provides. Without incentive from revenue-sharing agreements, they had been referring clients there ever since.
The Botkins were willing to forgo revenue to satisfy their clients but Morgan Stanley's emerging business model was taking the family in another direction.
"There has been a focus on banking and lending products which has become sharper each year," says Botkin.
Pushing bank product
There were other signs of a mismatch. Morgan Stanley Wealth Management is already largely organized around serving high-net-worth clients, while Botkin's clients typically had between $500,000 and $1 million in assets and were planning retirement. Margin trading didn't fit their profile. Indeed, Botkin says their banking needs were modest and centered almost entirely on new mortgages or refinancing.
Another ex-Morgan Stanley advisor saw the same trend, even though he didn't have to sign a similar contract.
"They were heavily incentivizing advisors to sell credit and banking products," says, Josh Tschirgi of Portland, Ore.-based RIA Somerset Wealth Strategies LLC. He left Morgan Stanley in 2014 after working for three years in its local branch and says the bank-pushing practice "was definitely on an upward trend." Branch bankers constantly tried to get into meetings with clients in order to sell, and some managers at the firm required advisors to push commercial loans, home loans, security-based loans and credit cards. See: Why an $850 million BNY Mellon RIA team finally said 'yes' to Raymond James after a 'no' in 2007.
"The culture was sales-focused as opposed to process-focused," Tschirgi says. Meetings with senior managers were frequently about how to sell more products to clients, not how to make the client experience better.
Lashed to the wirehouse
Sarch agrees that the wirehouses are focused on lending, but doesn't want to paint the practice with a broad brush.
"The concept of cross-selling should not be seen as illegal or unethical," he says. "Where I'm critical of the push to cross-sell through advisors is the compensation. They don't typically pay advisors as much as they do for other categories." See: The 10 things Morgan, Merrill, UBS and Wells Fargo could do if they really, really wanted to stem the RIA tide.
By skimping on relative compensation to advisors, the margins for banks on these products end up being much larger, Sarch says. That practice also has the benefit of connecting clients more tightly firm, making it impossible for them to completely sever the relationship when their advisor breaks away.
New York-based Morgan Stanley merged with Citigroup's Smith Barney in 2009 to create a wealth management behemoth with 18,500 advisors across 1,000 offices. Since then, there has been increasing pressure on the wealth management division to integrate with the rest of the business — namely to become bankers. That pressure has only increased as other means of monetizing their books of business have dried up — namely money market funds, proprietary products and commissions.
Botkins three
Patriarch Les P. Botkin, now the firm's chief executive, has worked as a financial advisor since 1997 and taught his children, Sara and Lester, investing basics as they were growing up. Prior to Morgan Stanley, Les worked at Pittsburgh-based financial planning company Hefren-Tillotson. Sara joined her father shortly after the World Trade Center attacks in September 2001. Lester H. Botkin, the breakaway's chief investment officer, joined his sister and father at Morgan Stanley in 2007 after a five-year stint in the U.S. Marine Corp. See: How Abby Johnson won the hearts of mega-RIA clients in advance of taking the CEO spot at Fidelity Investments.
Sara Botkin says she loved her seven years at Morgan Stanley, is effusive in her praise for the company, and is proud of her tenure there. The decision to leave for an LPL office of supervisory jurisdiction wasn't easy. See: How LPL's biggest branch office added $3.5 billion this year by beating LPL itself with a key service.
The Botkins had been mulling over their options throughout 2014 and had met with several recruiters and other wirehouses. It son Lester who found another way. He returned from a meeting with representatives of a national RIA's independent channel saying the option looked intriguing and could work well for them. See: How LPL used its RIA love and long OSJ leash to lure Wells Fargo's $550-million FiNet team in Louisiana.
On the rare occasions when the family had toyed with going independent, they always figured their small team wasn't ready to take on all the tedious, time-consuming tasks of running a business. See: Seeing her small clients take Morgan Stanley's brunt, a 12-year Smith Barney vet decamps with $100 million after meeting with Schwab.
Down U.S. 19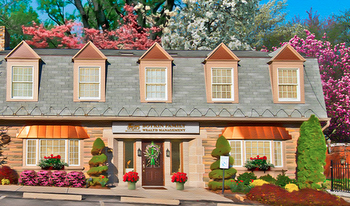 The Botkins pounced when their dream
office went on sale in Peters
Township, Pa., a 10-minute drive from
their old Morgan Stanley offices.
"We've often said during this process that our hats are off to anyone who goes independent without a team structure," says Sara Botkin. "Preparing for this step took months of intense work, with each of us having defined roles: my brother worked on technology — computers, phones, copiers; I worked on marketing; Dad worked with the contractor on the renovations of our building with my mother and a designer on choosing and buying the furniture; and our assistant took our credit card to Office Depot and stocked up on everything she could think of that our office would need." See: Merrill Lynch PBIG team breaks away in tumbleweed country to better pursue next-gen oil fortunes.
The final catalyst for their move came when the family's dream commercial building came up for sale. Located in Peters Township, Pa, the two-story, colonial-style building is a 10-minute drive south down U.S. 19 from their old Morgan Stanley offices. Sara Botkin's husband is a realtor, so the group was able to line up a showing quickly. They only needed one look through to make their decision.
Choosing PAG
The Botkins allied themselves with LPL's Private Advisor Group because of its expertise in transitioning advisors. Sara Botkin says major parts of their breakaway's organization was handled by LPL, and they received a lot of helpful, personalized attention in the weeks prior to walking out of Morgan Stanley. See: LPL Financial gets beyond the halfway-house model to compete with Schwab, Fidelity for advisors that are wholly RIAs.
The family was also interested in outsourcing their compliance work and were impressed with the help they received from the Morristown, N.J.-based Private Advisor Group's chief marketing officer, Abby Salameh. See: Abby Salameh joins LPL's largest branch office.
The Private Advisor Group community also impressed the Botkins. "It helps to know you are part of a group that cares for one another when independence may be isolating compared to working in a big office bustling with lots of colleagues," says Sara Botkin. See: How the industry is rallying to help John Hyland as his cancer returns and why the New Jersey advisor seems impervious to fear.
Not again!
While Sara Botkin was at Morgan Stanley, reading about breakaway advisors and their claims of fantastic of client retention made her roll her eyes. Nevertheless, at the risk of sounding "full of baloney" she thinks virtually all of the group's 370 clients will stick with the new firm.
In their first week in the new office the family received half a dozen flower arrangements and almost every client they have spoken to has been pleased about the change. As Les Sr. predicted, neighborhood locals have already taken notice. Sara Botkin was working late on their first Monday in the building when she answered a phone call from a woman who had seen their sign driving by and wanted to welcome them to the neighborhood — and that she been thinking about switching advisors herself.
The Botkin's new compliance regime might serve as a good answer to that unsettled client. Sara Botkin slaved away writing the team's website before sending her work off to LPL's compliance team for a final check. Years in wirehouses conditioned her to expect frustration.
"I started to get mad thinking about how they'd tear apart my content," she says, and was shocked and surprised when LPL only asked her to add a citation and a couple of qualifying words. See: One advisor's strategy for growing a practice, dodging compliance issues and staying young: Kill the computer.
9/11, then home
Sara Botkin began her career in finance at one of the industry's darkest moments. In the summer of 2001, she was in New York City pursuing a fledgling singing career and supporting herself with a full-time job as a financial analyst for Aon Insurance. On the morning of Sept. 11, 2001, she was on the concourse inside the South Tower the World Trade Center, heading toward an elevator to transport her to Aon's offices on the 105th floor.
At 8:46 a.m., the building was rocked by the booming explosion overhead and in the initial shock no one knew exactly what had happened. Botkin's first impulse was to ignore the blast and head up to work — after all, she had only been at Aon a few months and didn't want to be caught away from her desk when the day began. But something deeper overrode that impulse; she pushed past security guards and followed a small stream of people back into the subway.
Urgently, Botkin wanted to call her father back home in Pennsylvania. She wanted to hear his voice and get his advice. Still unaware of the extent of the attacks, she called his office as soon as she exited the subway. On the other end of the line, the answering receptionist started screaming "It's her! It's her!," as the whole floor behind her started cheering.
One hundred and seventy-six Aon employees died in the attacks, many trapped in their offices after United Airlines Flight 175 crashed into the floors below them. Aon organized a temporary office but Sara Botkin never returned to work. Within a month she was off Wall Street, out of New York City, and back home in Pittsburgh working with her father in financial planning.
---
Mentioned in this article:
Private Advisor Group
Specialized Breakaway Service, RIA-Friendly Broker-Dealer, RIA Serving Other RIAs
Top Executive: John Hyland
---
---
Share your thoughts and opinions with the author or other readers.
Teresa Vollenweider said:
April 7, 2015 — 7:55 PM UTC
Did these folks somehow miss Morgan Stanley CFO Ruth Porat's comment about the bank not penetrating (her word not mine) their so-called clients/customers with enough products? Maybe that will ease up now that she is moving to Silicon Valley—Google. Not!
I only wish that all the so-called clients/customers of these so-called advisors and their so-called firms knew what these greedy grubbers were doing to them. What a travesty of justice.
Gene Chaas, CFA said:
April 7, 2015 — 9:36 PM UTC
My gosh, this is nothing new. The formerly innovative Merrill Lynch had similar promotions in the mid 1990's.
Mr RIA said:
April 8, 2015 — 4:36 PM UTC
It just makes my stomach turn reading about these brokers and banks. How sad for our country.
---
---