News, Vision & Voice for the Advisory Community
Is there more than one way to be a fiduciary? Yup. Think the rule doesn't apply to your non-401(k) practice and won't affect your fees? Think again, warned the lawyer at the FPA conference in Boston
October 1, 2015 — 9:24 PM UTC by Sanders Wommack
Brooke's Note: I spoke separately to the two people RIABiz had covering FPA's Boston confab, Graham Thomas and Sanders Wommack, and got one big takeaway: Marcia Wagner. What she managed to accomplish in her speech was pretty monumental. She took the seemingly dead battery of DOL alarm and alarmed people anew. In an accent that leaves no doubt about what baseball team she roots for, and with an authority that assures we will be listening to her words for years, Wagner gave a wide overview and some solid specifics on the Department of Labor's determination to put clients first come what may. You say you're a fiduciary? Maybe you shouldn't say that too loud.
The first rule of fiduciary planning under new ERISA rules?
Don't use the word "fiduciary" with your clients.
Marcia Wagner, ERISA lawyer and head of Boston-based Wagner Law Group, tackled such semantically tangled points and delved into bottom-line downsides for RIAs as she laid out the latest must-know regulatory news in a keynote speech at the Financial Planning Association's annual conference in Boston Monday. See: As DOL contemplates stiff fiduciary-related penalties on advisors, NAPFA and FPA find rare concord with FSI.
Perception is all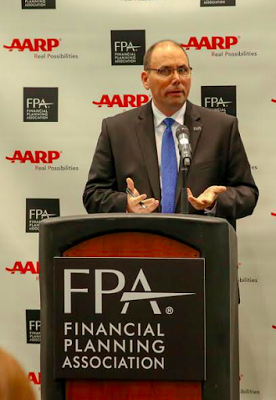 "It really does broaden the scope of ERISA into the financial planning world. Even one-time advice at this point could be considered ERISA fiduciary advice," she told attendees. "The broadening is so very significant that I think only now people are trying to understand the ramifications of this." See: Why I disagree with Don Trone's characterization of Obama's fiduciary stance as 'punitive'.
Significant, Wagner says, because the longed-for cut-and-dried definition of what it means to be a fiduciary advisor is anything but.
"The DOL also has an alternative way in which one can be a fiduciary, and this, to me, is slightly disconcerting. If a fiduciary advisor were to hold itself out as such, even inadvertently, then that person will be subject to the ERISA fiduciary standard."
She continued: "There need not be a mutual understanding at all, just a unilateral understanding by the recipient of the information. This is where loose lips sink ships. So, for example, be very careful in your newsletters; don't use the word fiduciary. Be very careful when you speak orally; make very clear what is educational and what is not educational — what is fiduciary, and what is not."
Really BIC show
The newly proposed regulatory regime is full of pitfalls for uninformed advisors, especially the "best interest contract" exemption — the contract clients must sign if so advisors can charge variable compensation like 12(b)1 fees or commissions.
"The impact of this law, when it goes into effect, is going to be huge," she emphasized. See: 9 ways RIAs can get a leg up by using a pillar of pension plans — a written contract.
Wagner reminded the audience why there had been such an uproar over this rule-making when it had first come out in April 2015: the familiar FINRA arbitration process is out; class-action lawyers are in. See: Why exactly DOL's latest action is so shocking to so many brokers — and even ERISA lawyers — despite years of warnings
"The BIC is a very interesting piece of rule-making," said Wagner, "As a technical matter, the Department of Labor does not have jurisdictional authority, or control, or enforcement, over IRAs. The DOL is afraid that some financial advisors will basically say, 'Well, you can't do anything to me so I'm not going to comply with this rule.' So the DOL effectively said, 'if you want the BIC exemption you have to effectively bake into it that the tort bar can enforce a private right of action.'"
Extension, please
"Even those of you that don't feel as if you deal in the 401(k) and it doesn't affect you, it will affect you through IRAs," warned Wagner. "Moreover, I think this is going to be a lot of work for broker-dealers and insurance companies dealing with the disclosures and mitigating conflicts of interest. There have been comment periods, two of them, and there have been open hearings, I believe this will be effective before the end of the Obama administration, which is January 2016, which means we'll see finalized rules by May 2016, if not sooner."
Many in the industry, including the FPA, are trying to extend this deadline to give advisors more time to adapt to and adopt these potentially costly requirements. The organization's recent comment letter supported the overall proposal before requesting a few changes. See: Report of a possible delay in DOL's fee disclosure rule sparks apprehension among advisors and industry observers.
"We suggest modification and clarification. We think some of the parts about compliance are onerous so we've suggested ways they can be simplified so it helps both the advisor, the firm, and the client understand it better," says Karen Nystrom, director of advocacy at FPA.
With honey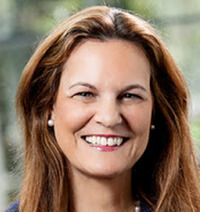 Gjertsen said the requested modifications were practically identical to those he was asked for by those industry groups or wrote to the DOL in opposition to its proposals. In fact, he told reporters at a media roundtable Sunday that the FPA's comment letter was only distinguishable from anti-DOL regulation comment letters in its first sentence where it expressed support instead of opposition.
Two months ago, in exactly the same building, another industry leader made similarly contradicting comments. At LPL Focus, disgusted CEO Mark Casady ripped the proposed rules in a keynote, telling attendees, "there needs to be changes in this regulation, and it needs to be significant." See: LPL Financial tosses its sales pitch to 7,000 in its HQ city of Boston
Meanwhile, LPL Financial, which wrote a comment letter in support of the DOL rule-making, dropped out of the Financial Services Institute after that group opposed the new rules, and organized its own lobbying group. See: LPL reconsiders FSI as it drops out of its board, offers own DOL stand and hires own lobbyist
But Nystrom suspects the schizophrenic gap between words and actions might just be a sophisticated bargaining strategy on the part of the Department of Labor.
"Part of the strategy of embracing the DOL's fiduciary rule-making, is, if you're embracing it and then coming in for a friendly conversation you get a much better reception than if you're just pounding your fist on the table and saying it's unworkable."
Catch-22
The fate of cheaper, sensible, financial advice for retirees depends upon this strategy to succeed.
If regulators aren't charmed and the rules stay as proposed, Wagner believes those advisors who earn higher compensation in IRAs than 401(k)s will be in the awkward position of having to get potential rollover clients to sign a lengthy "best interest contract" without being able to tell him what they're buying. Because of the advisor's compensation scheme, doing so could be construed as self-dealing.
"Basically, if you want to capture rollovers, with certain exemptions, the BIC exemption is how you're going to have to go," said Wagner in her address.
"The FPA was very clear that it doesn't like this idea and I happen to agree, but before you provide recommendations— or even discussions — with your client to capture rollovers, you need to have a written contract, and it has to be a BIC eligible written contract. That is going to be difficult." See: Borzi: Exemptions from conflict of interest will be part of new fiduciary proposal.
Justify your fee
That one of the foremost experts on ERISA law admitted she was unable to see a way out of this bind was, for the optimistic in the audience, a sign a fix would certainly come when the Department of Labor releases its final rules. If it doesn't, advisors will be in the ghastly position of having to navigate a Catch-22 to land rollovers as the tort bar scrutinizes them for missteps.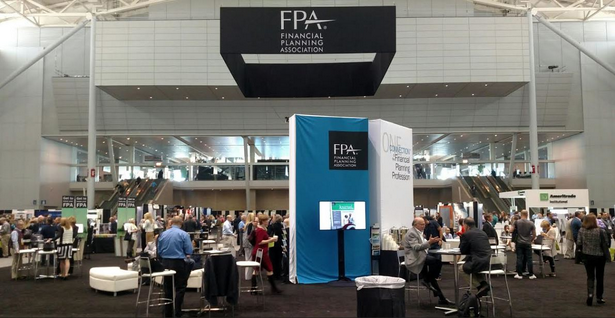 For now, Wagner says the best way to protect yourself and your business from these new ERISA rules is to provide objective justification for your fees.
"You should consider getting benchmark data whereby you can prove, ab initio [from the beginning], that your compensation is reasonable," she said. See: 401(k) industry flummoxed over Yale professor's 6,000 'threatening' letters to plan sponsors.
It's got legs
Towards the end of her keynote, Wagner shifted away from fiduciary standards and into a discussion about potential tax and benefit reform. She stressed that legislators and policy makers are hungrily eyeing the mountains of foregone revenue from the current tax-qualified retirement system. Tax breaks in defined benefit, defined contribution and IRAs will save investors (and cost the government) about a trillion dollars over the next five years, making it a huge target for the tax reform. See: Big chill: Worried RIAs and other 401(k) leaders gather in Chicago in hopes of saving the goose.
Wagner sees this reform as inevitable.
Peering more deeply into her crystal ball, Wagner predicted the eventual success of the so-called Buffett rule, which mandates a minimum tax rate on those in the highest brackets, This proposal, she says, "actually has legs." See: New DOL rule effectively kills off open-architecture option favored by some big plan participants — and sets off the 401(k) industry.
The next few years will be critical as lawmakers in Washington and the various state capitals work to overhaul various pension plans as U.S. citizens' life expectancy increases. One of the key goals of the Obama administration, Wagner said, is to ensure that Americans not outlive their retirement savings and that people are incentivized to annuitize all, or a portion, of their 401(k) balances.
"We are truly at an inflection point where we as a society are going to have to determine what type of pension plan system we want, what we can afford," Wagner concluded. See: Cerulli report: Specialized RIAs likely to win middle-market 401(k) plan battle.
---
Mentioned in this article:
---
---
Share your thoughts and opinions with the author or other readers.
Stephen Winks said:
October 6, 2015 — 3:46 PM UTC
After decades of broker/dealers ignoring their fiduciary responsibilities of serving in the best interest of the "retail" investing public, there is a simple non-controversial solution—simply acknowledge and support the fiduciary standing of the broker. The brokerage industry's denial of the "retail investor" the same consumer protections accorded to all other investors is self defeating as "retail brokers" have everything to lose if there is no enthusiastic b/d support for fiduciary duty and the professional standing of the broker when rendering advice.
SCW
Stephen Winks
---
---