News, Vision & Voice for the Advisory Community
RIAs on a market high absorbed Advent Software's efforts to press skyward under rainy Las Vegas skies
September 11, 2014 — 3:40 PM UTC by Guest Columnist Timothy Welsh
Brooke's Note: There is nothing worse than having somebody shake you down for a report on something that you are still working on. First they say: No, no, we understand that we are putting you in a difficult position but just lay it out so that we can get our bearing based on your progress. So then you do your best in delivering a report on the unreportable and they criticize you unmercifully for not having your work-in-progress fully worked out. I do that to my writers all the time. Ask Lisa Shidler. But two companies that really know what that feels like are Schwab and Advent which have giant conferences that they enter under the implicit understanding that they will deliver a Big Update. See: 10 questions for RIAs to ask Neesha Hathi, Bernie Clark and Walt Bettinger at Schwab IMPACT 2013 in DC. So here's Peter Hess put in that position of explaining to 1,000 people what exactly Advent Direct is, why his company is hell-bent on making it work, how far it has come and why completion is years away. (Pop quiz: Describe Advent Direct is in 200 words or less.) Dave Welling is put in the position of telling people that Black Diamond's always silky user-friendly experience just got silkier. So these conferences are always, from our perspective, a big chance to have big companies extrude an update but also to observe chief executives digging deep into their communications reservoirs. They need to explain things before they are fully explicable — and typically they do it well. Certainly Tim Welsh always writes these recaps well. It's like we were there.
Pursuing its never-ending quest for industry dominance, Advent Software convened AdventConnect, its annual users conference, earlier this week.
Over 1,000 industry players congregated at the luxe Wynn Hotel and Casino in Las Vegas for what has become an annual networking nexus for advisors, custodians, software firms and technology companies that provide the core systems advisors use on a daily basis to run their businesses.
About 800 of the 1,000 industry folk in attendance worked for advisory firms and it's safe to say that top of the agenda for 799 of them was checking out the progress of Advent's massive platform project.
Launched with much fanfare at last year's conference, Advent Direct is the San Francisco-based firm's effort to "transform the investment management industry." See: Peter Hess throws a Black Diamond lifeline to stubborn Advent Axys users, but will the price be right?.
Legacy leap
Advent Direct is middleware that draws on data from the advisors desktop and from Advent's databases to create a new platform. If all goes to plan, the software will also help Advent clients using Axys make the giant leap from desktop software into the cloud — and in doing so, help Advent leap over competitors like Envestnet | Tamarac, Orion Advisor Services, LLC and Addepar that already call the cloud their home.
Advent execs also hope that Advent Direct will bring greater parity between legacy Advent software users and the ones signing on in droves to its other RIA software brand, Black Diamond, which is already cloud-ready. See: How one company is making money by making Advent Axys data portable.
"Last year we introduced a common purpose with Advent Direct to help you manage the massive change that is happening in our industry," said Pete Hess, chief executive and president of Advent, in his opening remarks.
Closing the gap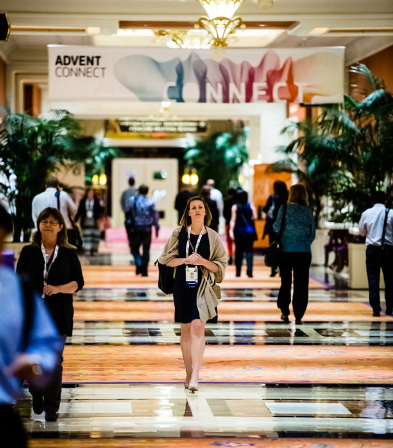 Like being inside a silicon chip.

This time around, Advent seems to have tangible progress to report.
Twenty APX and Axys firms are currently using Advent Direct Investor Management, which provides a range of tools that allow firms to get more out of their accounting systems — interact with the data, answer client questions on mobile and shorten prep time for client meetings. For Axys users, Advent Direct addresses a weak link in the old Axys system — namely that performance reports still need to be viewed on non-virtual hard copy rather than on a computer screen. Current users are likely to complete the pre-release phase by the end of 2014, and Advent Direct Investor Management will be more widely available in 2015, according to Advent. See: Two years in, Advent Software gives itself a Sept. 30 deadline to release the middleware that will draw Axys users into the Cloud.
On the softer side, Advent Direct Community, a social platform dedicated to mining the collective best practices of its thousands of users has drawn more than 11,250 users who produced 3,000 posts on various topics ranging from product questions to cyber security to compliance mandates. See: How Bitcoin is penetrating RIA portfolios by looking riskier to ignore than embrace.
Hess emphasized that much more will be rolled out of the course of multiple years but reassured the crowd that his company will see its mission through. "I am extremely optimistic that we can close that gap to greatness," he said as he wrapped up his keynote remarks.
Tell me a story
While Advent is touting its reinvented RIA technology, it also showcased its crown jewel — Jacksonville, Fla.-based subsidiary Black Diamond — introducing new features aimed at creating a more flexible and intuitive investor experience, better rebalancing and the ability to mine business intelligence. See: How I picked technology — from Black Diamond-in-SSG to Dudamobile — to use in my startup RIA.
Although Black Diamond has been offering client portal enhancements for a decade, its new cloud-based version had attendees buzzing. The portal and document vault will work on smart phones and provide tablets and desktop computers for charts, graphs, reporting and documents. It's not quite ready for switch-flipping but the demo was aces, showing how the new technology turns the client portal into a flexible and customizable tile-based presentation, screen optimized for all devices.
"The new Black Diamond is a complete redesign and re-architecture of our platform and is designed to help advisors move faster and communicate an even more powerful story to their clients," said Dave Welling, senior vice president and general manager of Black Diamond. See: Black Diamond blows the lid off asset growth in Dave Welling's first year in charge.
"Too many advisors are still living in a world of yellow pads of papers and offline spreadsheets. What we are doing is creating an investor experience that empowers advisors to tell their story through a technology platform that has the same level of personalization that they deliver when meeting with a client in person." See: Advent and Black Diamond are looking like soul mates but the Axys-to-BlueSky 'Easy Button' is still on the to-do list.
Cool cred
Demonstrating its ability to play with the cool kids in the cloud, SalesForce was on hand as a major sponsor. The San Francisco-based CRM provider paid for the plenty-nice opening night reception. Broadridge Financial Solutions of Marlborough, Mass. was also omnipresent as a sponsor.
There was also a strong presence from big RIAs like Greenwich, Conn.-based Fieldpoint Private Securities LLC Sullivan Bruyette Speros and Blaney of McLean, Va.; Welch Hornsby Inc. of Montgomery, Ala.; Cadaret Grant & Co. Inc. of Syracuse, NY; and RMB Capital and Hightower Advisors, both headquartered in Chicago.
Three of the big four big custodians —Pershing Advisor Solutions, Fidelity Institutional Wealth Services and TD Ameritrade — were on hand as exhibitors.
Wealth management vulnerable
In addition to the many tech labs and product demos on display, experts held forth on business management, industry trends, and compliance, sales and marketing topics.
Darrin Courtney, research director of wealth management at CEB Tower Group, a financial advisory consultant, spoke on the top technology trends, predictably including implementation of CRM, paperless account opening, enhancing the advisor desktop to increase productivity, changing development priorities to "mobile first" applications and using aggregation technology to provide a single view of client assets. See: Why RIAs are shunning mobile apps and why Black Diamond, Orion, Fidelity and others are still placing their chips on an iPad future.
"Investors today have embraced mobile innovations and as a result are looking for enhancements to the traditional financial reporting and communications they have been accustomed to," he said.
Courtney also weighed in on the areas in which technology is losing ground. "Wealth executives' confidence in their firm's ability to adequately prepare systems for upcoming regulatory deadlines dropped 36 percentage points," he said. See: With SEC coming down hard, TV and radio star RIA principal in San Diego makes his case to listeners.
Unlikely hit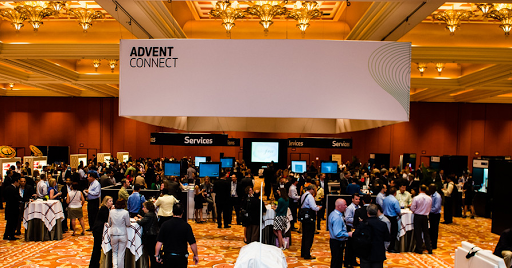 Advent exuded its gold-plated image in
all settings.
On a more uplifting note, sports agent J.B. Bernstein took the stage to provide the inside take on his "Million Dollar Arm" reality show and subsequent book and movie. "Million Dollar Arm" is a reality show based in India designed to find major league baseball pitching prospects — despite the fact that baseball is unheard of among the billion-plus population of India, Bernstein recounted how his unconventional idea was shot down numerous times by baseball and showbiz insiders, only to pull it off and see it become a major success.
"There is no pleasure greater than successfully accomplishing things that people said that you could not do," Bernstein told the crowd, inspiring attendees to have the courage to think creatively and pursue their dreams.
Rain in the desert
There was fun to be had.
Advent hosted their Client Appreciation party at the trendy Club XS nightclub in the Wynn's sister property, Encore.
Despite an unusual, daylong rainstorm in the Vegas desert, conference-goers were in an upbeat mood and there was a confident Dow-at-17,000 buzz throughout the conference. To learn more about what went on at AdventConnect, check out the #AdventConnect hash tag on Twitter.
(Disclosure: Welsh has consulted with several of the companies mentioned in this article.)
Timothy D. Welsh, CFP® is President and founder of Nexus Strategy, LLC, a leading consulting firm to the wealth management industry, and can be reached at tim@nexus-strategy.com or on Twitter @NexusStrategy.
---
Mentioned in this article:
---
---
Share your thoughts and opinions with the author or other readers.
J. L. Livermore said:
September 11, 2014 — 7:31 PM UTC
Tim,
Your favorite dead guy here – or maybe not. Anyway I have a few questions:
+What is the "more" that Advent Axys users will get over "the course of multiple years"?
+Why is it gong to take "multiple years"?
+Is there more to this than just pushing Axys reports into a browser?
+Better reports? More reports?
+New features for Axys?
+Does this provide a migration path to APX or Black Diamond?
Inquiring minds…
Jesse
Brooke said:
September 11, 2014 — 7:44 PM UTC
Jesse,
Here is an excerpt from an earlier article that gets into some of this: (and here is the link: http://www.riabiz.com/a/5042545478336512/two-years-in-advent-software-gives-itself-a-sept-30-deadline-to-release-the-middleware-that-will-draw-axys-users-into-the-cloud
Advent Direct is not simply a defensive strategy. Ultimately, the goal for the platform is that it can bring cloud benefits any desktop-bound portfolio management system — Advent's or a competitor's — which gives the company an in with an entirely new market of technologically isolated clients. Most RIAs, large and small, continue to exist on the desktop including several thousand firms that use core products like Morningstar Office, Schwab PortfolioCenter .
"We're de-coupling our growth from [proprietary] accounting systems," says Anthony Sperling, executive vice president at Advent Software.
While Advent Direct was initially conceived as a lifeline to legacy Advent users, it's evolved into a plan for a system that can serve as both a platform on top of any desktop system and as a kind of cloud-based app store.
The system will first roll out to work with Advent products: APX, Axys, and the hedge fund accounting system Geneva, along with a number of other Advent systems.
Ultimately, however, the goal is for it to be able to sit on top of other desktop portfolio accounting systems, like Morningstar or its competitors.
Users would then simply add Advent Direct on top of their desktop-based system, giving them the benefit of mobile and cloud-based apps and all the hottest buzzwords, without actually having to change their entire accounting system, which can be disruptive no matter what.
Eventually, third-party applications, like RedBlack Software will be able to integrate through the Direct platform, says Sperling.
"These are things we're moving towards," says Sperling
—Brooke
---
---