News, Vision & Voice for the Advisory Community
It started as 25 people with notepads and Southern accents surrounding the Royal Alliance-using Miami--based advisor principals
September 5, 2012 — 4:50 AM UTC by Brooke Southall
Brooke's Note: I first became aware of Sterne Agee when James Schutz moved there. When I was the banking reporter for a newspaper in Harrisburg, Pa. in the mid-90s, he was one of two analysts on the planet who knew the dozens of small institutions up there and could speak eloquently about them. But about a year ago, Trade PMR quietly dropped its clearing relationship with the Sterne Agee, raising it again on the radar. But now Sterne Agee is coming out of the gates with a convincing run toward the first bend in the RIA race, as more than a back office to back office player.
Call it the none-of-the-above strategy.
Meg Green decided that after 28 years with Royal Alliance that she and her broker-dealer had grown apart. She still professes love for Royal Alliance and Arthur Tambaro in particular but most of her clients were high net worth and she found that the high-end services they needed weren't always available. See: What Meg Green was thinking when she purposefully shed $40 million of assets.
The problem was that she and her partner of 10 years, Todd Battaglia, didn't particularly like the other custody choices for their hybrid RIA with about $650 million of assets under advisement either. The traditional RIA custodians had sophisticated services for high-end clients but had clunky solutions for businesses that did some commission business, she says. The broker-dealers like LPL and Raymond James had hybrid capabilities but fell short in other areas.
"I don't know why the [industry] hasn't built a hybrid platform. It was very strange to see what was out there."
Finally, Green looked at a real dark horse, Sterne, Agee & Leach, Inc., one of the oldest and largest privately owned brokerage firms in the country with its nearly 1,300 employees in 50 offices in 22 states.
But the Birmingham, Ala.-based investment bank had an even bigger problem.
"Sterne Agee did not have what we were looking for; they didn't have a wealth management platform. We went up and talked to them and they had about 25 people in the room. They said, let's see if we can build it, and they did."
Media blitz
Jay W. Carter, president and CEO of Sterne Agee Financial Services says this may be just the beginning for his company in terms of RIA custody. "This association with their practice will empower both of our firms to achieve higher levels of success. Sterne Agee is rolling out a big advertising campaign featuring Meg Green and her firm. Prior to joining Sterne Agee, Carter served as vice president of business development for a national brokerage firm that focuses on investment programs in financial institutions. He also served four years in the U. S. Army as a Russian linguist. See: Straight talk from a community bank breakaway.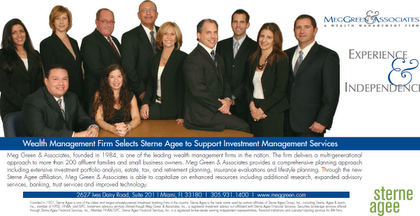 Sterne Agee and Meg Green plan
to make a big splash together
across Florida
Among the things she liked about Sterne Agee was its securities research, trust company, banking, investment banking. Previously she didn't feel like any of these services were at her fingertips. She was able to make some use of SEI's trust company but found it limited compared to what she has now. Since signing on with Sterne Agee, she has been able to counsel one client who had a large concentrated stock position.
And she likes not having to refer trust clients anymore.
"They need to go to a Northern Trust, Bessemer, etc. and we lose the client. Having a private trust company is a beautiful way to say: we can stay in as your investment advisor." Meg Green & Associates offers a multi-generational approach to more than 300 affluent families and small business owners, managing over $650 million in client assets. Founded in 1984 in Florida, the firm has 11 employees, all on salary, not commission. "Nobody is incentivized," Green says.
Shotgun marriage?
One way that Sterne Agee was able to so quickly jump into the RIA custody game was by doing some heavy outsourcing to Envestnet Inc..
"They were smart enough to grab Envestnet; I love that."
Sterne Agee also has some people on board who know the hybrid RIA world very well, including Stephen O'Neill who joined Sterne Agee Financial Services as director of business development in 2009. Previously, he served as senior sales manager for TD Ameritrade Institutional, responsible for sales strategy and recruiting efforts of breakaway brokers. Prior to TD Ameritrade, O'Neill served as senior vice president of Cambridge Investment Research, responsible for overall recruiting efforts of the firm.
Though Meg Green appears to have had a shotgun marriage with a relatively unknown, the entrepreneur says she deeply vetted other options.
One roof
The RIA custodians were clunky for her hybrid practice, in her opinion, because it required having extra relationships.
"I wanted it all in one home. I was even frustrated going through Royal Alliance to Pershing. I also didn't want a little broker out there. I needed strength, that wouldn't sell out."
Meanwhile, Royal Alliance was changing in a way that didn't match up with her business goals. "They're looking to be bigger. They say they're looking to keep all the IBDs [under AIG] independent but it's going to be hard to do. See: Why a Royal Alliance champion gave up the cause after AIG made changes.
Not independent enough
The closest she came to signing with another provider was Raymond James, which had much of what Sterne Agee did but fell just short.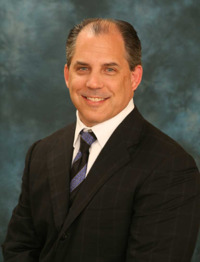 Todd Battaglia is the other half
of the team.
"Raymond James has limited portfolios to choose from. That was what was standing in the way. It wasn't as independent as we wanted to be."
Raymond James' Jodi Perry, regional director for the firm's independent channel responds: We believe Raymond James has one of the most comprehensive fee-based platforms in the industry and, indeed, advisors often choose to affiliate with our firm because they can independently manage their practices as well as their investment choices to meet their clients' needs," stated Perry, formerly a business development consultant.
Cutting bait
Green also looked at LPL, which was the third-best choice in her estimation.
Green has not been shy about making bold business moves in the past. When two of her children moved to Southern California she opened an office in Los Angeles so she could spend more time with them.
But like a good trader, she knew when to cut her losses. "It was so big that I had to build a team or cut it off."
And she has made other moves to prepare for a life of serving high net worth investors — selling off her $40-million book of business relating to smaller investors. See: What Meg Green was thinking when she purposefully shed $40 million of assets.
Another notably iconoclastic move by Green was not to break away from Royal Alliance by cover of night. She said the big broker-dealer worked professionally and openly with her as she made the transition.
Green says that her direct ways can be traced back to her New Jersey roots.
"If you ask a question, I'm going to answer."
---
Mentioned in this article:
---
---
Share your thoughts and opinions with the author or other readers.
Elmer Rich III said:
September 6, 2012 — 6:09 PM UTC
Nice reporting job and good story. Our experience is that "bespoke" or truly customized custodial services are a growth market. Not easy to sell or service but a growing set of specialized markets driven by client's needs becoming more diverse and complex.
One of the best ways for an advisory firm to truly stand out is to deliver truly different and better custodial services beyond the "Big Box" offerings.
---
---