News, Vision & Voice for the Advisory Community
Training regimens for the group -- including a Green Beret and a Gulf War veteran -- ranged from crossing the Brooklyn Bridge to Google searches for portable bottles of oxygen
July 12, 2012 — 3:35 PM UTC by Eric Clarke Guest Columnist
Brooke's Note: Most RIA-related execs could bond over a glass of water in a weed-strewn vacant lot if need be. And often they do much better than that of course, meeting in some of the finest hotels and resorts in the United States. But deeper bonds often are forged in challenging environments — like on 14,000-foot mountains — that require teamwork to conquer. I could imagine James Carville and Rush Limbaugh doing fine together in that atmosphere. No doubt Skip Schweiss knew all that as he put the word out among folks in the RIA business to join him on his latest outdoor venture — putting the most easily bonded in a place most conducive to it. Eric Clarke signed on with some trepidation — and a notepad — and came up with this written account.
When I was packing to attend the Tiburon CEO Summit last spring, little did I realize that some 11 weeks later I would be packing those same bags for a flight to Las Vegas to meet up with many of the same executives, but this time in a setting that required bear spray. See: 8 notable takeaways from the spring 2012 Tiburon CEO Summit.
While attending the Summit in April, I got wind of an excursion that was being planned for a hike up Mount Whitney in the Sierra Nevada range, the highest summit in the lower 48. Intrigued by this challenge, I talked with the organizing leader of the group Skip Schweiss, managing director of advisor advocacy and industry affairs at TD Ameritrade Institutional, about tagging along. The next week, Skip sent me an e-mail confirming my interest and ... game on … I was in!
I figured I'd learn something about hiking, enjoy the camaraderie, and even talk a little business with my fellow climbers. It didn't quite turn out that way.
The $370 billion gang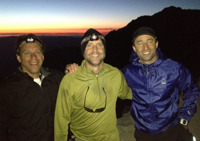 Chip Roame, Eric Clarke and Mike
Alfred on midnight hike the night
before the summit bid.
In addition to Skip, I learned that I would be hiking with fellow Tiburon CEO Summit organizer Chip Roame and attendees including Mike Alfred of BrightScope Inc. Dean Cook, president of FTJ FundChoice;Tif Joyce, an LPL rep from Sebastopol, Calif.; Scott MacKilllop, president of Frontier Asset Management LLC; Brian Nielsen; Alex Potts, president and chief executive of Loring Ward, Zohar Swaine, managing director, institutional strategy and product for TD Ameritrade Institutional; and Frank Trotter, along with friends Larry Sylvester and Clark Barber.
Skip provided the group with a checklist of hiking gear and informed us that we needed to be ready for a strenuous physical challenge. Two-thirds of those attempting to ascend Mount Whitney do not make it, and the fact that the group is collectively responsible for more than $370 billion of assets doesn't much matter to the mountain.
As I spoke with fellow hikers about their training regimens, I heard strategies ranging from crossing the Brooklyn Bridge with a 25- pound pack to unsuccessful Google searches for portable bottles of oxygen.
Iron men
Upon landing in Las Vegas, I hopped in a rental car with Brian and Dean for a drive through Death Valley to meet up with the rest of the crew in Lone Pine, Calif., population: 2,035.
On Sunday afternoon, Skip held a pre-hike team meeting in the motel lobby, where I learned more about the mental and physical challenges facing the group. Skip had assembled a team that included a former Army Green Beret, a Gulf War Marine veteran, three Ironman triathletes, four Eagle Scouts, and six marathoners. Even though the statistical odds were stacked against us, I still liked our chances … particularly Skip's, especially after he casually mentioned that he had previously reached the summits of some 78 14,000-foot-plus peaks!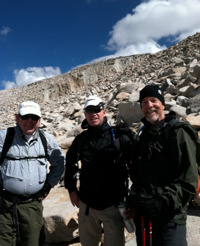 Frank Trotter, Dean Cook and Scott
MacKiillop on Mount Whitney's western slope.

Bear alert!
The group decided that we would meet at the motel lobby at 11:30 p.m. that night for a short drive to be at the 8,330-foot Whitney Portal trailhead for a midnight-moonlit start to our hike.
Once at the Whitney Portal, we had a brief visit with the park ranger, who warned us of a bear in the area. Undeterred, we weighed our packs and headed up the trail to our first stop, 2.8 miles into the hike: Lone Pine Lake Junction, elevation: 10,030 feet. All 13 of us were still together at this point, pace better than expected. One headlamp down. Not to worry, I had packed two and gave my spare headlamp away.
Sunrise at Trail Crest
Second stop, Outpost Camp another mile up the trail. Chip's headlamp had failed while crossing the stream just before the camp. No big deal. Zohar was carrying spare batteries. Hiking at night, we were not able to see the beauty — or the danger — of where we were hiking, but the sky was incredibly clear and Alex was able to point out some planets to the group. It was incredible.
After the quick stop, Mike quickly moved out ahead, and decided to take advantage of the moonlight and turn off his headlamp. Chip and I fell in right behind using the buddy system we formulated in our pre-hike meeting. Taking quick breaks every 40 minutes or so for a snack, Chip, Mike and I took turns setting the pace for our small group.
By the time we reached Trail Camp, elevation: 12,040 feet, we were 6.15 miles into our hike and we knew it would be our last chance to refill our water bottles for the next seven miles. A couple of iodine tablets in the stream-filled water bottles later and we were back on the trail, headed for a series of 99 switchbacks leading to Trail Crest.
Nearing Trail Crest, the sunrise lit up the Eastern horizon. Mike started walking back to Chip and me, who had stopped for a quick break after trekking up 96 of the switchbacks. Mike said it was really windy up ahead, and asked if he could use Chip's wind pants from his backpack. Chip quickly agreed.
Success!
As we crossed the eastern side of the mountain to the western slope to continue our ascent, the park service sign read 13,600 feet. Mike's Garmin GPS informed us that we had completed more than eight miles of our 11-mile hike. As we were breathing one-third less oxygen than normal, our pace was now slowing considerably. As we continued to alternate pace setting like geese flying in a V pattern, we could see the Summit Hut far off in the distance. The goal was now in sight, but still in question. Chip commented, "You guys are doing great" and it was just the encouragement I needed to continue.
As we approached the final stretch to the Summit Hut together, a rush of adrenaline set in, followed by a series of high-fives at 14,505 feet — the peak of Mount Whitney.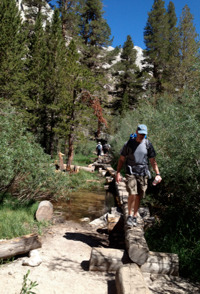 Alex Potts crossing stream via log.

Treacherous western slope
At 6:45 a.m., the three of us signed our names in the Park Service's register book, refueled, and confessed to each other that we were all but completely out of water. We drank from the small portion of the one bottle that we had left, broke out our hiking poles and started to head back down the trail.
Heading back down the trail with Brian, we started to verbally check off each remaining hiker on our team. The remaining nine were accounted for and now on the western slope spread out between Trail Crest and the summit. The western slope of the trail is dangerous, and as we passed Skip he had a look of genuine concern about those behind him. We were able to witness hiking pairs sharing food, gloves and coaching each other with words of encouragement.
Once in a lifetime
The most heroic act of the day came shortly after Alex, Dean, Frank and Scott reached the Summit Hut. They ran across a hiker along the trail who was experiencing symptoms of altitude sickness. They allowed her to join up with their group and assisted her from the 13,600-foot Trail Crest back to Whitney Portal. Along the way, Alex rotated his hiking poles with Dean to ease their combined descent.
All 13 members of our group reached the Mount Whitney Summit that day. With the odds against us, why should this have happened? The answer is simple — teamwork. Our team's vision of reaching the summit was clear, and we paired up and helped each other accomplish the goal.
I came away from this hike with a renewed respect for working together as a team, especially as it applies to our businesses. Once we set a clear vision, our odds of success dramatically increase when we are willing to take input from outside experts whose experiences we can learn from, form a buddy system of strategic alliances, receive words of encouragement from coaches, share best practice resources with partners and reach out to help others along the way. Don't go it alone, the odds are against you and you won't make it. Banding together with your staff and partners will help you achieve the vision that you have set about to accomplish.
As we wrapped up with a post-summit dinner in Lone Pine, Dean summed things up by stating, "I am really glad I came, but I'll never do that again!" Achieving the goal as a team could not have been more rewarding. Skip, thank you for letting me tag along and be a part of the Lucky 13.
Eric Clarke is the CEO and founder of Orion Advisor Services LLC a portfolio accounting service bureau reporting performance for more than $70 billion of assets for advisors.
---
Mentioned in this article:
---
---
Share your thoughts and opinions with the author or other readers.
Bill Winterberg said:
July 12, 2012 — 2:40 PM UTC
What a great story of teamwork and adventure. Thank you Eric for sharing and to Brooke for posting.
---
---