News, Vision & Voice for the Advisory Community
The big custodian is more concerned with error-free melding than quick milestones -- but are competitors pulling ahead while Schwab tinkers?
November 16, 2011 — 5:11 AM UTC by Brooke Southall
Brooke's Note: When I was a technology reporter in the late 1990's covering software companies in the Baltimore area, there was a lot of talk about vaporware — a word coined to describe software that was in the planning stages but not yet actually created. In the heady days of the tech boom, fierce competition forced companies' hands in promoting in-progress technology. But trying to track the progress of Manugistics' supply chain software was child's play compared to comparing RIA custodial technological ecosystems. Still, a talk at IMPACT with Schwab's vice president for advisor technology solutions, Neesha Hathi, gave me a far greater understanding of such systems, Schwab's overall strategy, and its progress compared with other major custodians.
When we first heard of Schwab Advisor Services efforts to create a grand ecosystem of technology back in April of 2010, it was enigmatically called "Project C." Several months — and syllables — later, it was renamed Schwab Intelligent Integration. See: Schwab's Project C now has two tiers and three new names.
Schwab lags behind competitors like Pershing, TD Ameritrade and especially Fidelity in its efforts to weave third-party vendors into its system — but not in its ambitions.
"Schwab Intelligent Integration is one of the company's biggest initiatives, and we are committed and dedicated to this integrated technology strategy and to serving you," says Bernie Clark, head of Schwab Advisor Services in a releaase. "This will change the way business is done now and in the future." See: Schwab unveils a plan to create a grand ecosystem of top technology vendors to RIAs.
Thus far, Schwab has only integrated SalesForce, the big CRM provider, into its turnkey solution. It has also integrated Junxure on a non-turnkey basis and RIABiz did a demo to confirm this. See: Beta test of Schwab's grand integration plan draws rave, but will the slow rollout prove detrimental?. The basic advantage of these integrations thus far is that information formerly visible only in the portfolio management system now bubbles to the surface of the CRM page.
Four more years?
When I sat down with Neesha Hathi, vice president for advisor technology solutions and head of the San Francisco-based RIA custodian's technology project, my goal was to gauge Schwab's progress as the integration project approaches the two-year mark. Industry-watchers had looked to Schwab's recent IMPACT conference for an announcement of a watershed moment for Schwab Intelligent Integration, but the company did not tip its hand all that much. See: Schwab chooses some giant software partners, apparently with big RIAs in mind.
Indeed, when I spoke with Joel Bruckenstein, producer of the T3 conferences, in preparation for this interview, he said the project could take four years to really begin to take shape.
When asked about this, Hathi demurred, but not strenuously.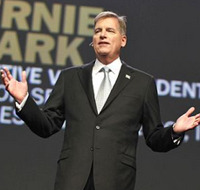 Bernie Clark: This will change the
way business is done.
"We do always think of it as a multi-year initiative. I don't know if I'd say four [years]."
Hathi says the reason that Schwab is moving at such a deliberate pace relates to where it sits in the marketplace — already in control of the accounts of 7,000 advisors with about $700 billion of assets. This means its focus is on creating a better integration experience for advisors who have largely already picked their technology provider, as opposed to tabula rasa breakaway brokers prepared to plug and play into an all-new system.
"If we were just going after that market, we'd say the turnkey solution is all we need, but we have 7,000 existing advisors we want to serve [them] better," Hathi says.
First, do no harm
She went on to explain that integrating technology is a little like replacing organs in the human body (my metaphor, not hers) — if done improperly the organ can be rejected. She says that screens can be "messed up" if integration happens willy-nilly. "We call it the 'do-no-harm' principle."
Edward O'Brien, who oversees technology for Fidelity Institutional Wealth Services, says that his company's turnkey solution, encompassing Advent/Black Diamond, Siebel and NaviPlan, is used also by existing advisors. He declined to specify how many but says more than 700 third-party packages have been executed by all advisors.
Fidelity is now also working to integrate Envestnet Vantage Performance Reporting, Morningstar Office, Redtail Technology, SalesForce and AppCrown, LLC.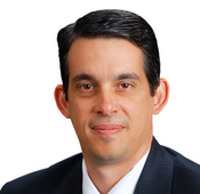 Jon Patullo: It's more than just
an API. It's a key
enabler for pretty deep integration.
Which way forward?
Schwab has eschewed an approach much like TD Ameritrade's API system, in which the company reveals its technology code to third-party vendors and allows them to integrate from the other direction.
Hathi agrees that this is a shortcut but ultimately not one that she believes accomplishes the goals of Schwab or its clients.
"An API is easy. We could have put that out there and said: 'Go ahead market, build to it.'"
But Jon Patullo, who is overseeing the API integration effort at TD Ameritrade, says that his company's approach is more complex and collaborative than Hathi makes it out to be.
"It's more than just an API. It's a key enabler for pretty deep integration. The validation is from advisors, industry experts and third-party vendors."
Freedom of choice
John Philpott, CEO of Interactive Advisory Software of Atlanta, believes that all the custodians are way behind in creating integration. "I'd say we have a significant head start. We didn't say: 'We're going to pick CRM and build it around CRM.' We built our system around the client."

John Philpott: We didn't say: We're
going to pick CRM and build
it around CRM. We built our
system around the client.
The flaw Philpott sees with all the custodians is that they're still trying to integrate between firms that have separate databases. IAS uses a single database for all its apps. Of course that means that advisors can't use their vendors of choice, but he believes that advisors have sufficient flexibility. "I don't think it necessarily limits your choice."
Tamarac is another company that is pursuing its own in-house ecosystem of technology.
Hodgepodge of protocols?
Hathi says Schwab is taking extra care not to allow things to go haywire in the integration process.
"The one paying the price is the advisor who says: 'This didn't map.' There's difficulty trying to control for that…We said: 'Let's not have 12 CRMs but make sure their definitions are the same.'...We're going to validate and make sure nothing breaks."
One example Hathi gives is that many financial advisors differ in the way that they list the address information of clients, for instance some might list summer homes while others don't. Without careful integration, such a hodgepodge of protocols can throw technology into disarray, she says.
Two other factors that have slowed Schwab's progress are its determination to study RIA workflow and build to it and also its decision not to put its own technology at the center of the universe that it is creating.
"It would be much simpler to say: 'Let's make Schwab Advisor Center the center of the universe,'" Hathi says.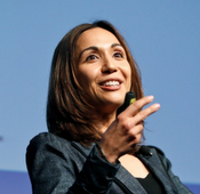 Neesha Hathi: An API is easy.
We could have put that out
there and said: 'Go ahead market,
build to it.'
CRM centrality
Schwab's thinking is that most advisors live all day on their CRM and tend to have significant assets held at other custodians. CRM centrality makes it easier to view those. "If we built it around a portfolio management system, we could do that," Hathi says.
Patullo says that TD also puts CRM at the center, but that it is also making it possible for advisors to put its tech platform, Veo, at the center, if that's what they prefer. See: TD Ameritrade's technology, Veo, wins high praise from advisors so RIABiz took a look.
"I'm sure traders don't use CRM that often. They may want to see what needs to be rebalanced."
Tech comfort food
Schwab has not named any portfolio management systems, although Schwab PortfolioCenter will certainly be one offering. Hathi says that RIAs can expect to hear about Schwab's selections for portfolio management systems in coming months.
The one vendor that Schwab named at IMPACT was Salentica, a Toronto-based CRM provider that is favored by many of its larger RIA clients. It has created a customized version of Microsoft.
"A lot of people like Microsoft because it is familiar," Hathi says.
Salentica provides advisors with a customized version of Microsoft Dynamics CRM and is the first Microsoft ISV to participate in the Schwab OpenView Gateway. The integration will benefit those advisors who purchase Salentica Advisor Desk for use in the advisor's office or on a hosted platform. Salentica will also begin developing an integration plug-in for firms that have purchased Microsoft Dynamics CRM 2011 directly from Microsoft, again as either a desktop or hosted solution.
"What's really exciting about this relationship with Salentica is that it will allow advisors who choose to work with Salentica and those who prefer to work directly with Microsoft to reap the benefits of integration with Schwab's custody data," says Hathi in a release.
---
Mentioned in this article:
---
---
Share your thoughts and opinions with the author or other readers.
Mr J.L.Livermore said:
November 16, 2011 — 8:42 PM UTC
The beauty of being a dead legend is being able to observe and critique with impunity. First I needed to know what an API is, so here is what Wiki says:
"An application programming interface (API) is a particular set of rules ('code') and specifications that software programs can follow to communicate with each other. It serves as an interface between different software programs and facilitates their interaction, similar to the way the user interface facilitates interaction between humans and computers"
I also learned in my research that an API can be "public" or "private". If it is public the access to the API is documented and provided to the participants. Public does not mean public domain. It is public only to participants that are in a working relationship with the API owner. A private API means it is not published to anyone outside of the publisher's entity.
Taking that definition for face value tells me that Schwab has an API, it just isn't public. TD's API has been greatly publicized as a boon to vendors to access its platform. Based on the press over the past 18 months it seems that TD's "open API" is only really open to the current club of vendors they approve and is likely the case with Schwab.
Other vendors noted such as Orion, SalesForce, RedTail, et. al. also have APIs. In fact SalesForce' entire premise for its existence must be based on an API since it depends on an ecosystem of outside applications that have to talk to that API.
Based on my understanding from reading the press, talking with industry experts and talking to my spies who attend the tradeshows there are two main roads to follow; all in one platforms and individual components both of which are integrated using some API or other method to gain access.
Something known as a TAMP (Turnkey Asset Management Program/Platform) falls into the first category of all-in-one. This is a model popular with custodians (Schwab Open View, Fidelity WealthCentral, etc.) and with independent platforms such as Envestnet, Tamarac and so forth.
From what I am told the TAMP provides great scaling capability for the entity providing the services since they can share hardware, storage and even databases. On the subscriber side it can be beneficial, but there are inflexibilities and concerns of shared data resources, single point of failure and so forth.
The second choice using individual components reduces dependence on a single entity and potential failures. It also allows the subscriber to choose what application is best for their firm and business process. Of course indepedence is not without its issues. There are more moving parts and it may take a bit longer to get things moving – maybe not. Either way the choice needs to be made based on what is best for the firm.
According to my IMPACT spies the Junxure demo was a good example of Schwab's Gateway access for vendors who are not included in the captive Open View platform. Based on the explanation of what Junxure was doing, Gateway is Schwab's API for external vendor applications.
An issue that all custodians have is not so much pushing out information like CRM data – that is easy according to my technology consultant acquaintances. Things become very complicated when it comes to feeding information back into their systems. An example that comes to mind is submission of trading information. The risk of botching CRM data has far less impact than allowing trades to enter a custodial platform directly from an outside system other than from the custodian provided system. I don't expect to see trade submission being made available by the custodians anytime soon due to their risk mitigation requirements.
From my limited perspective with regard to technology what I see is a lot of confusion and everyone pulling in directions that suit their own ends. How terrible would be if there was a common dialect for information transfer between all entities – custodians, broker/dealers, data providers and the consuming firms and vendor applications?
There are no standards bodies within this realm of the industry that govern or even direct any of this behavior. Advisors get what is thrown at them by the custodians and the vendor community. Why should a retail client at TD have better tools than an RIA?
The entire planet's telecommunications and networking system is advanced as it is due to standard both ratified and de facto. It exists because of working groups and requests made to the community of interested parties for comments on new ideas. All of that collaboration is what built the greatest communications platform known. Perhaps we're not ready for that but until we are we can only blame ourselves.
And I am not suggesting a vendor only sponsored group either. Groups such as those (who will remain unmentioned) use these venues to load their own guns with alliances that serve their benefit rather than the community of users. A solid and functional working group must consist of users, vendors and custodians and without political agenda or it will fail.
In the end like with any other space we can vote with our wallets. If vendors and custodians alike are not willing to work for our business then find ones that will.
JLL
Brooke Southall said:
November 16, 2011 — 10:10 PM UTC
Thank you for your explanation of API. I should have better defined it in the story.
Brooke
Mr J.L.Livermore said:
November 16, 2011 — 10:51 PM UTC
Mr. Southall,
You are welcome. This is an instance Wiki can be trusted. One point of clarification. With regard to my usage of term TAMP. I make reference to it in terms of technology only. A full-fledged TAMP is much more than just a single technology portal without argument. But there are similarities to all-in-one service providers that keep adding new technology warts to their existing platforms hoping to create a more efficient revenue platform with a greater level of stickiness whether by value or by decree.
JLL
J P Morgan said:
November 21, 2011 — 4:24 PM UTC
Jesse,
The entire issue over information flow in the advisor market is rubbish. If the custodians and vendors would drop their xenophobic policies the industry would flourish. The Street uses common platforms for information transfer every day. They don't share trade secrets but they do share data formats.
Custodians are afraid of advisor attrition if they compete on a level playing field. I say that if a custodian is so worried about attrition through an information channel they have no faith in their core competency and differentiating value to the advisors they serve. Most will agree that moving custodians is difficult, not because of data access but because of all the paperwork and client interaction involved. Someday all that will change (RIA in a Box) and paper moves will be greatly simplified. Then what? What will be the barrier to attrition?
Vendors, some, not all, hold client data captive making it difficult to move off their platform, such as some very popular portfolio management systems which will go unnamed. This is at best a short-sighted plot to preserve market share. This behavior invites dissension and attrition. As a vendor you are telling your client that your products don't stand on their own merit of value so you have to keep them locked in. This too is changing ever so rapidly and the walls of attrition are falling.
Advisors are their own worst enemies when it comes to technology. Generally speaking, advisors want everything on the cheap and to make matters worse they do not want to get involved with their own destiny. Advisors need to get involved at a national level and develop a lobbying platform to force custodians and vendors to give them what they need now, not five or ten years from now. And your reference to the telecommunications industry, specifically Internet technologies, is a good example of industry, vendors and the user community (typically university) collaborating.
JP
Elmer Rich III said:
March 8, 2012 — 8:29 PM UTC
Technology will not make complex matters simple. It will make them more complex. Most professionals spend their time getting technology to work not using tech to get work.
We advise, and help our clients, move from a "gee whiz" approach to a more mature balance — driven by their client's needs and our clients business goals. The tech "tail" simply isn't capable of "wagging" the the RIA's whole business. That's not a commercial but what we've seen work.
Plus, as we have all seen, everything will change in another x # of years.
---
---