News, Vision & Voice for the Advisory Community
A close-up look at how one investor uses The Mutual Fund Store as a way to tap the RIA opportunity
April 12, 2010 — 5:07 AM UTC by Elizabeth MacBride
Brooke's note: What's interesting about the few RIAs — Adam Bold, Ken Fisher and Ric Edelman — who have scaled their businesses nationally is just how many rules they seem to break. A quick read of this article reveals quite a handful of rule-breaks ranging from gigantic advertising and marketing expenses [and reliance] to owning a start-up RIA from over 2,000 miles away. This information wouldn't be very interesting except that The Mutual Fund Store seems to be having some success. Consider this article a big peek into Adam Bold's outside-the-box thinking.
The Mutual Fund Store is back in expansion mode, with plans to open 6-12 franchises this year. Assets under management hit a new peak of $5 billion in March.
Two franchises already are scheduled to open soon, in Wichita, Kan., and Des Moines, Iowa, said Adam Bold, founder.
The Mutual Fund Store, which is the nation's sixth-largest independent advisor, has 55 franchises and 14 company-owned stores nationwide. Since 2004, the company's main expansion strategy has been franchising, but in 2009, as the recession took its toll, only one new franchise was opened, in Madison, Wis.
In an interview with RIABiz in August, Bold said that the first half of the year was slow but that the market for his stores began to turn around in June. It takes between two-three years for a new franchise to become profitable.
Typical franchisee
The typical franchisee is someone who has worked in the industry, says Bold, though has not been an advisor. As examples of the kinds of companies with which franchisees have had career experience, he tossed off names, including Sun Life, Morgan Stanley, Charles Schwab & Co., and Oppenheimer Funds.
Jeff Roper, the franchisee opening one of the franchises in the Midwest, is a lawyer and tax consultant. In December 2007, he became a passive investor in a new Mutual Fund Store in the Harrisburg, Pa., market. After a slow start, that store is building and has about $27 million in assets under management.
In 2008, he opened his own franchises in Fresno, where he has $31 million in assets under management, and in Seattle, where he has $46 million in assets under management.
"I was constantly looking for opportunities," he said. "I have an entrepreneur's spirit. Though I would have been open to a lot of industries, I honestly believe the Mutual Fund Store offers a superior product."
With Ameriprise making franchise ownership as much as a 10-year process retreat [see: Ameriprise Financial clamps down on franchisees with new rules, the Mutual Fund Store is the only advisory business that seems to be embracing the concept as its primary route to expansion.
Headache avoidance
The franchise model makes the Mutual Fund Store one more alternative, in addition to an independent broker-dealer or a large RIA, for someone who wants to be an advisor but doesn't want all the headaches of a establishing a standalone small business in a heavily regulated market.
For instance, the Mutual Fund Store chooses the custodian and clearinghouse, which for all the franchisees is Schwab Advisor Services. The headquarters also helps with compliance.
Roper is able to run his franchises from his home base in St. Louis, and still work as a lawyer on the side. In Fresno, for instance, he hired an experienced advisor and a staff person, and keeps in touch every day by phone call and e-mail.
That advisor has incentives to acquire ownership in the franchise depending on its success, Roper said.
More than one investor
Typically, a Mutual Fund Store franchise has more than one investor, according to company spokesman Paul Herdtner.
The initial fee to open a franchise is between $50,000 and $500,000. The fee increases in $25,000 increments depending on the size of the market. Roper paid $75,000 for Fresno.
Most markets have just one store, but a few have more. Houston has three franchises. Chicago, St. Louis, Seattle, Denver, Detroit and K.C. each have two.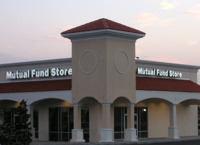 The Mutual Fund Store franchises are
often located in shopping centers. This
store is in Tampa, Fla.
The Mutual Fund Store is a volume business, with 28,000-29,000 clients, with an average of $180,000 invested with the company. Clients pay an average of 1.3% to the Mutual Fund Store to manage that money through the platform of mutual funds chosen by the company's research. The clients also pay whatever mutual fund fees are incurred.
Dependence on advertising
Franchises depend heavily on advertising to bring in the volume of customers it needs. Having Bold's radio show on in a franchisee's market is vital – Roper says he gets all of his clients from the show.
In addition to the 30% of revenue that the franchise agreement calls for a franchisee to pay to the Mutual Fund Store, the franchise agreement also requires a franchisee to spend 8% of revenue on advertising, including with the radio show that has an agreement with Bold.
In addition, the franchisee bears most of the risk if Bold's show is pulled from the air for some reason. However, according to the franchise agreement, "if THE MUTUAL FUND SHOW® no longer is broadcast in your Territory to at least the majority of the region, or if no weekly broadcasts occur over any period of 4 consecutive weeks or longer, we will reduce the Royalty Fee to 15% of Management Revenue."
---
---
Share your thoughts and opinions with the author or other readers.
Phillip Christenson said:
May 26, 2014 — 8:08 PM UTC
I'm assuming the mutual fund store grew without the aid of the radio show. Anyone know how they started out pre-radio? When did they start franchising?
---
---