News, Vision & Voice for the Advisory Community
The United Capital CEO is bringing aboard Gail Graham, a former Fidelity higher up, and Stephanie Bogan, a former Genworth luminary, to be sure the firm's capacity keeps pace with marketing
September 13, 2012 — 4:55 AM UTC by Brooke Southall
Brooke's Note: The timing was good. I got the news of these two high-profile hires at United Capital just as I ran into Joe Duran in the hallway of the M Resort conference center. I was able to interview him and get a fresh photo. The bad news is that it postponed some of my coverage of this MarketCounsel event — including Duran's speech. Stay tuned.
Two industry leaders — one from Fidelity Institutional Wealth Services and the other from Genworth Financial Wealth Management — now make up two of the top executives that constitute the inner circle of United Capital Financial Advisers — two women CEO Joe Duran believes will be crucial in helping him to navigate the firm's course through a challenging period in its growth.
Gail Graham, 52, was the executive vice president of marketing and business development at Fidelity and Stephanie Bogan was CEO of Quantuvis Consulting and a member of Genworth Financial Wealth Management 's executive team after the sale of her firm to Genworth in 2008. See: Stephanie Bogan: Put me in, I'm ready to play.
Duran made the hires with a sense of urgency after assessing the challenges his firm is now facing. Through the end of July, his Newport Beach, Calif.-based aggregator had brought in $400 million of net new assets and it is on track for $700 million.
"We've hit a roadblock in our ability to handle [such a large inflow of people and their money]" he says. Next year the company's marketing is aimed at luring another $1 billion of assets and the company needs to be ready.
Despite the urgency involved in putting talent in place, Duran says that the two women, who had both recently left their respective positions, approached his company.
Adding a top floor
Graham will be working with Duran to develop a national consumer brand, enhance business execution and assist in the deployment of the firm's capital over the next several years. Graham left Fidelity amicably in July with the plan of seek a position with a smaller, more innovative firm. "Gail is my right hand person. She'll make sure I do what I'm supposed to do," Duran says. Fidelity did not respond to a request for comment.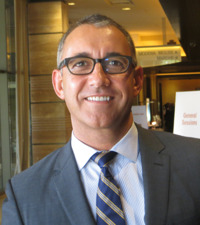 Joe Duran is hiring experts at
building a company's scale in expectation
of a possible $1 billion of
NNA next year.
Graham says that her job description suits her well. "I want to make a legacy…I can put the top floors on the big building. I've built large, complex organizations."
Chip Roame of Tiburon Strategic Advisors, says that Duran made the right hire with Graham.
"Gail Graham is a perfect fit for UCFP," says Roame, managing principal of Tiburon. "She believes in the mission and has displayed such [a passion]] for years. She has long advocated for women executives and consumers alike. She will further the firm's purpose-based positioning."
Indeed, Duran says it is no coincidence that both the hires are women, and that the last two firms acquired by United Capital were headed by women and that the next two that will be announced are as well. Duran believes that women can better address the neglected female investor. But a larger reason is that he's trying to create a culture and system of business that addresses people's lives in a more holistic way. He believes women tend to have a better sense of that mission. See: Why women just aren't buying what financial advisors are selling.
'Joe wants to be it'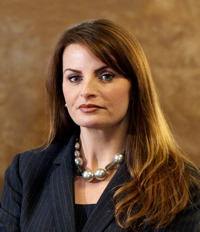 Stephanie Bogan: It pulls me out
of practice management.
Bogan, head of business model development, will work to refine and improve the firm's business model, ensuring that United Capital's business and offices are positioned to deliver a consistent, high quality experience that can successfully scale the delivery of specialized services to clients as the firm grows.
"Stephanie's job is to create capacity in the underlying offices," Duran says.
The job description is exactly what Bogan, 39, says she was seeking when she left Quantuvis in March — that is, a position with a player hot on the trail of the RIA opportunity where she could flex her management skills — and get out of consulting for other people's businesses.
"It pulls me out of practice management and draws on my business experience," says Bogan. "The independent space is waiting for a national brand and Joe wants to be it."
Prior to joining Fidelity, Graham was executive vice president of the Private Client Group, Fleet Bank from April 2001 to April 2002 and executive vice president of the Private Bank, PNC Bank from 1997 to 2001.
United Capital has 40 offices located around the United States. As of June 30, United Capital and its affiliates had $14 billion in assets under advisement.
---
Mentioned in this article:
---
---
Share your thoughts and opinions with the author or other readers.
---