News, Vision & Voice for the Advisory Community
Jon Patullo encourages RIAs to leave the laptop at home on travels to avoid back pain
April 5, 2012 — 1:56 AM UTC by Brooke Southall
Following the lead of Pershing LLC and Fidelity Investments but ahead of Schwab Advisor Services, TD Ameritrade Institutional is making it possible for advisors to place trades for mutual funds, ETFs and equities from chairlifts and hotel lobbies using iPads. See: Fidelity releases WealthCentral Mobile for the iPhone.
The Jersey City, N.J.-based custodian is also making other features of its Veo advisor platform available on the Apple tablet computer including consolidated and single client account views, as well as live streaming CNBC coverage. See: TD Ameritrade's technology, Veo, wins high praise from advisors so RIABiz took a look.
"We thought the iPad, more so than mobile apps, [is important] so [advisors] can present [information] to clients. Mobile is hard to use to present to clients," says Jon Patullo, managing director of technology product management for TD Ameritrade Institutional.
iPad over iPhone, and Android
"I feel TD made a strategic, and appropriate, decision to enable trading on the iPad first before mobile devices in general. The iPad's large and high resolution display is much more useful than small smart phone screens to show trading information. Sure, some advisors may use Android tablets, but I suspect they represent a very small sample of TD's advisors using mobile devices."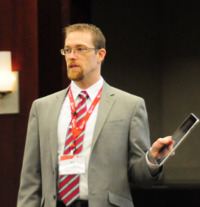 Bill Winterberg: The iPad's large and
high resolution display is much more
useful than small smart phone screens
to show trading information.
There are still fine-tuning aspects of managing portfolios using Veo that need to be done back in the office — not on the iPad, Patullo adds.
"If they're on the golf course, they can place the trade and have somebody back in the office make the allocation (of a block trade to specific accounts)."
Most advisors are using iPads or are fast on their way to owning one, Patullo says.
iPad eminence imminent
The majority of the advisors raise their hands at conferences when asked whether they own one. Most of the rest of the hands go up when asked if a purchase is imminent.
That said, there are still doubts in the industry about how much advisors will truly use an iPad for conducting business. See: Why RIAs are shunning mobile apps and why Black Diamond, Orion, Fidelity and others are still placing their chips on an iPad future.
Patullo says he's convinced that advisors in today's volatile markets are going to trade remotely. "They need to be able to react."
But do advisors really need to be able to trade from a golf course?
"We hope advisors become so efficient that they spend more time on golf," Patullo says. "[But also] a lot of advisors are travelling a lot and they like to leave the laptop in the office. It'll save them a little back pain as well."
Users of the Veo Mobile app for iPad users were notified that an update is available for download today. Advisors not yet using the application can download the Veo Mobile app for free from the App Store or iTunes at www.itunes.com/appstore.
---
Mentioned in this article:
---
---
Share your thoughts and opinions with the author or other readers.
---