News, Vision & Voice for the Advisory Community
Ex-Goldman and former BlackRock star Marie Chandoha has quickly overseen Charles Schwab Investment Management's rise from Barron's #34 to top 10 -- but Morningstar wants to see more
February 15, 2012 — 3:36 PM UTC by Brooke Southall
Brooke's Note: Proprietary mutual funds are not the first thing that come to mind when Schwab's brand name is spoken. Charles Schwab Investment Management is relatively small and its $200 billion-plus of assets are dominated by its money market fund. It also lacks an identity of sorts — being a hodgepodge of names and products ranging from Laudus to its ETFs. It is unique in that it doesn't market beyond its own distribution channels — including RIAs who use it for custody. But Schwab takes its mutual fund effort seriously — at least enough to go out and hire some pretty top-tier talent in the wake of the YieldPlus hoopla. There are encouraging signs of change. See: YieldPlus fallout darkens advisors' view of Schwab as asset manager.
The Charles Schwab Corp. has dodged most of 2008's Wall Street meltdown bullets — except the one that resulted in its YieldPlus fixed-income fund plummeting in value due to ill-advised investments.
The San Francisco-based brokerage and custody giant says it has settled all the lawsuits connected to that chapter in its history. It also severed ties with AXA Rosenberg, which sub-advised four of its Laudus funds after issues were revealed there.
Now Schwab is putting even greater distance between itself and the decisions that put a rare black mark on its sterling brand name by completing a top-down overhaul of its mutual fund personnel.
Rebuilding the brand
In scrubbing its tarnished mutual-fund image over the past year, Schwab has been using a tried-and-true tactic, according to Laura Lutton, editorial director of fund research at Morningstar Inc..
"They've hired outside people and charged them with the clean-up. I think that's pretty typical of what we see" in these kinds of situations, she says.
In its annual rankings of "best" mutual fund families for 2011, Barron's rated CSIM eighth out of 58 fund families, a huge jump from its 34th placing in 2010. This put it ahead of T. Rowe Price, American Funds, Fidelity Investments, and DFA from the perspective of the Dow Jones weekly. The ratings are based on performance criteria from the previous year.
It's a refreshing form of recognition after a few years of unwanted publicity.
Schwab paid a $119 million fine to the Financial Industry Regulatory Authority Inc. and put aside $18 million for investors about a year ago, a result of the Securities and Exchange Commission filing a complaint in federal court against CSIM's former chief investment officer for fixed income, Kimon Daifotis, and Randall Merk, the executive vice president who headed the asset management unit.
The fund allegedly led investors to believe it was buying super-safe money-market-like instruments but, unbeknownst to them, was also buying an admixture of securities that included some riskier bonds with longer-term maturities.
h2 Turnaround artist
At the center of Schwab's re-peopling and brand-rebuilding efforts is its hiring of two executives with deep experience in fixed income who now hold the positions vacated by Daifotis and Merk.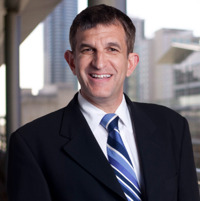 In June, Schwab hired Brett Wander
as CIO and senior vice president,
fixed income.
Marie Chandoha is heading Charles Schwab Investment Management after being hired away from BlackRock (since 2009, Barclays Global Investors/BlackRock) where she was head of global fixed income from 2007-2010. She was hired in December of 2010 and at that time, Merk stepped aside to assume an unspecified role, according to Schwab. He has since left the company entirely.
Chandoha has a history of successfully building asset management businesses. In her time at BlackRock, Chandoha grew fixed-income assets from $200 billion to $400 billion.
Before that, she oversaw the growth of assets at Montgomery Securities (now Wells Capital Management) from $1 billion to $18 billion, according to her. Chandoha also had stints in senior positions at Credit Suisse and Goldman Sachs and was an economics major at Harvard University.
"I like to build things," she says.
Janine M. Guillot, formerly managing director and chief operating officer of Global Fixed Income at BGI who worked under Chandoha, and is currently CalPERS chief operating investment officer, says:
"Marie has high standards and expects results. She's smart about all aspects of the investment management business and is actively engaged in the important issues, from investment strategy and people development to compliance standards."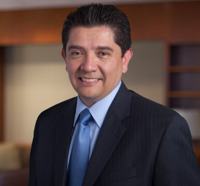 In April, Chandoha hired Omar Aguilar,
formerly of Financial Engines and Merrill
Lynch Investment Management.
New crew review
In April, Chandoha hired Omar Aguilar, formerly of Financial Engines Inc. and Merrill Lynch Investment Management, as senior vice president and chief investment officer, equities.
Chandoha continued building Schwab's fixed-income strength in June with the hire of Brett Wander as CIO and senior vice president, fixed income. He formerly worked with State Street Global Advisors.
"They're trying to rebuild the reputation with Schwab customers and it remains to be seen whether they are successful," Lutton says. "This is a very competitive business [and to succeed] you need best-of-breed products. We're interested to see how it plays out."
Kurt Brouwer, chairman of Brouwer & Janachowski, a Tiburon, Calif.-based RIA, says that it is not surprising to see Schwab make the moves — not only because of the YieldPlus affair but also because of the highly publicized coding errors of its former subadvisor, AXA Rosenberg, that affected four Schwab quant funds.

Kurt Brouwer: They typically don't repeat
mistakes.
"Both of these events were very difficult so I'm not surprised Schwab would make a change. It doesn't mean the other people did something wrong but people at the top move on [in these kinds of circumstances.]"
Schwab points out that many of its funds distinguished themselves last year including "best of" recognitions from U.S. News & World Report:
Schwab Emerging Markets Equity ETF (SCHE) – #1 in Emerging Markets; Schwab U.S. Small-Cap ETF (SCHA) – #3 in Best-Fit Small-Cap; Schwab U.S. Broad Market ETF (SCHB) – #4 in Best-Fit Large-Cap; Schwab U.S. Large-Cap ETF (SCHX) – #5 in Best-Fit Large-Cap. See: Schwab to make long-awaited move in 401(k) market with an all-indexed mutual fund and ETF strategy.
Additionally, the Schwab California Tax-Free Bond Fund (SWCAX) was awarded "Best California Intermediate Municipal Debt Fund over Ten Years" by The Lipper Fund Awards, out of 19 qualified funds, for the third year in a row.
More sizzle than steak?
Of course, best-of-breed recognition is no guarantee of future success. YieldPlus held a Morningstar 5-star rating from December 2004 through September 2007.
About 50% of CSIM assets are held directly by retail investors and the other half through clients of RIAs who use Schwab. Virtually all the CSIM assets are distributed through Schwab.
Lutton says this approach concerns her to the extent that Schwab's growth may be driven more by marketing and brand than by performance.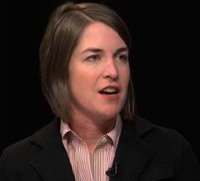 Laura Lutton: They're trying to rebuild
the reputation with Schwab customers and
it remains to be seen whether
they are successful.
"We like firms that do well and assets find them versus firms that go out to get assets," she says.
Brouwer says he expects that Schwab will manage its mutual fund business more uneventfully going forward.
"I have no doubt that Chuck [Schwab, chairman of The Charles Schwab Corp.] and the others in executive management will make a point of not making that mistake again … they typically don't repeat mistakes."
At a glance
Schwab declined to break out its net flows into its funds during the past year but gave this snapshot of CSIM as of Nov. 11:
- Total managed assets in Charles Schwab Investment Management (including money market funds): $211.5 billion
- 15 Schwab ETFs: $4.8 billion in assets
– 71 Mutual funds + 4 equity Managed Accounts: $193.6 billion in assets (includes Schwab money funds, Schwab Funds, Laudus fund family + 4 equity managed accounts)
- Schwab money funds: $158.4 billion in assets
- Schwab & Laudus Funds: $35.2 billion (includes 4 equity managed accounts) in assets
- 26 Collective Trust Funds: $13.1 billion in assets
- Schwab had $277 million of net outflows on a $33-billion segment of Schwab mutual funds tracked by Morningstar
Charles Schwab Investment Management does not include Windhaven Investments. See: Windhaven misses its 12-month benchmarks again but still hits asset-gathering mark.
---
Mentioned in this article:
---
---
Share your thoughts and opinions with the author or other readers.
---