News, Vision & Voice for the Advisory Community
Patrick Goshtigian, new president of EP Wealth Advisors has taken over back-office operations from its founders and is also heading up its expansion efforts
February 10, 2012 — 5:22 AM UTC by Dina Hampton
Brooke's Note: We already wrote about two big-corporation-to-RIA moves this week. John Bunch left his job at TD Ameritrade to join The Mutual Fund Store. We saw Jon Foster migrate from E*TRADE to Angeles. It's a parallel breakaway movement that is happening everyday at the executive level. Here is just another example of that movement that came to our attention as the relatively mature corporations feed the talent-devouring beast of fast-growing RIAs.
EP Wealth Advisors has hired a former Nuveen executive Patrick G. Goshtigian as its president, hoping the move will speed the Los Angeles-based firm's way to its second billion in assets under management.
Previously, Goshtigian, a CFA, ran Nuveen Global Operations in Chicago and Los Angeles for both Nuveen Investments and the Nuveen Investment subsidiaries. He started with EPWA in June.
Managing directors Derek Holman and Brian Parker say the hiring of Goshtigian stemmed from desire to grow the company while at the same spending less time on operations. Parker and Holman formerly directed all aspects of the firm in tandem, sharing the operational duties.
"We had grown to the point where the business took up most of the day," says Holman.
Growth spurt
The Torrance, Calif. firm was formed in 2005 with the coming together of Premier Financial Management, which Holman and Parker founded in 1999, with Enright Financial Consultants, founded in 1982. See: RIAs reveal their M&A war stories with 200 Schwab IMPACT attendees.
At the time of the merger, EPWA had $170 million in assets under management.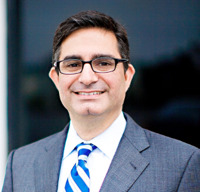 Patrick G. Goshtigian: I was looking
for an entrepreneurial opportunity.
Its growth since 2005 has been buoyed by the addition of two lift-outs from other advisory firms: Clint Camua, who joined the firm in 2007 from Glencrest Investment Advisors in Ontario, Calif., bringing with him about $10 million, and Ryan Serrecchia, most recently of Horan Capital Management of Delray Beach, Fla., who brought about $5 million with him.
Currently, the firm has $1.1 billion in assets under management, serves 1,300 clients and has 27 employees. The average client has about $800,000 in AUM. Two years ago, the firm raised its minimum account level to $500,000 from $250,000. Since Goshtigian started with EPWA, the has also engaged a public relations firm, Impact Communications, to raise its profile.
Holman now hopes to grow the firm rapidly. There are now three deals actively in the pipeline and two more brewing, he says.
For his part, Goshtigian is aiming to push the firm to the $3 billion mark in AUM by 2014. The company will expand, he says, with increased hiring and by acquiring established RIAs and advisor lift-outs.
Family feel
Goshtigian is responsible for day-to-day operations including organizational structure, compensation plans, service offerings and marketing. He is also in charge of EPWA's growth and acquisition strategies, as Holman puts it, "recruiting [new advisors], retaining and rewarding our current employees" and focusing on acquisitions.
"I'd known Derek for a while," says Goshtigian. "I was looking for an entrepreneurial opportunity and this seemed a good chance to lead a firm that has a good foundation and a good growth spectrum.
As head of global operations at Nuveen, Goshtigian supervised 130 people and did a lot of traveling. "Here, I'm able to have a broader set of duties, be more hands-on, be directly involved with everyone at the company — and travel less," he says, adding that there's a "family atmosphere" at EPWA that he finds appealing.
EPWA custodies its funds with both Schwab and TD Ameritrade. It outsources virtually all of its technology using Schwab PortfolioCenter, Tamarac and Junxure.
Prior to Nuveen, Goshtigian held executive positions at NWQ Investment Management Company, LLC and Analysis Group.
Goshtigian earned a bachelor's degree in economics from the Massachusetts Institute of Technology and a master's degree from the UCLA Anderson School of Management. He also holds the Chartered Financial Analyst designation.
In a statement, Goshtigian said, "While growing the firm is definitely a key objective over the next few years, we are committed to ensuring that new advisors, and their clients, are integrated seamlessly. An important part of my position as president is to see that processes and procedures are put in place to facilitate that integration. The advisors who are coming into EP Wealth Advisors have deep and long-standing relationships with their clients. We know that successful acquisitions can only be achieved if we ensure smooth transitions and continue our focus on client-centric excellence."
---
Mentioned in this article:
Envestnet | Tamarac
Portfolio Management System, CRM Software, Trading/Rebalancing
Top Executive: Stuart DePina
Junxure
CRM Software
Top Executive: Greg Friedman
---
---
Share your thoughts and opinions with the author or other readers.
---