News, Vision & Voice for the Advisory Community
Signs are very good though at a cost because of the sales structure
December 19, 2011 — 3:49 AM UTC by Brooke Southall
Brooke's Note: On Friday afternoon, I had Peter Hess and Reed Colley on the line in an effort to get information for another article. I couldn't resist asking about how the merger of their two companies is faring. See: Update on Black Diamond-Advent merger. Why? Word has it that at least some prospective customers nearing purchases of software heading into the merger had put plans on hold. There were also questions raised at the time about whether the companies had the finesse to get past obvious sales conflicts that might occur as their marketing teams squared off for the business of RIAs interested both in Advent's APX and Black Diamond's Blue Sky. This is not an article that digs deep into the issue from various angles. But it tells what the discussion was like with the two executives and relates some interesting facts.
Black Diamond Performance Reporting continues to sell software at a blistering pace under its new owner, Advent Software. See: Why Advent and Black Diamond are merging and how advisors look at the deal.
Since the Jacksonville, Fla.-based up-and-comer in portfolio accounting software was purchased back in early June by the San Francisco-based market leader, it has increased the number of advisory practices it serves to 330 from 270, an increase of about 22%.
"We've done better than anticipated," says Reed Colley, founder and general manager of the Black Diamond group. "We continue to have our best quarters."
As part of that growth, Black Diamond has hired about 20 people, mostly engineers and service personnel, since it was swallowed up by Advent.
A hard look in the mirror
Peter Hess, president of Advent, expressed equal enthusiasm about the merger, albeit based on a different set of factors.
"It's just been a catalyst for so many improvements to Advent across the board. We have necessarily looked in the mirror and have had as introspective a time as we ever have."
Though Hess didn't specify the improvements, he allowed that the company has looked both at how it innovates technology and interacts with customers.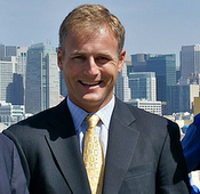 Peter Hess: We're tearing pages out
of each other's playbooks.
Hess did not say how well APX sales are going now that Black Diamond is in house competing directly for the accounts of RIAs. He said his firm does concentrate on asset managers for APX and that the sales cycle did slow down for a time after the merger. Hess points out that the company is also successful in selling Geneva to hedge fund managers. Advent has hitched it international growth efforts too APX, too.
Win-win sales incentive
One thing Colley and Hess agreed about was that they have, for now, kept conflicts minimized between their respective sales forces. They have addressed this concern by absorbing the cost and by making the decision on behalf of the client at a high-level about which product they should consider.
"They say: 'Guys, which one should I go with? They don't have to make bets,'" Hess says.
To keep the peace internally and to be certain the client is getting the best treatment from Advent-Black Diamond, a commission is given to the salesmen at both companies regardless of which product the customer buys.
"It's the only way to go," Hess says.
Observers I spoke to about the matter say that it seems unlikely this double-commission approach will go on indefinitely and that the merged company is probably working to restructure its sales process.
Yet there are other efficiencies gained as a result of the merger that may improve the sales process from both sides, Hess says. Namely, the two sides are much better steeped in how well each other's technology works for certain functions and this knowledge can be conferred on the client.
Same playbook
One thing was clear from my conversation with Colley and Hess. The honeymoon is not over and the enthusiasm for the merger fairly pours out of both former football players. Hess says "We're tearing pages out of each other's playbooks."
Two Advent strengths may soon accrue to the benefit of Black Diamond users: better fixed-income capabilities and the integration of Advent Custodial Data.
Hess also spoke for Advent founder Stephanie DiMarco in regard to the merger.
"She thinks this is one of the best decisions she's ever been part of."
---
---
Share your thoughts and opinions with the author or other readers.
---