News, Vision & Voice for the Advisory Community
Leaving nothing to chance, the Florida up-and-comer is including the Apple tablets in the deal
October 20, 2010 — 6:04 AM UTC by Brooke Southall and Nevin Freeman
Nevin's Note: BlueSky is already a web application, so advisors with iPads can already access it from the browser in theory. But access is a utilitarian word that doesn't get to the nub of the matter — whether you would want a client leaning over your shoulder while you give them a web tour of their account. Increasingly consumers seem to prefer — even demand — the native app experience, and there's something to be said for catering to a tech-savvy group that wants to join what Pat Allen dubbed "the iPad army" in her RIABiz comment yesterday.
Black Diamond Performance Reporting is making its portfolio accounting system fully functional on Apple's iPad tablet computer.
The Jacksonville, Fla.,-based company is making BlueSky available on the handheld device as of today. The official launch will be in November.
Few Black Diamond clients have iPads — so Reed Colley, CEO and founder of Black Diamond, is taking steps to ensure that Best Buy-phobia does not stand in the way of progress: Black Diamond will provide free iPads to clients to adopt the new technology. [Nevin and I got caught up in the fever as we prepared to demo BlueSky Mobile . See: RIABiz makes its first major capital investment — an iPad.
Colley believes that the iPad could represent an important leap forward for RIAs because it changes the nature of how they interact with clients – especially during out-of-office meetings.
'Game changer'?
"The iPad and devices like it are a game changer for the wealth management industry. With our new extensible BlueSky platform, we are able to provide direct and easy access to Black Diamond via the iPad which will empower advisors to stay connected to their business and to tell their investment story to their clients and prospects outside of the office, anywhere, anytime."
When the portfolio review portion of our meeting started, I simply started the BD app and set up my ipad at a conducive angle for the clients to see it. I navigated easily through the app to show them their current values and return numbers, then opened an allocation chart and line graph as additional ways of viewing the data. The client had been trying to figure out how to see that kind of data as well as their actual holdings using BD, so we walked through those steps several times so she could remember how to do it later. All of these views included a lot of data crunching, but the app was lightening fast and there was never an uncomfortable pause in the action. Every step along the way I was able to easily zoom in on the screen using my fingers to show the clients exactly the data point I wanted to discuss.
The really fun part came later as I realized that many of the advisors attending the same conference had seen me over in the corner of the lobby that morning giving a presentation on my ipad, so naturally they were curious as to what I was covering. They were literally stunned to learn that I was using the new BD ipad app to show live performance and portfolio reports to my clients right in the middle of a hotel lobby. We definitely felt like a bleeding edge technology firm, at least for the day.
Overall a fantastic first run of the future of client portfolio reviews – anytime, anywhere, reviewing any data they or we want to see – live. Hard to believe it is here already.
New clients and existing clients who renew their contract with Black Diamond will be eligible for the offer of the free device. The company, which serves about 215 advisory practices, seeks to ensure that advisors adopt the new technology and that they, in turn, provide feedback on how the new tool fits with their practice.
RIABiz reviewed the app yesterday during a call with Welling and Eric Higginbotham, vice president of engineering, to see just what advisors would be wielding as they sought to dazzle clients in diner booths, client pool-side tables or on the roof of a car.
Higginbotham explained that BlueSky Mobile presents two sections of information, SkyBoxes and SkyViews, much like the web-based parent application [see screenshot below]. Once the advisor has specified which SkyBoxes and SkyViews they would like to see in the main BlueSky application, the same ones will appear in the iPad version.
You can get the details of the anatomy of BlueSky in: Already known to be cutting edge, Black Diamond shoots for the bleeding edge with total rewrite of its software.
Served directly
While BlueSky Mobile is structured with familiar Apple-type buttons and selectors like many other iPad apps, the main content of each SkyView is served like a mini web-page inside the app every time one is opened. This plumbing has a number of implications:
No client data are ever stored on the device itself, only retrieved on-demand when requested. This, along with

SSL

encryption, is good news for the security of those data.
If bugs are found in the presentation of data, they can be fixed on Black Diamond's servers and will immediately show up for all iPad users without needing to re-download the app.
Unfortunately, it's difficult to get touch-responsiveness that feels quite as nice as native iPad buttons by loading the content in a web-view (just like trying to "tap" small links within Safari on the iPad isn't always ideal).
In addition to exposing the advisor's SkyBoxes and SkyViews in a friendly format for easy viewing, the app includes an additional fullscreen web-view that gives access to the full BlueSky web application. Higginbotham explained that this view isn't usually necessary to access, but was included so that advisors could access the full system to make configuration changes on-the-go if needed.
David Welling, chief solutions officer for Black Diamond, says that currently advisors are put in the awkward position of anticipating what questions clients will ask and then bringing sheaves of print-outs with the information involved.
When clients ask questions that aren't anticipated, it gets worse because the advisor is forced to say: I'll get back to you.
"It takes days or weeks to answer that question. Now the advisor can really build comfort by saying – with great immediacy – let's drill down and take a look."
Welling gave the example of a client asking how owning shares of BP affected performance since the April 20 disaster. An advisor can look at the account then click through to the various accounts held by a household.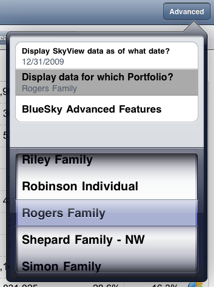 Switching clients or dates is done
with a flick of the finger.

"I think they may be on to something," says Joel Bruckenstein, publisher of Virtual Office News and producer of the Technology Tools for Today (T3) Conference. "Early adoption of the iPad is strong among advisors, and we know the general public is taking to them. I agree that the iPad offers the opportunity to provide immediate gratification with regard to client queries during meetings."
Black Diamond executives believe that competitors may have a hard time following their lead. Blue Sky – released earlier this year – was built to work on multiple platforms. This is something, Welling says, that even its predecessor technology, Black Diamond, was not built for. [And the multi-platform technology helped Black Diamond to create bi-directional integration with Fidelity. See: Fidelity Institutional and Black Diamond tie the knot through WealthCentral
"I think it could be a challenge for [competitors] to provide a [good iPad] experience. We're native to the iPad. We're not just providing the chance to look at a PDF file."
Will competitors follow?
"As for whether or not competitors can follow, that remains to be seen," says Bruckenstein. "Some firms have the technological ability to develop a native iPad app if necessary. The question is: Do they have the will, and are they willing to devote the resources to make it happen fast?"
From a techy standpoint, the version of BlueSky Mobile being announced today seems like a clear win for iPad-enthused advisors that are on the Black Diamond platform. The app wasn't a work of art, but did have the characteristic snappy feel that makes native iPad apps more enjoyable to use than loading web apps in mobile browsers. You can download the app on the iTunes store for free here.
Black Diamond Performance Reporting will be demonstrating the new iPad application at the upcoming Schwab IMPACT conference to be held on October 26 – 29, 2010.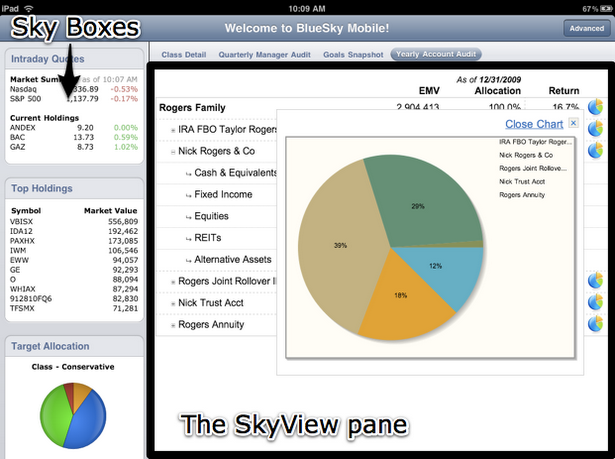 Tapping the chart icon next to
any line item brings up a
graphical representation of the data.
---
Mentioned in this article:
---
---
Share your thoughts and opinions with the author or other readers.
---