News, Vision & Voice for the Advisory Community
Why? Because it's time for the industry to accept that consumers will never care about suitability vs. fiduciary and recognize that they're hungry for leadership
August 26, 2015 — 2:59 PM UTC by Guest Columnists Don Trone, Mary Lou Wattman and Steve Branham
Brooke's Note: Sometimes the fiduciary movement does not fully represent its true spirit. Put the customer first. Tell it like it is. Act like you are managing your mother's money. Instead, we see words that seem like the cloaks that are supposed to be ripped away to expose what fees are being charged, with what impure motives. When I read this piece by Don Trone, I realized that he and his group have given the issue a thinking through. What that novel approach yields is a sense of self-assuredness by the writer to the point where a few interesting descriptions leap off the page. Being a fiduciary is a mindset, a spirit, a determination of a destiny to do right with an underpinning of real nuts-and-bolts professional knowledge and the rules that govern all that. It takes courage and determination to try to put all that in words. Trone, known as a foe of proposed DOL rule changes, takes a good whack here, raising issues — like the need for a sense of humor — not often addressed in these kinds of articles. See: Why I disagree with Don Trone's characterization of Obama's fiduciary stance as 'punitive'. Not everyone is going to buy what he is selling and his company literally sells these concepts. But this article, as a I say, is a quality thinking through. It's all we ask.
This article originally appeared in the Investment and Wealth Monitor published by IMCA in the July/August 2015 issue.
How do great investment professionals distinguish themselves from their competitors? It appears that every 12 to 15 years elite investment professionals redefine their value proposition. If you accept this presupposition, then we may be witnessing the formation of a new wave that may best be described as the rise of "ethotic" leadership. See: Why Obama and the DOL are all wet when it comes to the proposed fiduciary rule.
Consider the innovation curve shown in figure 1, which was introduced by Everett Rogers in 1962 in his book, Diffusion of Innovations Simply stated, new ideas and concepts are adopted at differing rates, depending on a person's level of sophistication, risk tolerances, and financial resources.
Innovators are the first to adopt and are seen as having the greatest capacity to accept the risks associated with a new product, technology, or movement. In contrast, laggards are last to adopt—often being forced to change because a product or service no longer is available.
Since the establishment of IMCA in 1985, we think we have seen two distinct waves, with the third now being formed. The first wave, which we would peg as the period 1985 to 1999, could be labeled "governance" because the focus was on prudent decision-making. During this 15-year period, elite investment professionals evolved from selling product to providing clients a defined decision-making process.
Stewardship vs. leadership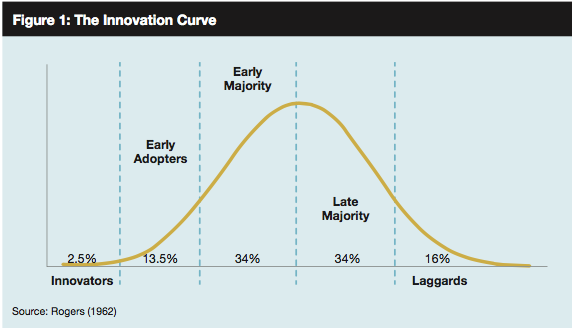 Figure 1
The second wave seemed to form around 1999 and crested about one or two years ago. We could label this period as the time of "stewardship" because the focus was on best practices associated with a prudent process, as well as technology to support the process. The second wave appeared to begin to flatten out about 18 to 24 months ago when it became evident that many "best practices" had become a commodity and every investment professional seemed to be offering the same services run on the same or similar technology. See: 5 thoughts about how to actually do what RIA experts say to do.
That brings us to the third wave. We think we've entered the period of time that is best described as "leadership"—it's focused on how professionals define their leadership roles. Survey after survey demonstrates that the public cares little about the suitability versus fiduciary debate. What the public really cares about is trust and whether their investment professionals are inspiring and engaging—in other words, they care that their advisors are leaders.
However, elite professionals now also need to show how their governance and stewardship are integrated with leadership.
Ethics vs. ethos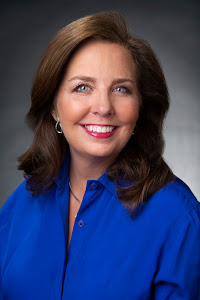 Mary Lou Wattman: Ethotic leaders tend
to have a broader view, they
are able to keep a better
sense of perspective in the face
of adversity.
Clients love leadership but flake out on fiduciary. We have to move away from the cold technical and legal jargon associated with regulatory standards and begin to communicate with clients in a language they understand. In support of this objective, "ethos" is becoming the executive power word.
The ancient Greek philosophers Plato and Aristotle promoted the philosophy that you can tell a lot about the guiding beliefs of a person or organization by the distinguishing behaviors, sentiment, moral nature, and decision-making doctrine of a person, group, or institution—their ethos. The terms "ethos" and "ethics" are derived from the same Greek root word, and there is even a similarity in their definitions. But the words are not always interchangeable, and we can see instances in which they are not even aligned (see figure 2). Both ethos and ethics are based on moral behavior or, in the case of our emerging profession, a set of guiding principles, but that is where the similarities end. See: IMCA delivers sobering content in high-rolling atmosphere of Las Vegas.
Ethos is used in a much broader context, and includes the judgment and discernment process of an individual or organization. The fact that an investment professional can demonstrate conformance to a code of ethics does not mean that the professional has a defined ethos and is capable of managing a sound decision-making process, or has the capacity to effectively work with clients.
The differences between a good and a great investment professional can be explained in terms of a defined ethos: There is a consistency in the behavior, sentiment, moral nature, guiding beliefs, and decision-making process of great investment professionals.
We could say that the modern expression of ethos is defined by how a person or organization demonstrates the continuum between their leadership, stewardship, and governance. Notice the congruence with the three waves—the first wave was governance, the second stewardship, and the current is leadership.
We also could say that great individuals and organizations that demonstrate a well-defined ethos are considered to be "ethotic." In turn, ethotic leadership is the ability to inspire and the capacity to serve others by having a well-defined framework that integrates leadership, stewardship, and governance (see figure 3).
Consider the definition of ethotic leadership. There are two conditions, both of which have to be met for a person to be an ethotic leader: the ability to inspire and the capacity to serve. The investment professional who can put big numbers up onto the board but is self-serving will not make an effective leader. And the investment professional who can get the job done but does not inspire those around him or her will be an ineffective leader.
Leadership in a global society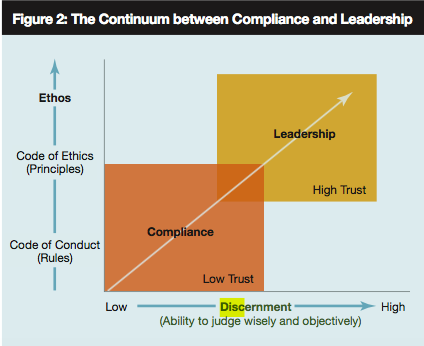 Figure 2
Good leaders have always stepped out of their comfort zones, but converging global megatrends are putting more pressure on those at the top to navigate a faster, more complex, more integrated, and more transparent business world.
—Georg Vielmetter and Yvonne Sell (2014)
As a global society, we are in a transition where post-World War II leadership theories, models, methods, and strategies no longer seem to inspire us. The traditional top-down, command-and-control style of leadership is no longer the preferred leadership style in every situation. The profile of preferred leadership candidates has changed to where we put more value on diverse, potentially nontraditional experiences than we may have in the past.
We believe ethotic leadership best encapsulates the style of leadership preferred by people today, and nowhere is this more evident than the public's desire to see significant changes to the style of leadership being promoted on Wall Street. The public does not trust the financial services industry, and for good reasons. Even financial services professionals give the industry low marks for moral and ethical decision-making.
Key words
You can only become truly accomplished at something you love. Don't make money your goal. Instead, pursue the things you love doing, and then do them so well that people can't take their eyes off you.
—Maya Angelou
Every worthwhile endeavor has a leadership component. This is especially true with the management of investment decisions. Yet rarely do we think of investment professionals as leaders or think to hold them accountable as leaders. This has to change if we are ever going to restore trust in the industry. Mission and value statements, compliance rules, industry regulations, and, even fiduciary standards have proven to be inadequate proxies for genuine ethical discernment.
We have conducted our own research on the attributes of ethotic leadership. We started by identifying all the words that are used in psychometric instruments to assess the strengths and weaknesses of leaders. For example, if an instrument measured 23 different behaviors of a leader, we added those behaviors to our list (without duplicating words that appeared on another list). In total, we found more than 200 discrete words that are used to define the characteristics and behaviors of a leader. See: What I learned about our industry's toughness, endurance and character across four peaks, 28 miles and 7,500 vertical feet in Aspen.
We then made a separate list of the attributes of highly effective decision-makers and compared the two lists. What we looked for were the words that appeared on both lists. We ended up identifying 10 attributes. Although ethotic leaders will be quite different and diverse in more ways than hierarchical leaders of the past, they all will share a passion for building relationships based on trust and collaboration.
Though this article has a particular focus on financial services firms, it should be noted that the following attributes can be used to evaluate potential leaders in any industry sector or domain (corporate, not-for-profit, government, or military). It also should be noted that ethotic leadership is not dependent upon whether a person is actually serving in a formal leadership role. The advantage of having a universal approach to defining leadership is that investment professionals can coach their clients—committees, boards, and wealth holders—on the use of these very same attributes. See: Why I disagree with Jack Welch about the '08 crash as the root of employee disengagement.
The 10 attributes of ethotic leadership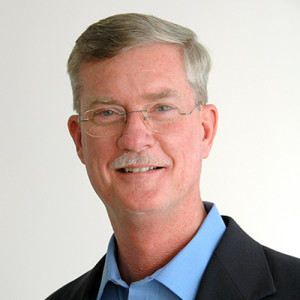 Steve Branham: Ethotic leaders must be
willing to break down stereotypes, be
inclusive of others, and be more
transparent about their feelings.
Only an organization with a sterling reputation of trust can engender a culture of client loyalty. Trust gets to the core roots of ethical behavior and integrity.
—Stephen M. R. Covey (2006)
Aligned: To be inspiring, the ethotic leader must have a well-defined ethos and empathize with those being served. The word "empathy" also has ancient Greek origins and means to have a willingness to understand and respect another person's guiding beliefs, core values, and decision-making processes. Ethotic leaders must take the time to understand (empathize with) how their leadership is impacting others. This requires the capacity to see the larger stage on which issues are being played out, not simply the parts that are in the leader's immediate purview. See: Monica Lewinsky is giving a keynote at Ron Carson's Peak conference.
Attentive: The ethotic leader must be an active listener and be observant. Being attentive promotes inclusiveness, making others feel that they are part of a team. By being attentive, ethotic leaders are able to gather more information about a particular situation and use that information to engage others, and to foster shared reflections.
Agile: Ethotic leaders must be willing to be vulnerable and recognize that they don't have to win every argument to be in control. They also tend to be more resilient. When you're secure in whom you are as a person, and you trust the organization you work for, you're able to absorb more risk.
Adaptive: The ethotic leader must have a capacity to evolve and not be stuck on a traditional leadership mind-set. Rarely will you hear an ethotic leader say, "We've always done it that way." The ethotic leader is able to pivot as new ideas and challenges are presented.
Accepting: Ethotic leaders must be willing to break down stereotypes, be inclusive of others, and be more transparent about their feelings. They also must be able to accept uncertainty with greater fortitude and calm. See: Column: Advisors should be 'heroically available' during a crisis.
Articulate: Ethotic leaders must be genuine in both their written and spoken words. Because they will be more aligned, attentive, and adaptive, they are more effective in customizing communications to their audiences. Their ability to be inclusive of contentious points is seen as a strength, not as a weakness. They also are affable and unafraid to demonstrate a sense of humor.
Ardent: Because ethotic leaders tend to have a broader view, they are able to keep a better sense of perspective in the face of adversity. This contributes to their ability to take in stride the risks associated with particular situations and see more-optimistic outcomes. See: How Sheryl Rowling and Cheryll Lurtz turned a blistering walk-a-thon into Total Rebalance Expert.
Action-oriented: Ethotic leaders are comfortable being champions of others' initiatives. They may be the smartest people in the room, but they won't have to prove it. Because they have a greater sense of vision, they feel confident about moving forward when others want to gather more facts.
Accountable: Ethotic leaders generate a greater return on investment because they are able to do more with less. Their teams are made up of members who have more diverse talents and ideas, which leads to better collaboration. They focus on issues that can be controlled and don't get hung up on missed opportunities.
Authentic: This is perhaps the most important of the 10 attributes. Ethotic leaders are aligned with a sense of purpose and are passionate about their life's work. Their words and actions are consistent. Their fields of vision are inclusive of the people they serve, and they make their followers feel secure.
Our financial services industry is suffering from a severe deficit in ethical leadership. We can do a better job of addressing these deficiencies by focusing more attention on the attributes of ethotic leadership. We need to develop and recognize leaders who have the ability to be points of inspiration for moral and ethical decision-making.
Don Trone, GFS®, Mary Lou Wattman, GFS®, and Rear Admiral Steve Branham, GFS®, USCG (retired) are the three co-founders of 3ethos. Their research and training programs are focused on the intersection between leadership, stewardship, and governance. Trone and Wattman are the co-authors of the recently released book, "LeaderMetrics: What Key Decision-Makers Need to Know When Serving in a Critical Leadership Role." Contact the authors at don@3ethos.com.
---
---
Share your thoughts and opinions with the author or other readers.
Stephen Winks said:
August 26, 2015 — 4:42 PM UTC
If the values cited by Don were applied within the industry, fiduciary duty would be its driving force. Conflicted industry self interest has come at the cost of the loss of trust and confidence of the investing public. The professional standing of the broker when rendering advice is actually opposed by the industry's compliance protocol. The inauthenticity in the industry's support of the best interests of the investing public discourages and often penalizes those in management who exhibit the leadership traits cited. The question is raised of whether leadership in advisory services is possible in a brokerage format, especially given the industry's demonstrably false narrative in opposition to the broker's fiduciary duty (to act in the client's best interest). Wouldn't it be great if the industry exhibited the leadership qualities described.
SCW
Stephen Winks
---
---