News, Vision & Voice for the Advisory Community
Lay fiduciary decision-makers have difficulty in discerning conflicts of interest.
March 2, 2015 — 6:19 PM UTC by Guest Columnist Don Trone
There appear to be four central themes to the objections being raised to my editorial, Why Obama and the DOL are all wet when it comes to the proposed fiduciary rule, that appeared in this publication last week.
First, both Barbara Roper, director of investor protection for the Consumer Federation of America (in the comments section of my RIABiz op-ed) and fiduciary maven Ron Rhoades (in a column of his own, also last week) have criticized me for not waiting to see the DOL's proposed fiduciary standard before I expressed my opinion.
My response to Barbara: I'm sorry. I didn't know I was supposed to wait. I figured that if the president gets to express his views; the DOL gets to express its views; the Council of Economic Advisors get to express its views; the AARP gets to express its views; the AFL-CIO gets to express its views; AFSCME gets to express its views; the Pension Rights Center gets to express its views; Betters Markets gets to express its views; and the Consumer Federation of America gets to express its views that it would be OK if I expressed mine. See: As President Obama takes the gloves off, pro-broker groups throw up 'sledgehammer' response.
The second criticism, also raised by Barbara, is that I failed to explain how requiring brokers to act in their customer's best interests would be punitive, or negative or bad for retirement advisors.
Means to an objective
My response: Barbara is correct; I did not include that topic in my editorial. The reason is that my focus was not on whether an advice provider should put the interests of their clients first — I felt that was a given. I've clearly stated that position for 28 years; in every book I've written, every speech I've given, and every course I've taught. Instead, I wanted to focus my remarks on the best way to accomplish that objective.
I believe the most effective way to make a lasting positive change in the industry is to define principles and best practices that provide the details on how a broker and advisor can demonstrate that they have placed the interests of their client first. See: How Sheryl Garrett got a hush-hush invitation from President Obama and how she pierced the fog about putting clients first.
In contrast, the DOL has telegraphed its intention to define rules and regulations that will restrict and constrict the conduct of all advisors — brokers and RIAs alike. The DOL wants us to take a leap of faith that after it defines more rules and regulations, and increases the cost of compliance, that customers will be better served. I doubt it — more rules and regulations have seldom, if ever translated to better behavior —- ask any parent of a teenager. Inspiration always trumps negative motivation when it comes to moral and ethical decision-making.
Spell it out

Barbara Roper: It is unfortunate that
Mr. Trone has chosen to condemn
the DOL's rules without having had
the benefit of actually reviewing them.

The third criticism, raised by Ron Rhoades, is that I don't understand the fiduciary concept of the duty of loyalty.
If you read any of my eleven books on fiduciary responsibility you'll see that they all include the elements of a duty of loyalty. I don't use the specific terms "duty of loyalty" or "duty of care" in my writing because real people don't understand the terms. Real people, such as advisors, trustees and investment committee members, want to know in plain English what they need to do on a step-by-step basis to be able to demonstrate that they have met a fiduciary standard of care. See: 7 things a financial advisor needs to know to succeed in the 401(k) business.
When I started the Foundation for Fiduciary Studies in 2000, we continued with this writing style and philosophy and in 2003 published the handbook, Prudent Investment Practices. When you review that handbook, you'll see that seven of the 27 best practices deal specifically with the duty of loyalty. That handbook, or derivative works of the handbook, is still the most widely quoted and cited document on fiduciary best practices. Look for yourself.
Also, my work with the U.S. Government speaks for itself. In 2003, the U.S. Secretary of Labor appointed me to the ERISA Advisory Council to assist the DOL in understanding the conflicts of interest with the Enron case. In 2005, the SEC asked me to help train their enforcement staff so that they could conduct more effective investigations into pay-to-play schemes. In 2007, I was asked to testify before the U.S. Senate Finance Committee on the fiduciary issues associated with the use of hedge funds and alternative investments in pension plans. When you read my testimony, you'll see that I discuss the difficulty lay fiduciary decision-makers have in discerning conflicts of interest.
Bifurcated understanding
The fourth criticism, also raised by Ron Rhoades, is that I don't understand the connection between a fiduciary standard and trust.
Again, he is mistaken.
In 2007, when I made the very difficult decision to leaveFI360, I accepted an offer to return to the U.S. Coast Guard Academy to head the newly established Institute for Leadership. One of the reasons I accepted the offer was because I wanted to examine the link between a fiduciary standard of care, and trust and leadership. See: TD throws its first client-best-interest summit, a micro-event, by 'candlelight' in Palm Beach and ideas rise from the RIA deeps.
Trust and leadership are inextricably linked — in large part because of physiological reasons. The portion of the brain that processes the emotions we attribute to leadership is the same portion of the brain that processes the emotions associated with trust.
In contrast, the part of the brain where we process complex communications, such as a fiduciary standard, is separate and apart from where we process leadership and trust. Simply stated, an advisor is going to have difficulty building trust with a client if trust is based solely on the elements of a fiduciary standard of care. To build client trust and loyalty an advisor must be able to demonstrate the attributes we normally associate with genuine leaders and stewards. See: RIA leaders venture to Grand Canyon to get beneath Earth's surface — and their own.
This research is backed by different industry surveys, including the 2007 RAND survey commissioned by the SEC, where the objective has been to determine whether a person understands the differences between a fiduciary and suitability standard. In every survey, the majority of respondents have said, "No, they don't understand." Furthermore, they indicated that they didn't care. What the person cared about is that they could trust their advisor. In other words, what's important to clients is that they are able to view their advisor as a leader and steward — most clients don't care whether their advisor is subject to a suitability or fiduciary standard.
Leadership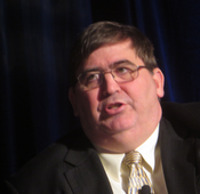 Ron Rhoades: At its core, the
fiduciary standard operates as a constraint
on greed.
Over the past seven years, I have been focused on a new body of research — called, LeaderMetrics — that examines how leadership, stewardship and governance (be it a suitability or fiduciary standard) can be integrated into a single framework. When integrated, leadership and stewardship evoke an even higher sense of purpose than fiduciary. Our research caught the eye of The Thayer Leader Development Group at West Point, and, as a result, we now conduct leadership development programs for elite financial advisors at West Point.
I want to address one other baseless accusation made by Ron; that I am critical of the "... dozens, if not hundreds, of individuals who have labored to advance the profession."
That was not my comment. Again my record on working with tens of thousands of advisors and trustees in advancing fiduciary best practices speaks for itself. So to be clear about the individuals I am critical of, they are the members of fiduciary advocacy groups who have turned a blind eye to unethical, and in some cases, illegal behavior.
Few good advisors
To close: Financial advisors (whether they are subject to a suitability or fiduciary standard) who are managing our nation's retirement assets need to demonstrate the same qualities that we use to measure a leader, to wit, that they are men and women of character, competence and courage, and that they have a purpose, passion and process for protecting the long-term interests of others.
You see — a simple, positive statement. There's no need for complex rules and regulations. Rules can be worked around, whereas principles inspire better behavior that eventually becomes contagious. We proved that with the fiduciary movement when it was centered on the Foundation for Fiduciary Studies. See: Top RIA lawyer explains to the SEC why 'harmony' is a harsh misnomer and why the price of its false spin is paid by investors.
Isn't this a better approach than calling financial advisors "snake-oil salesmen"?
Don Trone, GFS® is the founder and chief executive of 3ethos. He has been involved with the fiduciary movement for more than 28 years. He was the founder and former president of the Foundation for Fiduciary Studies, and was the principal founder and former chief executive of FI360. He has authored or co-authored twelve books on the subjects of fiduciary responsibility, portfolio management, and leadership.
---
---
Share your thoughts and opinions with the author or other readers.
Teresa Vollenweider said:
March 2, 2015 — 7:03 PM UTC
Mr. Trone, to what behavior are your referring here? "So to be clear about the individuals I am critical of, they are the members of fiduciary advocacy groups who have turned a blind eye to unethical, and in some cases, illegal behavior." I'm confused.
Barbara Roper said:
March 2, 2015 — 7:57 PM UTC
The combative tone aside, reading this helps me to understand better the point that Mr. Trone was apparently making in his previous column. It isn't simply that he is condemning a DOL rule proposal sight unseen, instead he is questioning the notion that any rule offers potential benefits. As he states, "more rules and regulations have seldom, if ever translated to better behavior." While I would never question Mr. Trone's right to express his views, I do strongly disagree.
To name the most obvious example, market conduct was dramatically different after the laws and regulations of the 1930s and 1940 were adopted than it was before. The rules didn't solve every problem, but they made a difference. While some people may be inspired by principles to do the right thing, others may need the threat of legal accountability to keep them in line. There is room in our system for both inspiring principles and "punitive" rules. But it is also unquestionably true that some individuals will ignore both principles and rules. Their victims have a better chance of recovering their losses if the abusive conduct actually violated some rule on the books.
There is much more in this column that I see as misguided, not least citing investors' instinctive trust of their advisers as a reason for opposing rules to hold those advisers accountable for acting in a trustworthy fashion. While we both support raising the standards for advisers, it appears we will simply have to disagree about the best way to achieve that goal.
Jack Waymire said:
March 2, 2015 — 8:03 PM UTC
Investors assume advisors they like and trust put their financial interests first. They do not know there are two ethical standards for real advisors and sales reps. Even if they did know they have no way of determining who is providing ethical advice and who has conflicts of interest. More rules will not protect investors who do not know they need the protection. The personal ethics of advisors will be the driving force. Unfortunately, they have no valid way to prove they are ethical and investors have no way to measure their ethics. Fiduciary standards could end-up being a marketing ploy.
Stephen Winks said:
March 2, 2015 — 9:38 PM UTC
The beauty of a free market is that the "principles" vs. "rules" approach to fiduciary duty need not be divisive as long as each approach can be authenticated back to statute to the satisfaction of the consumer. Because "in principle" fulfilling fiduciary duty entails personal opinion which may or may not achieve the consumer's best interests, wouldn't fulfilling fiduciary duty "in fact" or "rules" be preferable as the depth and breadth of counsel would be self evident and less likely subverted.
My preference is an expert authenticated prudent investment process with specific client deliverables (asset/liability study (perhaps without the formal expense of an actuarial study for individuals), investment policy, portfolio construction and performance monitoring) which illustrate the values addressed and managed by the advisor in the fulfillment of their fiduciary duties. The authentication back to statute would very nicely affirm Don's good work in delineating fiduciary duty and would be compelling in establishing professional standing. The industry would compete on the basis of how adept it is in rendering advice. Thus the advisor would gain control over their value proposition, cost structure, margins and professional standing, presently not possible in brokerage (transactions) format.
Brokers (no advice), planners (needs based selling), consultants (advice sold as a product by brokers), fiduciaries (advice as a prudent process managed by advisors) all constitute a level of financial service, but not all are acting as fiduciaries. These distinct levels of financial services will be reconciled in the marketplace without denigration of fiduciary duty.
SCW
Stephen Winks
Scott MacKillop said:
March 2, 2015 — 11:17 PM UTC
At the heart of this discussion is a problem that has bedeviled the fiduciary movement for years. The fiduciary standard is actually a fairly simple and straightforward set of principles that were established centuries ago and have been refined through interpretation by the courts over the years. However, a host of truly well-meaning fiduciary advocates have insisted on trying to annex a wagon-load of so-called "best practices" and other concepts to the standard, itself. The poor standard cannot bear the weight. The conversation about the fiduciary standard has now become so mixed up with concepts of stewardship, leadership, brain chemistry and volumes full of rules related to so-called best practices created by individuals who, frankly, have no mandate to create those rules, that we have no hope of getting the simple, uniform fiduciary standard established for the advisory community. I think it is great if Don Trone and the other good soldiers who have fought so hard to improve the quality of advice in this country want to teach their version of best-practices. But if we are to have a chance of seeing a meaningful uniform fiduciary standard established in our life time, we need to separate the simple, basic fiduciary standard from the so-called best practices and the other baggage that has been loaded on to it. The burning principles of the basic fiduciary standard stood the test of time for centuries without books full of best-practices to support it. We all should get on board and support a simple, understandable fiduciary standard—like the one that has been in place for RIAs for decades—and stop complicating the matter. Let's give Congress, the DOL and the SEC a crystal clear target to shoot for—one that delivers the fundamental and unassailable message that client interests shall always come first.
Don Trone said:
March 3, 2015 — 12:25 PM UTC
Scott – I'd like to address your issue with best practices. To use an analogy – long-standing principles of fiduciary conduct are like a skeleton – best practices are defined to provide the muscle, the skin and hair to bring the subject to life. There have been numerous times when the courts have relied on the best practices defined by the Foundation for Fiduciary Studies to bring clarity to an ambiguity in the law. Likewise, when I was asked to advise the DOL, SEC and U.S. Senate Finance Committee on apparent fiduciary breaches and conflicts of interests in the industry, we used the Foundation's best practices to help illuminate answers to their questions. Unfortunately, the Foundation was sued by a for-profit company the very month the Dodd-Frank Act was signed, and the Foundation no longer exists. The Foundation would have been a good resource for the White House team and DOL when they were working on their re-proposed fiduciary standard. For example, 3 of the Foundation's 27 best practices dealt specifically with fees, expenses, and potential conflicts of interests associated with payment flow – the very issues that were raised by the President last week.
Scott MacKillop said:
March 3, 2015 — 4:51 PM UTC
Don, I truly do appreciate and respect the work that you and others have done to help educate people about the real-world application of the fiduciary standard and illuminate its underlying principles. My concern is really a practical one relating to tactics. My desire is simple. I want clients (e.g. our moms, dads and kids) to have the benefit of the fiduciary standard, regardless of what firm they are working with. Clients should not have the protection when they walk into the office of the local RIA, but not have it when they walk into the offices of a wire house. I am frustrated—no actually, I am angry—that the powers that be have fiddled around for 5 years since the passage of Dodd-Frank and still we have no universal fiduciary standard in place. My fear is that "we" are partly to blame. We have over-complicated the discussion and taken it from the realm of a simple, emotionally appealing quest to protect our friends and family into a highly technical debate that is intellectually demanding and has created squabbles among the fiduciary advocate community. In fact, as the discussion above demonstrates, the focus, at least in part, has shifted to the personalities involved and away from the important principles that are at stake. At the heart of it, we all want the same thing. I believe we would have a better chance of achieving it, if we keep it simple. If I were a wire house lobbyist, I would walk into the offices of each Congress-person, the SEC and the DOL and put a stack of your 11 books on the desk and say: "Look, it took one of the smartest guys in the industry 11 volumes to explain this principle. How difficult, burdensome and costly do you think it will be to implement this standard?" Then I would offer up a copy of this series of RIABiz articles and comments and I would say: "See, the people in favor of it can't even agree on what it is." Then I'd walk out the door.
Stephen Winks said:
March 3, 2015 — 6:34 PM UTC
Scott,
Simplicity is certainly desirable, therefore simplifying 'the devil in the fiduciary details" is essential for the promotion and achievement of professional standing. This can not result in the denigration of fiduciary duty but requires a lot of thought in managing fiduciary duty so it is not denigrated. Professional standing in advisory services is not a simple declaration but must be evidenced in the duties entailed. This is were "best Practices" are helpful.
I believe the alignment of the advisor and the consumer's best interest are imperative. How are best practices which simplify the execution of advice, not in the consumer's best interest?
Let the free market compete on the basis of the depth and breadth of expert authenticated advice being provided. This is the beginning of professional standing for advisors. With objective, non-negotiable fiduciary criteria with an audit path back to statute, there is no wiggle room.
SCW
Stephen Winks
brooke southall said:
March 3, 2015 — 7:40 PM UTC
Steve, Scott, don et al,
I have kept myself out of this estimable discourse because it is hard to improve upon.
Yet my twitchiness to contribute outran me with Steve's last comment. He took the dialogue away from what exactly the fiduciary standard is to how exactly you say what the fiduciary standard is.
Maybe a journalist has something to add on this score. If we know nothing else as scribblers it is that few things are underwritten. Most things are described in way too many words. To Scott's point, it is no good to say: We need a standard so go memorize these 11 books. It may also be too terse to say merely that an advisor needs to put a client's interest's first.
I'd submit however that the middle ground must lie much closer to the latter than the former. Good communicators have a sense of what the reader knows without laborious explanation. Bad communicators obscure their ignorance of the real nub of the matter behind blizzards of words.
Thinking required.
Brooke
Jeff McClure said:
March 3, 2015 — 9:43 PM UTC
Mr. Trone:
The Pension Protection Act of 2006 was passed and signed into law, logically, in 2006. That law requires the Department of Labor to take the actions about which you seem to be critical. It has taken the DOL nearly eight years to extend the ERISA standard for advice and management of retirement accounts to the act of "rolling over" an employer sponsored, ERISA qualified retirement plan to an IRA. Meanwhile I have witnessed pervasive marketing of high-cost, high-risk investment products with astonishingly high commissions targeted at roll-over accounts and the enthusiastic selling of those products by many, many broker-dealer employed salespersons. I have also seen case after case of 403(b) programs where most of the options are composed of high-commission insurance and securities products.
In all of those cases the concept employed by the sales force was not that of a fiduciary but rather that of caveat emptor. The participants in those plans, including those offered by educational institutions, are simply not in possession of the knowledge necessary to realize what poor and ineffective choices they were offered. It is in just those situations where the rule of law needs to be in place to protect members of the public, and the general public well-being.
Given your work on the fiduciary standard I find it amazing that you are opposed to the Department of Labor finally acting in accordance with the law, and in doing so stepping in to restrict financial salesperson behavior to the standard we expect of a professional in any other field.
---
---