News, Vision & Voice for the Advisory Community
Our take on Schwab's self-review: It's disarmingly fair but short on specifics -- and just plain short
February 12, 2013 — 6:50 AM UTC by Lisa Shidler
Brooke's Note: When Schwab first announced in November that it was going into the RIA technology review business, we were intrigued to say the least. Establishing yourself as a successful reviewer is nothing if not an exercise in acting as a dispassionate third party. This is, I can attest as an RIA-technology reviewer, very difficult. There are so many aspects to technology, including functionality, solidity, slickness, ease of integration, service, cost and long-term viability of the company. And presuming that any of these aspects is reviewable based on a demo — or several of them — is questionable. For Schwab to do it as a player in not only the software market but also as an RIA custodian … well, it's a bold juggling act. It's also commendable. It seems Schwab has gotten off to a good start by making itself the subject of the first review and not sugarcoating it. (It largely jibes with the review that RIABiz did of PortfolioCenter: Schwab PortfolioCenter may be poised to shed its utilitarian image. Still, the review is feather light details. And the part at its end where Schwab reviews itself is about as corporate and not in the spirit of a review as you could imagine. (It's all published below so you can decide whether I'm being fair in my own review of the review.) I'm rooting for Schwab to succeed in this endeavor, because there is a void in the marketplace and indeed RIABiz does few reviews itself anymore — for a host of reasons relating to the difficulty of doing it well.
In order for OpenView MarketSquare to succeed, Schwab faces the delicate task of convincing vendors to agree to be reviewed by RIAs and to have those condensed reviews posted for all subscribers to see. See: Schwab bids to become the 'Zagat' of RIA technology and to nix ink signatures from RIA life.
It's a given that nobody likes reading bad things about themselves, so Schwab leaders decided to convince vendors to be part of this new venture by reviewing Schwab PortfolioCenter based on the real reviews they've received from RIAs.
And so, at the T3 Conference (Technology Tools for Today) in Miami this week, Schwab leaders distributed their own product review based on reviews from RIAs to persuade other vendors that being reviewed isn't so terrible.
"We want to make sure we have really good in-depth reviews," says Brian Shenson, Schwab's vice president of advisor technology solutions. "We've come up with a compelling, succinct and credible way to do this. We're eating our own cooking and are letting everyone read our own review of ourselves to understand how the process works."
Schwab Advisor Services received 400 reviews from advisors spelling out exactly what they love and hate about 70 technology systems they use.
A look in the mirror
MarketSquare, Shenson explained Monday at a Schwab Tech Talk session, takes all of the reviews it receives on one product and summarizes them into one overall review, a la Zagat, that is then posted on the site. This means a review from an advisor who just despises a product wouldn't get posted in full, but may be excerpted. The summary review is supposed to include insights from all of the reviews.
A vendor will get reviewed if the technology firm agrees to participate, so Shenson's task is to convince technology vendors to agree to be part of this open forum.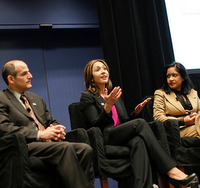 Brian Shenson with Schwab tech chief
Neesha Hathi and Naureen Hassan, senior
vice president of client experience, at
a "Tech Talk" late last year.
discussing plans for MarketSquare.
Schwab received 71 reviews of its product. The company's overall rating merited four out of a possible five stars. PortfolioCenter earned four stars for features and functionalities, integration with other tools, initial translation and setup and vendor cost. The product garnered 4.5 stars for customer service and support. Schwab's review (see below) seemed candid. In fact, the review is not that different from RIABiz' review in 2010. See: Schwab PortfolioCenter may be poised to shed its utilitarian image.
That 'vintage' feel
Here is Schwab's review of PortfolioCenter:
Sobeitesque …. functional and not very exciting … Overall, reviewers had generally positive feedback regarding PortfolioCenter. Several firms had used PortfolioCenter for many years — however, with that longevity came some concerns that areas of the program can feel dated. Nonetheless, it's a "reliable product," according to many reviewers, with solid features and functionality.
Some considered it "integral to the functioning of our business."
Areas where reviewers felt the solution needed improvement included "still weak" reporting capabilities— as one reviewer noted, "Presentation Studio has a long way to go…" Users also commented that the interface has a "vintage" feel that could benefit from an update.
Reviewers' opinions were varied regarding PortfolioCenter's ease of use, though a majority of users considered the program simple to learn and implement. A smaller group of reviewers also hoped that more enhancements for the system are on the way. Support is considered strength, with consistently positive feedback, highlighting a team that's friendly, "responsive" and "extremely helpful."
As with all of its vendors who agree to be listed, Schwab will let the company give its own feedback as well. Here is what Schwab wrote about its own product that will follow that review:
Vendor Comments. "Our large, loyal client base is extremely important to our business, and that's why we continuously invest in improvements to our products, putting feedback from advisors like you into action. We deliver multiple product updates each year based on some of the most requested features. Recently, we enhanced the Client Presentations reporting capabilities to provide greater customization and introduced new easy-to-use billing statements. Advisors can also look forward to a hosted version of PortfolioCenter in the coming months that will provide anytime, anywhere access to data and reports without the burden of technology infrastructure management."
The program was launched at IMPACT in November by Schwab technology chief Neesha Hathi. She was scheduled to speak Monday but stayed home due to an illness. See: Schwab bids to become the 'Zagat' of RIA technology and to nix ink signatures from RIA life.
---
Mentioned in this article:
---
---
Share your thoughts and opinions with the author or other readers.
gjbnzlow said:
July 9, 2015 — 4:51 AM UTC
That won鈥檛 be an issue in two divisions because of the conferences. The Northwestern will continue to play among itself (Columbia Falls, Frenchtown, Polson and Whitefish), the same as the Southwestern (Dillon, Butte Central, Corvallis, Hamilton and Stevensville). [url=http://tr.jennrush.com/]Tory Burch Outlet[/url] W: www.fabricandco.com t [url=http://fitflop.simple-et-chic.com/]Fitflop Shoes[/url]
She refused to agree to a naval holiday and to the agreement not to strew mines on the sea and drop bombs on defenceless cities. [url=http://ok.factoryoutletcc.com/]ok.factoryoutletcc.com[/url] "The FAA raised the threshold for flight experience to 1,500 hours," he said. "That's affected the pilot pool, so there's a much greater demand for pilots."
Since it's a three-dimensional work, she wants to ensure that it will be appealing from all perspectives. There are beef dishes, also a new addition since Mayura's days, for those who partake (like the goat meat, the beef is halal, butchered to strict standards). And it was a plus to see Bollywood Grill building on its south Indian dishes. Many of those added are traditionally breakfast or lunch dishes, but they're delicious any time, of course. d [url=http://mk.outletstore.us.com/]Michael Kors Handbags[/url]
The station 鈥?which may have been a glorified halt which doubled with the crossing- keeper鈥檚 cottage 鈥?was operational between about 1855 and the early 1890s. [url=http://cl.onlinesale.us.com/]Louboutin Online[/url] Both were first-team All-Americans. Carimi was the winner of the Outland Trophy, given annually to the best interior lineman in the nation. He was a first-round draft pick in the NFL draft; Moffitt went in the third round.
y The company said it works with municipalities to inform them of vegetation management schedules, and will notify customers along company rights-of-way about work being done. [url=http://h.tricivenola.net]Hollister Outlet[/url] The depth this year has been great, we have almost twice as many riders this year as last year.Everyone needs to lift their game now as it is really hard work now even just to qualify for the final. [url=http://polo.sierravistamortgage.net]Polo Outlet[/url]
Salmon Fishing in the Tees. 鈥?The salmon fishing season in the Tees, which ended on Monday, may be classed as the worst on record owing to the prolonged dry weather. Very few big fish succeeded in passing the weirs at owing to the absence of heavy floods. The largest salmon of the season caught on the upper water was a beautiful fish of 17lbs., secured on the fly last Saturday by Mr Simon Hunter, of Sowerby Grange, , who kindly presented it to the British Red Cross, , for the brave wounded Belgian soldiers quartered there. [url=http://rayban.onlineoutlet.us.com/]Ray Ban Glasses[/url] From Winnie the Pooh in the infants ( "The more it snows, tiddley pom鈥?) right up to Shakespeare for A-level. ("The barge she sat in, like a burnished throne, burned on the water鈥?) teachers made me learn stuff by heart 鈥?times tables, formulae, theorems , dates, acts, irregular verbs and pages and pages of poetry, virtually a poem a week for every year of my schooling. Hundreds of them. http://rb.tricivenola.net]rb.tricivenola.net[/url]
He explained that Article 7 of the Memorandum of Understanding signed in 1975 stressed the need to stop receiving the school fees of children of Saudi nationals, and similar steps are to be taken for other GCC residents in Kuwait. Meanwhile, the Finance Department of Ministry of Education sent a letter to the Acting Undersecretary of Ministry of Oil regarding paying back the school fees of Saudi students in the Divided Zone, which is about KD 134,000 for the year 2012/2013 alone. It stressed the need for immediate refund of the fees so that the ministry is not held legally accountable. [url=http://burberry.outletstore.us.com/]Burberry Outlet[/url] Israeli Prime Minister Benjamin Netanyahu prepares to deliver a speech after winning the election. Photo: AFP i [url=http://lv.factoryoutlet.us.com/]Louis Vuitton Bags[/url]
"Clive Betts, its Labour chairman, said.." HOW-TO TIP
If you keep saying we have to be motivated on Monday because of something that happened last January, I can't get some of our kids to remember what happened yesterday in practice, let alone what happened last January. [url=http://h.tricivenola.net]Hollister[/url] There is more to Ebola survivors than heartwarming stories. This paper argues that due to their post-infection immunity, people who have survived the virus are vital to helping bring it under control. They have local knowledge, they understand the symptoms, and their blood antibodies may be useful to help others fight the illness.
TCM and have so much to offer as healing options, stressed Smith. I believe it is important to provide an introduction without any financial risk or obligation. After a positive experience, new patients feel at ease and welcome the opportunity to relax and allow their bodies to heal naturally. [url=http://toms.storeonline.us.com/]Toms Shoes[/url] Chief Cabinet Secretary Yoshihide Suga, Abe's top spokesperson, said that Japan's Ambassador to Russia Chikahito Harada will attend the events on May 9 in Moscow in the prime minister's absence, as according to his officials, his current trip to the United States has created a tight schedule.
As the ball rolled harmlessly wide, Higuan stared, blankly, as his teammate Javier Mascherano grabbed his head in disbelief. Germany then had its own version of that reaction just before halftime when Benedikt Howedes blasted a header off the goal post. [url=http://coach.onlineoutlet.us.com/]Coach Onine[/url] He said, 鈥淚srael will destroy the Arab fighters in their launch pads through a quick attack, then the sky will be ours and the war will be decided for our good.鈥?
i 拢100 E.Orton (Breaston, Derby) [url=http://lv.pimandmarleen.com/]Louis Vuitton Handbags[/url] A J Hall c Williamson b Brooks ….......... 6
1892, Dec. 18. Pyotr Tchaikovsky's The Nutcracker premieres atthe Mariinsky Theater inSt. Petersburg. [url=http://coachonline.onlineoutlet.us.com/]Coach Outlet Store Online[/url] DeGiorgio made the change without changing the part number, making the modification difficult to track and giving rise to allegations of a coverup. r [url=http://tb.outletstore.us.com/]Tory Burch Shoes[/url]
鈥淚t was a massive honour to be captain, and something I鈥檒l never forget,鈥?she said. 鈥淚t鈥檚 a bit of a new era, with a new-look team, but we鈥檙e all really excited about what the future might hold. [url=http://airjordan.rinosac.com/]Cheap Jordans[/url] 鈥淭hink of the space as growing with your children. Spend money on quality, flexible staples like the furniture,鈥?she said. 鈥淧aint can change and rugs will get spilled on鈥攖hat鈥檚 just life. It鈥檚 easy to change the theme as long as it still functions the way you need it to.鈥?
r "At face value it sounds very scary, and it is, but the reason for it is because we are living longer," said Dr. Marleen Meyers, an oncologist at the Perlmutter Cancer Center at NYU Langone Medical Center. She says the new research shows the increase in breast cancer cases by 2030 is also due to a rise in non-deadly forms of the disease. [url=http://aj.statesboropinkpower.com/]Air Jordans[/url] The people in Bali rely on tourism to live. They're nice people, they're a lovely race, she said. h
Whilst we do have a great deal of the more helpful police officers, there are still quite a few 'Yobs-in-Uniforms' who are not the least bit interested in your safety or mine. That kind of Abuse of Power is what Stereotypes every decent person in Uniform as These 'Gestapo' style members of Her Majesty's Service, also makes things more difficult for people who are in any danger – Extremely Wary of the whole bunch of them. [url=http://fitflop.simple-et-chic.com/]Fitflop Shoes[/url] The cast was fantastic. The children, Scout (Jemima Bennett), Jem (Harry Bennett) and Dill (Leo Miller) portray the innocence of children effortlessly. They captured childhood in those two short hour and were charming and heartbreaking at the same time. [url=http://michaelkors.onlineoutlet.us.com/]Michael Kors Outlet[/url]
aW5nIGdvb2QgdGhlIGZpcnN0IGNvdXBsZSBvZiBpbm5pbmdzIGFuZCBzdGF5aW5nIGluIGdhbWVz [url=http://michaelkors.outletinc.us.com/]Michael Kors Bags[/url] cake tins, loaf tins, lamps and frying pans." p [url=http://coachoutlet.outletstore.us.com/]Coach Factory Outlet[/url]
Lancaster City (4-4-2): Hale 7; Bailey 6, Davis 7, Marshall 7, Freeland 6; Winder 7, Akrigg 6, Hunter 6, Draycott 7 (Clark 88); Poole 6 (Woods 72), Wearing 5 (Pearce 56). Subs (not used): Donlon (gk), Hudson [url=http://coach.onlineoutlet.us.com/]Coach Outlet Store Online[/url] If the Featherdown experience was liberating for them, it was equally so for us 鈥?it felt like, if only for two days, we all went a bit feral, enjoying the freedom of our surroundings without the cares of everyday life. For John, this is precisely the point.
Hightstown Councilwomen Susan Bluth and Gail Doran are heading a subcommittee in charge of finding a new administrator. Mayor Steve Kirson, who has said he may sue LeTellier over an unrelated issue, recused himself from last night's meeting.
Over at Sunderland there will be no such difficulties. Di Canio knows what he has taken on, so do De Fanti and Angeloni. The question on will be whether Short's gamble to go Italian and attract players on the cheap from Europe will prove more successful. [url=http://coachoutlet.outletstore.us.com/]Coach Outlet Store Online[/url] Who would play you in a film of your life? Maggie Smith, or possibly Keira Knightley. I think we are both stronger and more forceful than we look.
---
---