News, Vision & Voice for the Advisory Community
Aided perhaps by the ex-Schwab employees moving to Jacksonville, the two giant RIA forces, both San Francisco-based, are looking happily engaged
October 31, 2012 — 6:54 PM UTC by Brooke Southall
Brooke's Note: We hope to add more to this article for publication tomorrow. From custodians, advisors and technology people alike, I welcome thoughts to add.
Schwab Advisor Services chose Advent Software as its first major portfolio management software partner for its grand ecosystem of software — Schwab Intelligent Integration. It was previously known as Project C. See: Schwab's Project C now has two tiers and three new names.
The big San Francisco custodian, which holds about $750 billion of RIA assets, has entered into an agreement with the cross-town technology firm that will give users of Jacksonville, Fla.-based Black Diamond Blue Sky and Advent's Portfolio Exchange real-time data. Currently, trading and operations people at RIAs who use Schwab and software other than the on-demand version of Schwab PortfolioCenter are working only with data as of the end of the previous day.
It'll be a while before any advisors actually see real-time data as the two firms work things out but the worst of it is past, says Neesha Hathi, senior vice president of advisor technology solutions for Schwab Advisor Services.
"This is where the attorneys go to the side and the project managers take over," she says.
More to come
Schwab expects to make a series of announcements regarding partnerships with other portfolio management firms in coming months but Advent-Black Diamond and Schwab have such a big RIA overlap that the deal took precedence.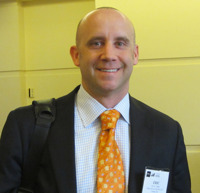 Eric Clarke: This is great news
for advisors across the board.
"We are certainly in discussions with other firms," Hathi says. Firms with big overlaps get a good look but online providers and ones with differentiation get some special consideration, she adds. "We want diversity as well."
Eric Clarke, president of Orion Advisor Services, LLC says in an e-mail that he is pleased to see the Schwab-Advent deal. See: Orion is outshining competitors in the eyes of some RIAs.
"Personally, I am excited to hear that Schwab has opened up SII to a non-Portfolio Center portfolio accounting solution! This is great news for advisors across the board."
Real-time race
Advent got the first nod because it shares 1,500 big RIAs with Advent. Still, there are only 120 RIAs with a combined $25 billion — all of the Black Diamond Blue Sky users — who are likely to benefit shorter term. There are additional Advent Portfolio Exchange users who will also get the data once connections commence.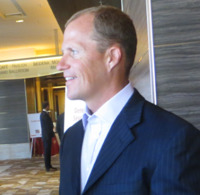 Profile in diplomacy — Dave Welling
knew how to speak Schwab and
his firm will soon get real-time
data from the big custodian.
Far less clear is if or when the 1,000 RIAs that use Advent's Axys software will be able to benefit from the deal with Schwab. Axys is installed software so it lacks the natural Internet connection that is the lifeblood of Blue Sky and APX.
Schwab's biggest competitor, Fidelity Institutional Wealth Services, claims to have been ahead by at least a year on having real-time data flowing through WealthCentral, its Schwab Intelligent Integration equivalent.
"Single sign-on between WealthCentral and Advent on Demand and Black Diamond Performance Reporting has enabled the availability of real-time account, service and trading data since early 2011," says Ed O'Brien, senior vice president, technology product management for Fidelity's RIA business. "In addition, Fidelity clients may utilize unique bi-directional data flow between WealthCentral and these providers to enhance reporting and management of alternative investments, charitable giving, insurance and tax exempt accounts."
He adds: "Fidelity has offered a broad set of web-based integrations between WealthCentral and Advent on Demand and Black Diamond Performance Reporting since 2008. These are available to more than 430 mutual client firms.
Jumping ahead of other Schwab partners Tamarac bethe online version of Schwab PortfolioCenter is part of its innards, reminds Stuart DePina, group president Tamarac-Envest. See: Schwab taps Tamarac as its next integration partner.
"The data from the Schwab custodial platform is directly accessible from both our CRM as well as from our proprietary performance reporting application Advisor View," he says."We currently have over $75 billion in assets on our Advisor View reporting platform. The data available from our integration with SII is "real-time" client data that includes account overview, account contact information, balance data, trade confirmations, statements and tax documents. Clients can significantly reduce the amount of time they spend managing their accounts while at the same time eliminating opportunities for errors which can occur where manual input and re-input is required."
Dave Welling, vice president at Advent Software and general manager of Black Diamond, of Advent-Black Diamond says that his firm tried to forge such a partnership with Schwab a few years ago but was unsuccessful but found more receptivity from Schwab with the added heft of Advent users to add to its own.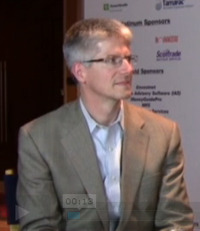 Ed O'Brien: Real-time account, service and
trading data from Fidelity has flowed
to Black Diamond and APX users
since early 2011
No online, no go
Schwab faces a similar challenge with getting 3,500 of its own RIAs into Schwab Intelligent Integration because they are desktop-bound as users of Schwab PortfolioCenter. See: Schwab moves to keep 3,500 desktop-bound RIAs from walking onto somebody else's cloud.
But Schwab has taken the bold step of developing an online version of PortfolioCenter that its advisors can switch to for free. Thus far, this has proven a thornier issue for Advent because the costs of data conversion from Axys to APX or Blue Sky have been a discouraging to many advisors.
And while the deal marks a first chapter for portfolio management firms becoming part of Schwab Intelligent Integration, it also marks the end of the first chapter where Schwab announced a series of CRM providers that would receive real-time data including SalesForce, Salentica and Microsoft. See: What Neesha Hathi has to say about Schwab's oh-so-slow-but-steady technology initiative.
Clarke says this connectivity has already given his clients a crack at Schwab data.
"Ironically, we have several advisors that are already implementing the Orion Advisor Services, LLC Connect SalesForce app along with the Schwab Salesforce.com app," he says. "Although we are not officially part of SII, our technologies are working well together via the Salesforce.com platform and we are really encouraged about the efficiencies that our mutual integrations with Salesforce.com are bringing to advisors. In some sense, SalesForce.com's open environment has created a financial standard that companies can integrate to — and the Orion and Schwab Apps in the Salesforce.com App exchange are examples of that."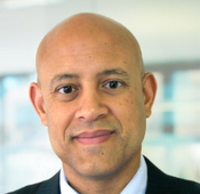 Stuart DePina: We currently have over
$75 billion in assets on our
Advisor View reporting platform. The
data available from our integration with
SII is "real-time" client data.
Hathi has made it clear that Schwab is pioneering an approach where CRM is the hub of the advisor universe though historically portfolio accounting and performance reporting have been thought of that way.
Welling says that intra-day data makes a big difference to people concerned with the operations and trading aspects of running an RIA. Operations people are trying to efficiently move fees from a client's account and need to know the precise cash available before siphoning. Traders need to know balances precisely before executing a rebalancing of a portfolio.
Faux custodian?
Franklin Tsung, principal of New York-based AppCrown, LLC, is not a fan of Schwab's selective approach to technology partners
"Choosing to go at it alone is Schwab saying we are going to become a technology company but pretend to be a custodian. As an advocate for the RIA space and advisor technology, they need to take the approach of building strategic integration partners and firms into their core custodian platform and portfolio center. That gets them speed to market like the other major custodians, and gets them to focus on building exclusive integrations that counts. Why are you going to start and build a "base line" integration when it's already out there for $75 per user per month?"

Franklin Tsung: Choosing to go at
it alone is Schwab saying we
are going to become a technology
company but pretend to be a
custodian.
Schwab's traditional response to this line of criticism is that it has chosen to pick partners in deliberate fashion believing it will lead to the quality its users demand and expect.
The custodian with the most "open" approach is TD Ameritrade and this makes real-time data there for the grabbing, according to Jon Patullo, managing director of technology product management, TD Ameritrade Institutional.
"The ability to exchange real-time data has been made available to all technology vendors since the launch of the Veo open access initiative more than two years ago. We maintain that an open approach to technology integration is the right strategy. Our priority is help advisors maximize their technology investments and provide them with a consistent, quality integration with vendors of their choice. Black Diamond is currently working through the on boarding process of integrating with Veo, We will continue to collaborate with Black Diamond, as we do with many vendors, to make the feature available to RIAs on our platform."
Better than CRM?
Paul Boscacci, managing director and head of operations for Presidio Group, which manages about $3.6 billion of assets from San Francisco, is very pleased about the deal as both a Schwab and Black Diamond client. See: Black Diamond wins a $4-billion RIA right in Advent's backyard.
"There are a number of advisors and clients that want to use this," he says. About half his firm's clients have access to Blue Sky.
Boscacci believes also that many of his firm's clients would prefer to view account information in the portfolio management system than in CRM because of the ability to drill down from portfolio to account to assets. "You're getting much more information," he says.
Schwab alumni
Schwab and Advent's deal is notable because there is a history of friction between the companies. Schwab bought Raleigh, N.C.-based Performance Technologies largely in response to RIAs seeking a countervailing force to Advent. In the early 2000s, Schwab even sued Advent when it believed its RIAs would be forced unfairly to pay for data they had previously gotten for free. See: Schwab PortfolioCenter may be poised to shed its utilitarian image.
Hathi, who has been at Schwab for eight years, says she hasn't experienced any sense of friction with Advent.
Welling says he does remember such friction and believes that it hasn't hurt to have ex-Schwab stalwarts like Cathy Clauson, Mike Golaszewski and himself on board at Advent to close any communication gaps.
---
Mentioned in this article:
AppCrown, LLC
Outsourcer, CRM Software, Tech: Other
Top Executive: Ted Tsung
---
---
Share your thoughts and opinions with the author or other readers.
Peter Giza said:
October 31, 2012 — 6:26 AM UTC
Brooke,
With profit margins and money market spreads reduced near 90% since 2008, it appears as the race to innovate, enhance and leverage technology is starting to cook with gas. While I've been chided for my "boil the ocean" or "altruistic socialist" views of open platforms and data distribution, I do believe that it is becoming reality.
Schwab's preemptive strike against TD with Project "C" forced TD's hand and they have elegantly delivered leaving Schwab in the dust publicly. The TD API is disruptive and is challenging all custodians to belly up to the bar. Schwab is now in catch-up mode. It is not that Schwab doesn't have the infrastructure; they just need to unleash the beast. Schwab's move to put PortfolioCenter in the cloud is two years behind schedule in my opinion. A cloud enabled PortfolioCenter is a natural stepping stone for any ISV to bring its' products under an SOA or SaaS environment.
Many in this industry fail to realize that the big four custodians have the ability to serve up some advanced processing. Some have chosen not to do so for risk issues. TD navigated significant hurdles by enabling service providers and ISV's alike to connect to their reporting and BD systems. Legally and compliance risk wise this was no minor feat. The technology is "the easy part", the legal and compliance is the heavy lifting.
The race I spoke of in the opening involves both custodians and their vendor partners. The issue of margin compression in the foreseeable market conditions must be addressed via advanced use of technology. Efficiencies of scale, stickiness of one's platform and the attraction of servicing multiple custodians under a single banner are very compelling reasons for an RIA to jump aboard. Serving up the appropriate operational components under a platform that presents itself as "open" is attractive to the independent-minded RIA.
Examples Worth Noting:
Black Diamond is busy leveraging internal technology now available being under the Advent banner. Technology such as ACD and real-time pricing are now a walk down the hallway. Recent announcements by Black Diamond with regard to multi-custodian rebalancing is a natural product progression but more importantly it is a clear signal that leveraging other Advent technologies at their disposal are key to their strategy to move up the value chain.
Orion Advisor Services continues to innovate and bolster its' platform in unique ways. Over the past year Orion has seen significant growth and is working diligently to keep the independent flavor in their platform thereby whetting the RIA appetite. Using this approach Orion remains highly attractive and relevant to RIAs who demand independence of choice. Orion's CEO Eric Clarke is a big believer in the building blocks of services oriented architecture which has become a key to it's' success.
Pershing Advisor Solutions has been very quiet since Suresh' move from NetX360 and onto bigger responsibilities at BNY. Pershing is a sleeping giant in that it has enormous capabilities and resources as does Fidelity. As the largest BD servicing clearinghouse, Pershing has significant depth in systems and technology in place just waiting to be leveraged. With the right plan and empowered product team, Pershing could become a very disruptive force in the RIA market.
Fidelity has inferred that its' WealthCentral platform is complete which in Fidelity terms means the next thing is on the development white board. Fidelity too also has extensive resources and capabilities that could allow it to become a very disruptive force if the right product team is empowered to make it happen.
Perhaps my "socialist" views will never be realized in total; however I believe we are seeing portions of it unfold within technology and in the form of organizations like Advizent. Expect to see further advancement along these lines and more over the next 24 months.
What to Watch For:
The movement of iPads from expensive digital paper, browser and novelty platforms to an advanced platform for intelligent apps that leverage the native power of the IOS. These apps will be high performing and will leverage the native compute and display power of IOS combined with cloud-based computing and storage. iPads and other tablet devices will be the vehicles that deliver the next generation of high-function applications.
Kind regards,
Pete Giza
Managing Partner
Spitbrook LLC
Brooke Southall said:
October 31, 2012 — 6:46 AM UTC
Nice comment, Peter, but watch out because I may have to (only half kidding) promote this piece to a column.
Brooke
Peter Giza said:
October 31, 2012 — 6:57 AM UTC
Brooke,
Thank you for the compliment.
Pete
Pete Giza
Managing Partner
Spitbrook LLC
Bill Winterberg said:
October 31, 2012 — 1:07 PM UTC
+1 to Pete. (Can you get Nevin to add thumbs up/thumbs down buttons to comments?)
He would make an excellent guest columnist or even a regular contributor.
---
---