News, Vision & Voice for the Advisory Community
Alexandra & James Wealth Management uses the duo to replace Fortigent as it nears $1 billion of AUA
January 20, 2012 — 5:14 AM UTC by Brooke Southall
Alexandra & James grew to nearly $1 billion of assets under advisement since its founding only six years ago and now it's seeking ways to handle that growth without adding significantly to overhead.
The firm has been moving toward a relationship with Dynasty Financial Partners for the past three months and it formally activated its relationship on Jan. 1. The deal was announced yesterday.
"With the significant growth we have had it has become clear that we need a best-in-class platform to continue providing our clients with a superior level of service," says Michelle Smith, CEO of Alexandra & James Wealth Management of New York, in a release.
Her firm specializes in life transition advisory services, investment management and personal CFO services for private clients and it is a unit of Alexandra & James LLC, which owns a larger investment firm that manages and trades equities and municipal bonds for institutions. It is run by Alexandra Lebenthal, CEO of Alexandra & James.
A quarter of the time
The wealth management unit consists of seven people and the Dynasty deal will stretch those slim human resources, according to Shirl Penney, CEO of Dynasty. "It'll save 25% of their time in a week."
Alexandra & James uses Pershing as its RIA custodian and as part of the deal the company is transitioning to Black Diamond Performance Reporting for portfolio accounting software.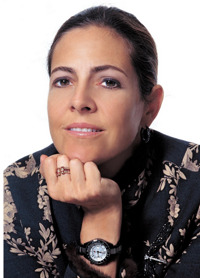 Alexandra Lebenthal founded Alexandra & James
Wealth Management in 2006.
"They are in a significant growth mode looking to acquire other firms and needed advanced capabilities and an innovative business partner in Dynasty and Black Diamond to expand their practice and serve their high net worth clientele," says Tracy Thompson,
senior sales executive – strategic relationships for Black Diamond.
"Areas such as the alternative investment reporting is important to A&J as is the need for a system to pull together their broker-dealer and RIA business lines for comprehensive firm level reporting."
Alexandra & James' principals were unavailable to be interviewed for this article.
Fortigent out
But Smith told Dow Jones that one vendor that her firm dropped in favor of Dynasty was Fortigent. Smith told Dow Jones that Dynasty is a "better fit" because it could be more flexible than a firm with built-in capabilities.
Fortigent, LLC senior managing director Scott Welch replied to Dow Jones in an article yesterday that his firm's offerings "can be unbundled and delivered a la carte if that is appropriate for the advisor's firm and business model." He added that Fortigent integrates with "a variety of third-party service providers." See: How Fortigent got $50 billion on its platform by treating an RIA pain-point.
"We have seen a significant uptick in interest from Fortigent clients in the past couple of months as a result of our enhanced alternative investment reporting capabilities and the clarity that we are focused the wealth management and advisory market as part of Advent."
Welch added in an email to RIABiz: "We find in competitive situations that most advisors appreciate how long we've been in this business, our unique focus on the high net worth market, our in-house expertise in both traditional and alternatives investment research, our high-touch service model, our 15-year proven track record of helping advisors grow their practices, and the end-to-end seamlessness of our reporting and technology platform."
Big buy
LPL Investment Holdings is expected to buy Rockville, Md.-based Fortigent. See: LPL makes big advance into the RIA business with Fortigent acquisition.
The signing of Alexandra & James comes on the heels of Dynasty making its own big announcement. See: Attack of the killer app: Dynasty targets the corner-office broker by combining Envestnet and Callan.
Alexandra & James is making heavy use of the Callan Associates Inc. and Envestnet capabilities as part of its relationship with Dynasty for research, proposal generation and managers.
---
Mentioned in this article:
---
---
Share your thoughts and opinions with the author or other readers.
Stephen Winks said:
January 20, 2012 — 5:13 PM UTC
Both Dynasty and Fortigent are extraordinary for different reasons. It will be fascinating how both evolve as both have the latitude to execute and the capacity to create the missing links to expert fiduciary counsel that does not exist in a brokerage format which will transform the industry at large.
SCW
Reader said:
January 20, 2012 — 6:41 PM UTC
Not sure why the article title includes "helmed by women" as that isn't a factor in the article.
Brooke Southall said:
January 26, 2012 — 7:43 PM UTC
Dear Reader,
That's a fair point.
Brooke
http://slimebow.bl.ee/user/kopetpdcqh/ said:
June 26, 2014 — 7:18 AM UTC
Apple's keyboard dock accessory to your iPad ($69) offers somebody of your respective simplest solutions for together with a troublesome keyboard to the gadget. It nonetheless are unable to compete using a cellular computer or desktop laptop when it consists of expert typing and modifying abilities, but various will figure out the familiar performance of creating utilization of a full-dimensions keyboard.
http://fsienergy.com/Consulting.html said:
June 26, 2014 — 8:44 AM UTC
If that isn sufficient to thrust Apple for the prime, the iPad may also support the popular ePub format and authors are going to be in a position to embed multimedia these kinds of as photos, videos, and audio information specifically into books. The electronic bookstore will now even be a normal app to the upcoming new version of iPhone.
---
---