News, Vision & Voice for the Advisory Community
The Seattle company's wants RIAs to buy into its whole system so it's sprinting to create the latest word in integration
January 17, 2012 — 6:09 AM UTC by Heather Underwood
Heather's note: In Seattle for the holidays, I had the chance to talk with Matt Stroh, vice president of marketing for Tamarac Inc. The November 2011 release of Tamarac's Advisor Xi product suite was the main topic of discussion and a demo revealed that Tamarac has been working hard to continue improving and expanding its "all-in-one" product offering while staying committed to customer service. The energy level remains high at Tamarac. Even now, with more than 100 employees, it still has the feel of many small software startups. It was refreshing to be around people so committed and excited to be doing their jobs — even with Christmas three days away.
A look at the business directory in the historic Seattle Colman Building that Tamarac currently calls home tells the story of its growth. Founded in 2000 with just a few employees, Tamarac has 110 employees today and its presence in the building has expanded accordingly; Tamarac now inhabits six suites and four floors. It has also expanded across the country with a new office in Raleigh, N.C.
"We have just north of 460 independent RIA firms," says Matt Stroh, Tamarac's vice president of marketing, "and we have had another consecutive year of over 50% revenue growth."
Tamarac is currently serving 2,700 advisors managing more than $225 billion in assets.
Sidestepping scandal
Tamarac's growth is projected to continue into 2012 despite the recent events concerning Tamarac investor and former chairman of Tamarac Inc., Mark Spangler. See: Tamarac CEO: Mark Spangler's big trouble with the feds won't harm Tamarac.
"Tamarac can only speak for its shareholders, and all of Tamarac's shareholders — including those that invested through the Spangler Group — are fully informed on our business model, company performance and are pleased with the returns on their investment that has greatly exceeded those of the broader domestic equity markets over the same holding period," says Stroh, "Whatever the outcome is for Mark Spangler, that's between him, his clients and the SEC."
One competitor, Peter Giza, vice president of business development at RedBlack Software, has this to say about Tamarac's growth trajectory:
"Public records seem to indicate that Tamarac has taken millions of investment dollars, which means significant investor expectation to live up to, so 50% growth is very important to their future."
Its momentum seemingly unaffected by the Spangler scandal, Tamarac unveiled the Advisor Xi product suite in November, two years after it released Advisor 9. See: A close look at Tamarac's Advisor 9 and its strategic use of Schwab software). Advisor Xi focuses on cross-product integration, and aims to provided an easy-to-use, modern web interface.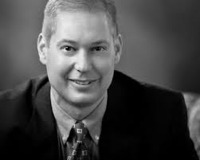 Jonathan Jaranson: The service has been
excellent.
"Right now we run multiple databases, including Advent Axys, Worldox and the Microsoft CRM product," he says. "In addition to hosting some of these applications or their equivalent (e.g., PortfolioCenter) and doing the downloading and reconciling of daily data, Tamarac is integrating these databases with each other — which we now attempt to do manually — and giving us a user interface through Outlook that enables the individual user to easily access everything. It saves us a lot of work and gives us the access and integration we have always wanted."
Greg Friedman, president of CRM Software (and maker of Junxure) and founder of Your Silver Bullet, an industry co-op encouraging software vendors throughout the industry to make efforts to integrate with each other, says that RIA principals who choose a bundled solution should understand that there is a potential downside.
"More and more the advisor is going to make hard decisions between [using various best of breed providers with varying levels of compatibility] or trusting the entire business to one single provider — which to my mind poses significant business risk." Two risks include the provider choosing to raise prices or to go out of business, he adds. The firm could also decline to invest aggressively in improving its technology or to provide top-notch service.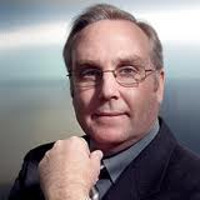 Greg Friedman:...Trusting the entire business to
one single provider … to
my mind poses significant business risk.

Jonathan Jaranson, partner at PrairieView Partners LLC in St. Paul, Minn., says the main selling point for his firm was Tamarac's commitment to service and dedication to product improvement. "The service has been excellent; the best of any other product/service providers. It is very important to a small firm that doesn't have staff to help support the products internally." See: The inside story of a giant RIA's move to Tamarac from Advent.
Deceptively small
One reason why Tamarac's staff continues to grow is the company's commitment to personalized training and ongoing support.
The company's "Tamarac University" offers two-day on-site training seminars to new clients. Tamarac implementation consultants are on hand to provide one-on-one support during the implementation and data migration processes. Advisors receive continued personalized support after the two-day training with the Tamarac products and their actual data.
"We are often told that we seem like a bigger company than we actually are," says Brandon Rembe, Tamarac's chief technology officer, referring to its commitment to the goal of quickly and meaningfully answering client requests and questions the same day.
Advisor Xi also provides online training that utilizes text and video tutorials, streamlined navigation and search functionality. Tamarac's new North Carolina office will also be a key component in expanding the company's training offerings and clinics. "We are a software-as-a-service company with an emphasis on service," says Stroh.
Schwab's choice
At Schwab's IMPACT conference in November, the San Francisco company announced its selection of Tamarac competitor Salentica Corp., a Toronto-based CRM provider that is favored by many of its larger RIA clients for its Schwab Intelligent Information project. Like Tamarac, Salentica uses the Microsoft Dynamics CRM platform on the back end but there are differences. See: What Neesha Hathi has to say about Schwab's oh-so-slow-but-steady technology initiative.
Stroh believes that his firm's tailoring of Microsoft Dynamics makes sense for many clients who like a bundled Tamarac solution.
"Salentica is a great choice by Schwab for a single-point CRM solution that's built on the Microsoft Dynamics platform. Tamarac is different in that we offer an integrated platform; we don't sell our CRM as a stand-alone application. Advisor CRM is also a custom version of Dynamics CRM built specifically for independent RIAs that can be further customized by the advisor, however our main value proposition is the deep level of integration Advisor CRM has with Advisor Rebalancing, Advisor View and a growing list of third-party partners." See: One firm's odyssey to upgrade its rebalancing system with Tamarac.
Stroh also emphasized the scalability of Tamarac's products. Currently it serves firms ranging from $15 million to $20 billion in assets under management.
Defining integration
"Until there are industrywide standards that are driven by RIAs, vendors and custodians, the chase for streamlined integration will be on. There are many legacy platforms that cannot support this level of integration today, tomorrow or next year," says Giza.
Giza is right on when he says that the chase for streamlined integration is happening now. Tamarac is working to be at the front of the pack — though it chooses not to integrate with most portfolio accounting vendors including Black Diamond (look for an article tomorrow on this subject). It is also trying to educate advisors on what is and isn't integration by defining four levels of integration to guide those who are looking to streamline their practice:
• Single sign-on (only saves a few clicks)
• Manual data sharing (uploading data sets from one application to another)
• Automatic data sharing (seamless data sharing between applications)
• Cross-product functionality (contextually places functionality from one system into another, linking workflows across products, and sharing data
Advisor Xi achieves all four levels of integration to varying degrees, but its main focus is on cross-product functionality. The Xi "integration hub" sits behind the scenes and facilitates cross-product integration, third-party integration and data sharing.
"Microsoft Dynamics is the CRM and PortfolioCenter is what's aggregating on the back end from the portfolio accounting system. Both of those systems can either be brought in-house or to many third parties if an advisor should ever choose to do so," says Stroh. "Plus advisors own all their data — it's a golden parachute for the RIA to know that all of their most precious data is available to them at any time."
Two examples of Level 3 integration used in Advisor Xi are: When portfolio accounting data is automatically pulled from the portfolio accounting system into Advisor Rebalancing, and when the calculated net worth of a household is displayed in Advisor CRM, which pulls data from both the portfolio accounting system and Advisor Rebalancing automatically.
The following are examples of level 4 integration that are implemented in Advisor Xi:
• A workflow setup in Advisor CRM that schedules a task and sends an email to the advisor whenever a client uploads a document in the document vault of the client portal
• When an address is updated in Advisor CRM, it is instantly updated in the portfolio accounting system and performance reporting system
• When viewing a household or financial account in Advisor CRM, an advisor can view, edit and execute various rebalancing actions — contextually displaying data in Advisor CRM from Advisor Rebalancing
Interface facelift
The new and improved Advisor Xi utilizes many Web 2.0 conventions such as jQuery accordion-style drop downs, drag and drop functionality, and dynamic HTML.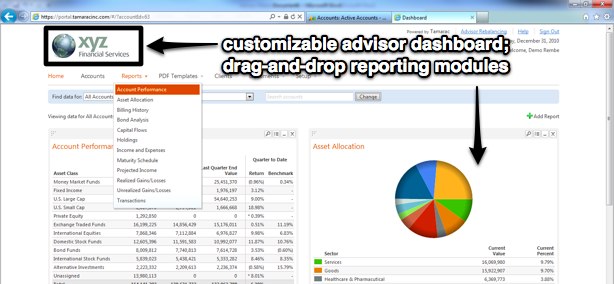 New Advisor Xi "Advisor dashboard" interface:
improved navigation, customizability, and aesthetics
Tamarac also upgraded to the 2011 version of Microsoft Dynamics this year, which offers a cleaner, quicker Tamarac experience from inside Microsoft Outlook. "Quicker and cleaner" here means that Tamarac's functionality in Outlook is easier to access, more intuitive, and the whole interface is simply slicker in terms of aesthetics. Upgrading to a new platform (should) inherently mean upgrades in terms of speed and usability.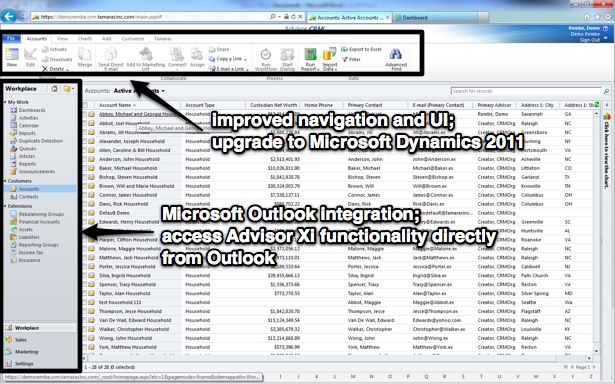 Tamarac is built on the Microsoft
Dynamics CRM platform providing seamless integration
between Microsoft Outlook and Tamarac products.

Re-balancer updates in Xi
The Advisor Xi re-balancer has improved filtering capabilities — similar to the filtering mechanism used in iTunes — allowing advisors to create nested layers of decision statements. "People do a lot of tactical rebalancing now," says Rembe, "and this allows them to quickly and easily find accounts."
Tamarac also has implemented N-tier (where 0 <= N <= 100) model allocation in its re-balancer. The graphical top-down view of models makes it easy to visualize complex models quickly. "The record we have for a client, who is very tactical in their rebalancing, is nine tiers, but we've tested up to 100," says Rembe.
Giza notes that RedBlack has three modeling paradigms: security, hierarchical (model within a model), and asset class modeling. "And we have yet to find a client need not satisfied by those methods," he says. See: RedBlack's Peter Giza gives RIABiz a look under the hood of its Rebalance Express software.
Billing and client portals
Advisor Xi includes a brand new billing module. The new module allows advisors to link friends and families to provide group discount rates. The billing module also deals with managed and unmanaged assets at different tiers, and allows for subadvisory rates in the billing process.
The customizable client portal was also upgraded in Advisor Xi. Advisors can now switch between the advisor dashboard and the client view. This allows advisors to see exactly what clients are seeing on their screen. Advisors can make changes within the client view, which will be reflected on the client's screen, making customer service quick and more personalized.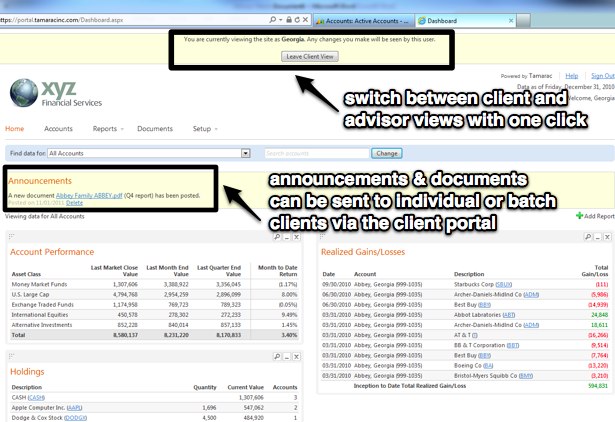 New client portal improves on documents
sharing and announcement functionality. Advisors can
access client portal directly from Advisor
dashboard with one click.
Pricing
The Advisor Xi suite is modular, meaning its applications can be purchased separately. While this is oversimplifying it, pricing for Advisor Rebalancing is based on assets under management while Advisor View pricing is based on number of accounts and Advisor CRM is priced based on seats. Discounts are available when purchasing more than one product and for multiyear contracts.
2012 resolutions
The product updates Tamarac has planned for 2012 include interactive reporting modules, more third-party integrations, a unified advisor dashboard and a cross-product search capability that will continue Tamarac's commitment to greater integration.
Rembe and Stroh also gave me a sneak peak at the user interface design for Tamarac's rebalancer, which will go live in February. The new design is more consistent with the rest of the Advisor Xi product suite, and includes improved navigation and workflow.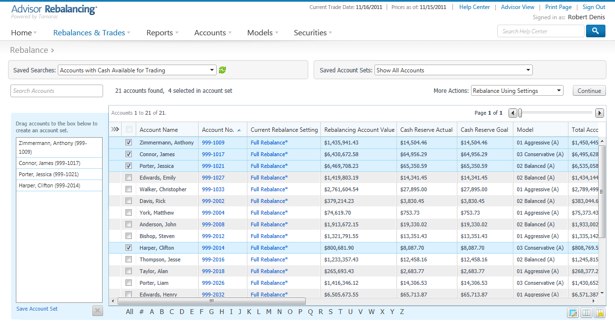 A Sneak peak of the UI
redesign for Advisor Xi's re-balancer scheduled
to go live in February 2012.

Tamarac is also looking forward to another year of continued growth, both in terms of employees and revenue.
---
Mentioned in this article:
Envestnet | Tamarac
Portfolio Management System, CRM Software, Trading/Rebalancing
Top Executive: Stuart DePina
Salentica
CRM Software, Document Management
Top Executive: Dave Ireland
Junxure
CRM Software
Top Executive: Greg Friedman
---
---
Share your thoughts and opinions with the author or other readers.
Jeff Brown said:
July 1, 2013 — 4:17 AM UTC
Big surprise – Greg Friedman again knocking a competitor's fully integrated solution. After receiving multiple emails announcing Junxure's imminent release of a web-based CRM (announcements started early in 2012), his advice for RIAs might just be web-envy. It is difficult to understand how one who does not have a comparable offering can comment on what is bad about Tamarac's solutions. As I am not a Tamarac employee, customer, nor RIA rep, I think RIA Biz can find a better resource for an opposing view.
Brooke Southall said:
July 1, 2013 — 4:23 AM UTC
Jeff,
I accept the criticism leveled at RIABiz but please realize that it sounds like you have an ax to grind.
Brooke
Jeff Brown said:
July 16, 2013 — 5:54 AM UTC
I absolutely do: it is the cozy relationship between RIZBiz and Mr. Friedman used to promote Junxure. As an industry veteran who likely has great insight, I would not have objected to Mr. Friedman's comments had he been identified as a principal of his wealth management firm Private Ocean. Once Junxure was introduced into the discussion, it became fair game in the same way Tamarac was fair game for review.
---
---