News, Vision & Voice for the Advisory Community
By pouring in capital from a former Goldman Sachs leader and others into a bigger sales effort, Caplan believes sales of annuities through RIAs are set to explode
January 17, 2012 — 8:26 PM UTC by Lisa Shidler
Brooke's Note: It seems as if private-equity investors are coming at the RIA business from every angle. See: Mutual Fund Store sells controlling interest to Warburg Pincus. Again the watchword is growth — and this time some interesting ties to Goldman Sachs and E*Trade.
A group of executives and investors who helped take E*Trade from a small discount broker to a massive national company believe they can replicate that success with Jefferson National Financial Corp.
Jefferson National of Louisville, Ky. launched a fee-only stripped down version of the Variable Annuity – Monument Advisor in 2005 and the company has seen steady growth. Last year, it had nearly $300 million in sales. See: Jefferson National passes the $1 billion mark selling annuities to the advisors who 'hate' them most.
But now, the firm is aiming to bring variable annuities to the mass affluent and hopes to triple those sales to $1 billion annually in a few years. To execute this plan, Jefferson has wrapped up an $83 million management buyout that the firm says will give it an infusion of cash from private-equity firms so that it can more rapidly expand its fee-only variable annuity to RIAs.
The management buyout was led by Financial Partners Fund, a unit of Citi Capital Advisors; The Stephens Group; and Eric Schwartz, a private investor and former partner and Management Committee member of Goldman Sachs who served as co-CEO of Goldman Sachs Asset Management. Schwartz will be non-executive chairman of the company.
Jefferson National was formerly a unit of Conseco Inc. (now CNO Financial Group Inc.) It was acquired in 2002 by a group of investors and began offering flat-fee VAs in 2005.
Old E*Trade gang back together
The new investors have had ties with executives at Jefferson National for years because many of them invested in Telebank, the nation's first bank without bricks and mortar, which became E*Trade Bank following its 2000 acquisition by the discount brokerage.. Some key members of management at Jefferson National held leadership roles in Telebank.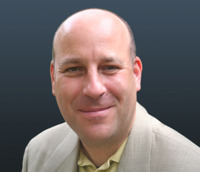 Laurence Greenberg: The new investors are
very interested in growing distribution.
"We're moving into hyper-growth and I'm looking forward to our first board meeting because it's like getting the band back together," says Mitchell H. Caplan, CEO of Jefferson, who helped engineer the deal. He is a former CEO of E*Trade Financial Corp. and was promoted to that position in 2003 overseeing the acquisitions of Harrisdirect from Bank of Montreal and also of BrownCo from JPMorgan Chase & Co.
"I feel incredibly fortunate to be part of this team again. We're starting to see competition in the industry and that's OK. That's what happened with E*Trade and it validates us and lets us know we're doing the right thing," Caplan says.
During the credit crisis of 2007, Caplan came under fire for investing in questionable debt instruments. He stepped down as CEO of E*Trade on Nov. 29, 2007.
Laurence Greenberg, president of Jefferson National, is a former chief operating officer of Telebank and David Lau, chief operating officer of Jefferson National, is a former chief marketing officer of E*Trade Bank and former executive at Telebank. Telebank's assets grew from $200 million in 1994 to more than $8 billion in 2000.
"As an early investor in Telebank, I saw firsthand their successful approach of using technology and unique marketing strategies to create consumer value," Steven Piaker, managing director of Financial Partners Fund, said in a statement.
New blue-chip blood
Part of the $83 million infusion will be used to buy out previous private-equity investors and a large chunk will be used to help bolster the firm's efforts to grow rapidly, says Greenberg. He won't say how much of the money would be used for capital but concedes it is a "significant amount."
"We were growing very slowly," Greenberg says. "This gives us the ability to really expand. It gives us a new slate of blue-chip investors. The new investors are very interested in growing distribution in the fee-based channel."
In the world of variable annuity sales, Jefferson National is unquestionably a small but growing player. VA sales nationwide hit $8.8 billion in the third quarter, according to fund tracker Morningstar Inc. of Chicago, up from $6.4 billion a year ago.
Jefferson National charges a flat $20 monthly fee, regardless of the annuity's size. The average policyholder has a $200,000 account and pays 12 basis points in insurance charges. Mutual funds and management fees can vary but average about 50 basis points. The firm has 1,500 fee-only advisors who use its product.
Sales charge
Caplan says he intends to mimic many of the strategies from his E*Trade days, especially bolstering advertising and sales staffs. He feels the best way to expand the company quickly is to add muscle to the sales force and hit advisors hard in an advertising campaign using mostly trade publications.
"I realized that it is possible to approach marketing and lead generation the way we did at Telebank and E*Trade with a direct marketing for inbound lead generation. We're doing it, and it's been extraordinarily successful," he says. "Here, I feel our marketing dollars are even more efficient than they were at Telebank because our advertising can go directly to advisors."
Caplan declined to say exactly how much he intends to bolster the firm's sales and marketing staff but says additions to the sales staff will be "dramatic." Unlike many other firms, Jefferson doesn't employ traditional wholesalers.
"Whether you're spending it on lead generation, lead production or marketing, it's all related," he says. "It's all about growing a relationship with the advisor."
New products
Greenberg says his firm will use part of the influx of capital to launch new products. For instance, responding to advisor demand, Jefferson is investigating new allocation models. He says advisors are also seeking alternative assets, and his company intends to launch a number of new alternative funds for the VA.
Jefferson National's financials are strong, according to Greenberg, who says advisors shouldn't worry about the company's finances in the wake of the deal, but instead should feel even more confident because it will help the firm grow even more rapidly.
"From an advisor's perspective, it just makes us a stronger company," Greenberg says.
---
---
Share your thoughts and opinions with the author or other readers.
---