News, Vision & Voice for the Advisory Community
Investment in recruiting pays off with highest average assets among IBDs
May 12, 2011 — 2:27 PM UTC by Lisa Shidler
Wells Fargo & Co. saw a 21% increase in the number of advisors in its FiNet subsidiary over the past year, as interest in the industry's sole wirehouse-lite model of independence has grown. The number of advisors jumped to 970 managing a total of nearly $50 billion in assets.
Observers say FiNet has been successful where other wirehouses fear to tread because it has been selective and deliberate in building its army of advisors over recent years. The company expanded its recruiting from six to nine regions last year. See: Wells Fargo's Finet deepens recruiting team, adds regions. The firm also offers custom loans to make the transition to independence.
"It's just a great story," says Mindy Diamond, president of Diamond Consultants. "I think that other wirehouses have looked at it and can't figure out a way to make it profitable."
The advisors are coming mainly from other wirehouses. Only about 10% of the new advisors at FiNet transfer from the Wells Fargo's Private Client Services — the transfers initiated by the advisors and completed under a strict protocol. That's a low enough percentage that it seems that the historic wirehouse fear that an internal independent channel would cannibalize the rest of the company is not coming to pass.
See: A young advisory pair escaped wirehouse cost cuts to land at Wells Fargo and See: A UBS broker lands at Finet, which helps him win a nasty tug-of-war over clients.
A good story
Well's Fargo's position as the only wirehouse with an independent channel gives it an advantage, says John Peluso, FiNet president. "For us having a multi-channel business model gives us the ability to attract and retain the highest quality of advisors in the industry. We believe in
choice."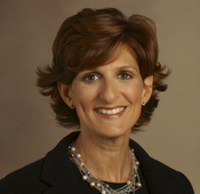 Mindy Diamond: "I think that other
wirehouses have looked at it and
can't figure out a way to
make it profitable.
Wells Fargo's Private Client Services with 11,000 advisors dwarfs the IBD, but InvestmentNews ranks FiNet top among IBDs for average assets per advisor, with about $50 million each.
Wells Fargo launched its IBD 10 years ago. Dubbed FiNet internally, it allows advisors to run their own offices. They also have access to Wells Fargo's technology systems and compliance assistance. FiNet advisors also have access to Wells Fargo Advisors products and services platform, which is an open architecture platform.
Diamond says she believes the unique offering is attractive to wirehouse advisors who are frustrated by working at a wirehouse. She also points out that Wells Fargo's IBD offers one of highest payout of all the IBDs.
FiNet payout ranges from 72% to 77% before an advisor pays local expenses, Peluso says.
The company has consistently been adding about 80 to 100 new advisory practices each year with about 140 to 175 new advisors in a year. Finet's AUM grew to $49.7 billion at the end of the first quarter, with 970 advisors in 493 practices. Fifteen months ago, at the end of 2009, the firm had $35 billion in assets with 800 advisors and 410 practices.
Diamond points out it's hard for FiNet to recruit advisors who are already independent because they'd likely feel restricted by the firm's policies.
Too much like a wirehouse
Advisor Rahul N. Shah, principal of Peninsula Wealth LLC says he was expecting to be more independent when he joined the IBD in 2008 after leaving Merrill Lynch. He says he found many of wirehouse rules from Merrill were the same at FiNet. See: Why one Merrill Lynch advisor needed to break away twice to become an RIA.
"I still wanted to operate the way I wanted to operate," he says. "I didn't put enough thought into my decision and didn't know that they had a lot of rules for engagement."
He only stayed at the firm for two and a half weeks, and said he didn't feel like he was an independent.
advisor.!http://www.riabiz.com/i/5600602/b(Rahul Shah (right): I just didn't feel independent so I figured I might as well go back to Merrill.)!
"I think the people were great," he says. "I just didn't feel independent so I figured I might as well go back to Merrill if I'm going to be at a wirehouse."
He stayed at Merrill until February 2010 when he left and founded his own RIA, which has nearly $70 million in assets. See: Why one Merrill Lynch advisor needed to break away twice to become an RIA
Less corporate
For other advisors, FiNet seems the perfect solution. Advisor Chuck Clutter was with UBS for 20 years when he decided to go to Wells Fargo's IBD in January of 2010. He liked working at UBS, but felt the company was making a number of changes and he wanted to have more control of his business and day-to-day operations.
"There was some turnover in management," he says. "I can't say I couldn't function there. It was just getting a little bit stifling."
He has about 150 to 200 clients in his Columbus, Ohio, office and manages about $118 million in assets.
He had also met with executives at LPL and Raymond James, but says that Wells Fargo stood out because he knew his clients would be comfortable with the firm's name. See: A UBS broker lands at Finet, which helps him win a nasty tug-of-war over clients
He says that in making the change, he has more time with clients. "I'm not sure how to explain it," he says. "I've got to hand it to FiNet they make it easy for us. I'm free to deal with clients and focus on them as our staff."
He likes getting to run the business the way he chooses without having to get special approval, such as adding staffers like his son.
He also liked the fact that Wells Fargo offers a coach to give him ideas about how to run the business.
"It feels different when it's your own business," he says. "It's brought the fun back into the business for me."
Wirehouse lite
The average FiNet advisor has been in the industry 18 years, Peluso said.
For his part, Peluso, who was previously managing director at the bank's private client group, says the company's organic growth is attributed to a growing interest in advisors to become independent.
"Our sweet spot is helping advisors move from being an employee to being independent," says Peluso. "Our experience has been attracting advisors who like the idea of control but don't want the full responsibility of having to deal with the regulators, and they'd rather outsource that work to Wells Fargo."
Peluso says about 45% of business comes from fee-based and 35% is from products such as annuities and insurance. The final 20% comes from equities and bonds.
The biggest difference between the two channels, Peluso explains, is the FiNet advisors are choosing their location and staff and operate as independent contractors. Wells Fargo's advisors are paid employees.
---
Mentioned in this article:
---
---
Share your thoughts and opinions with the author or other readers.
Jeff Spears said:
May 12, 2011 — 3:30 PM UTC
This is the business model that should concern Wall Street,
Dynasty and Sanctuary(my firm) have a similar construct for higher producing advisors.
---
---