News, Vision & Voice for the Advisory Community
An up-trend in the markets has fueled giving to the charitable vehicles -- and RIAs are reaping some of the benefits
December 28, 2011 — 2:55 PM UTC by Lisa Shidler
Brooke's Note: Schwab and Fidelity are having magnificent years in terms of attracting charity-bound dollars because of strong stock returns. What? Well, yes, things moved sideways at best in 2011 but donors, thankfully for those who depend upon them, are looking more at a comparison with 2008.
Rising with a tide of generally positive markets, Fidelity's and Schwab's donor-advised funds have seen bigger donations and are giving out more in grants than in previous years.
In fact, Fidelity Charitable, the nation's largest donor-advised-fund program, is on track to have its strongest year in its two-decade history, says Amy Danforth, senior vice president of marketing and programs. She says that through the third quarter, contributions to its donor-advised funds were up 23% from the comparable period a year earlier.
Schwab Charitable, one of the nation's largest national donor-advised fund organizations, is also reporting an increase in both contributions and grant-giving year-over-year.
See: Fidelity Charitable courts advisor business — and competes with Schwab — by making alternative assets OK in its donor-advised fund.
A donor-advised fund allows donors to give their money to the funds set up by Fidelity, Schwab or others, receiving an immediate tax break on the entire gift. The money is often managed or referred by financial advisors. Fidelity and Schwab then take care of giving out the money according to the donor's wishes. Individuals who donate appreciated securities to a donor-advised fund don't pay a capital gains tax because it is a charitable donation.
Crossing the $1 billion mark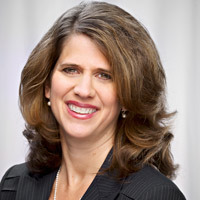 Kim Laughton: Knowing about philanthropy helps
build relationships among clients.
This year, Fidelity has seen $748 million in contributions to its donor-advised funds. Also, by November, Fidelity's donor-advised funds had given out $1 billion in grants to charities. That's the first time in the company's history that it has hit the $1 billion mark this early — that usually happens at the end of December.
Schwab Charitable's contributions increased 76%, and grant activity is up 35%, according to Kim Laughton, acting president.
"Through November, we've been pleasantly surprised, given the market volatility and concerns about the economy, that our clients are increasing their charitable donations this year," she said. "So far, this giving season has been strong. It's been a really good year."
From July 1, the start of Schwab's fiscal year, through Nov. 30, Schwab Charitable's contributions totaled $245 million, compared with $139 million in the comparable period last year. The amount of grants to charities was $181 million in the first five months of the current fiscal year, compared with $134 million from July through November in 2010.
Schwab's donor-advised-account size ranges from $5,000 to $400 million. This year, Schwab reduced its grant minimum from $100 to $50 for donors who want to gift money to walk-a-thons or make other one-time donations.
"Our vehicles are continuing to grant out and we feel really great about it. It's a tough economic environment," Laughton says.
Appreciated stocks boost donor-advised funds
Laughton says that one of the major reasons for the increase in contributions to donor-advised funds is because market indexes such as the Dow Jones Industrial Average are considerably higher.
"When you look at the markets compared to two years ago, people finally have long-term gains," Laughton says. "Donor-advised funds are growing because they're easy to use and less expensive."
Danforth points out that donor-advised funds are typically more correlated with the market than traditional giving is.
"We definitely feel a positive market helps us," Danforth says. "Volatility is a concern. Generally the market is feeling better to people. I'd say if the market really goes on a trend up, I'd anticipate we'd see even more significant giving."
Boon to RIAs
Laughton points out that there's clearly huge interest among registered investment advisors to learn more about charitable avenues such as donor-advised funds. In fact, she says that at Schwab's IMPACT conference in November, two of the five top-attended sessions by advisors were philanthropy-focused sessions.
"I think advisors understand that knowing about philanthropy helps build relationships among clients," she says.
See: How a $2 billion LA-based Schwab RIA doubled in size in five years with a laid-back California style.
Danforth says that 75% of Fidelity's charitable donations come through advisors or other intermediaries.
"The accounts being referred by advisors make up the majority of our business," she says. "It's really the power of advisors realizing that this is important. Advisors should continue to ask their clients if they're interested in charitable giving, and a donor-advised fund is a great vehicle to help clients fund giving accounts and maximize a tax situation."
---
---
Share your thoughts and opinions with the author or other readers.
---