News, Vision & Voice for the Advisory Community
Dell'Orfano and his team are developing product services and technology the better to lure major RIAs
October 19, 2011 — 3:10 PM UTC by Lisa Shidler
Brooke's Note: There may be a pattern here. Two of Schwab Advisor Services' top execs, Bernie Clark and Nick Georgis, held top sales spots at the company before taking loftier roles. Now it appears that Fidelity is using similar thinking with Scott Dell'Orfano. Essentially, these are intelligent personable guys who get such overwhelming exposure to the marketplace that their experience becomes too valuable for the sales role.
Fidelity is actively searching for a head of RIA sales and relationship management to replace Scott Dell'Orfano, who is heading up a new role leading strategic business development efforts for the company.
Dell'Orfano, who has headed sales since 2004, began his new role this summer, says Mike Durbin, president of Fidelity Institutional Wealth Services.
Mission is to serve 'complicated' firms
Durbin won't offer specifics on Dell'Orfano's new role, but says his former sales chief has kept his same office and still reports to him. He however, did say that in the newly created position Dell'Orfano could be crafting "new and interesting ways to bring together products and technology." Durbin declined give specifics on projects that Dell'Orfano is working on, citing competitive reasons.
"When we sense there are strategic opportunities, the firm has a deep legacy of extracting senior management and deploying them to new areas," Durbin says. "Scott's now running a team that is focused on what is the future development around product services and technology that will make us more and more attractive to large and complicated investment advisory firms."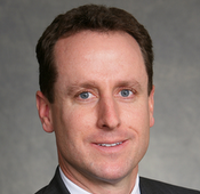 Mike Durbin: the firm has a
deep legacy of extracting senior management
and deploying them to new areas.

The intersection of technology and custody
The drift of what Durbin is alluding to makes sense strategically, according to Charles "Chip" Roame, managing partner of Tiburon Strategic Advisors in Tiburon, Calif.
"It's not a big surprise that Fidelity would put Dell'Orfano in a post to focus on technology given its history to spend a lot on technology, says Roame. "My read is it's about the intersection of technology and custody, maybe including aggregation from other custodians. Scott is a talented guy. There is certainly a competitive focus on technology right now amongst the custodians."
Certainly the aggregation – and management of – held-away assets is a growing concern of advisors. See: Nearly half of advisors now charge clients to manage held-away assets.
Fidelity has prided itself in winning some of the largest breakaway advisory firms – including big names that have landed at Dynasty Financial Partners and HighTower.
"We want to make sure we are investing in as innovative ways as possible," Durbin says. "We're pretty excited about what the team's working on. They're looking deep within the laboratory at how we can deploy capabilities using innovation."
Looking for Mr. or Ms. Right
In the meantime, Durbin has been filling in as the company's interim head of sales, overseeing the nearly 100-person staff that is spread across the country.
He is in the midst of interviewing candidates for that position and the level of interest has been high, but Durbin says he is in no hurry to fill the position as it's important that the company make the right hire.
"We felt going into it that this is one of the more attractive roles in financial services." Of course, he says, "I'm a little biased."
Durbin's ideal candidate has significant experience in the industry and will continue "more of the same" regarding bolstering the company's recruiting efforts.
"As you can imagine, we're being thoughtful and patient and we're in the thick of it," he says. "Since there are internal and external candidates this is a sensitive subject. We continue to work on the process."
From 1993 until he joined Fidelity, Dell'Orfano worked for the SEI Advisor Network and was an executive vice president when he left to head up Fidelity's sales effort.
---
Mentioned in this article:
---
---
Share your thoughts and opinions with the author or other readers.
---